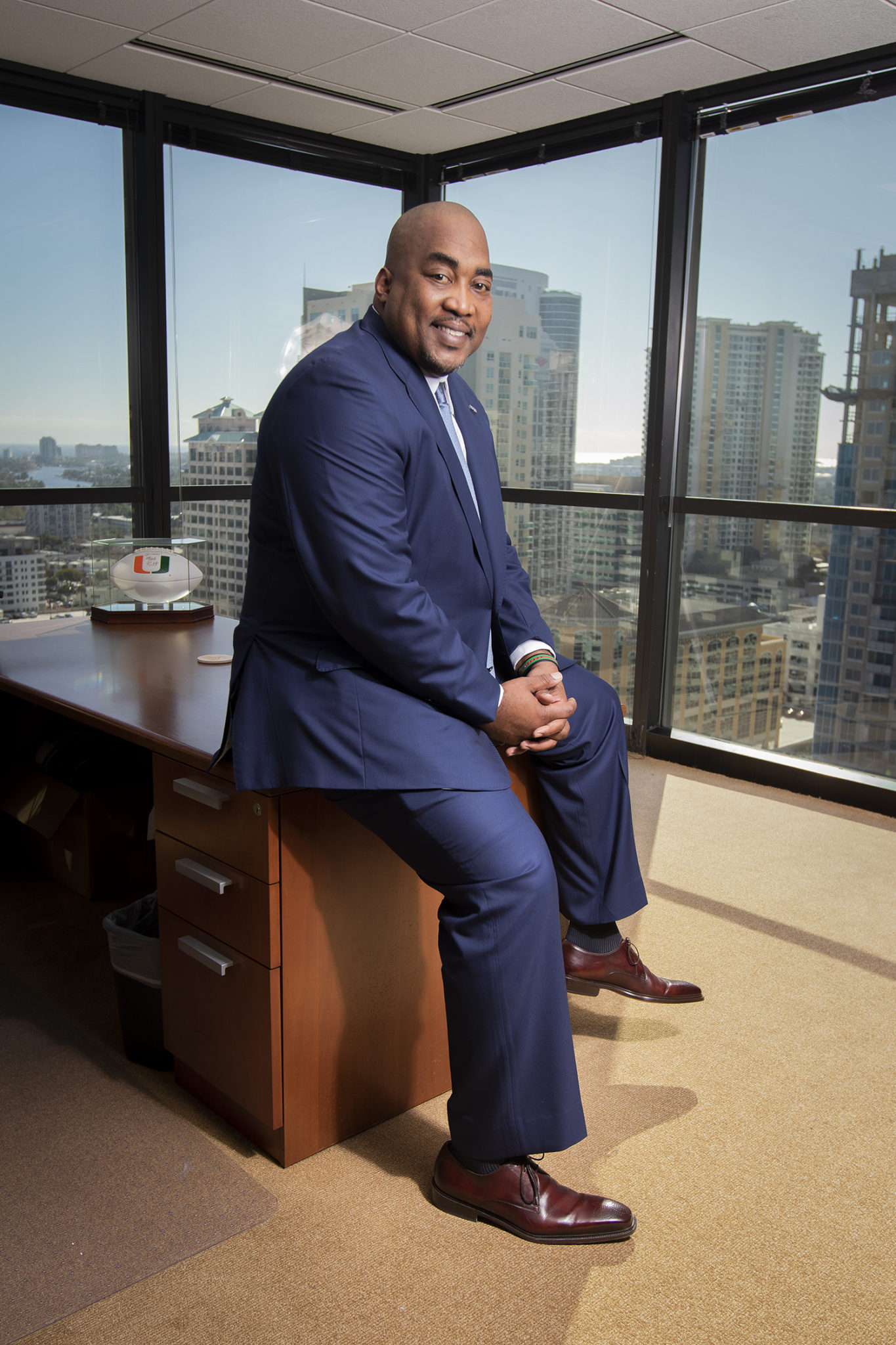 Tony Coley tackles the Truist merger
Photography by Eduardo Schneider
Former University of Miami linebacker Tony Coley is ready to run the playbook as Truist Financial Corp.'s South Florida regional manager after the merger of SunTrust and BB&T.
"We're going to start with, I think, 182 branches and will be close to $20 billion in deposits locally," Coley says at his headquarters on Broward Boulevard in Fort Lauderdale. The combined bank will have about 1,800 employees and be about fourth in depository market share.
Coley is enthusiastic about the combined strengths in the merger. BB&T had more of a Main Street focus with commercial banking while SunTrust in recent years has put more emphasis on strategic advisory, industry expertise, capital markets and investment advice, he says.
"It really creates a bank that we think fills a white space where the small community banks can't provide that advisory space. The big boys don't want to deal with the smaller clients. We believe Truist fills that white space," Coley says.
Coley has two primary responsibilities: the local commercial banking business and integrating all of the Truist operations in the South Florida market, which will retain a high degree of local decision-making—"90% of all decisions that need to be made can be made here locally. That's what makes us different," he says.
He estimates the full integration will take 12 to 18 months and the key thing for his team is to have an open mind and avoid any "we used to do it like that" attitudes.
"I was telling my pitch: Show me the playbook and tell me tell me which plays we are running and we're going to run the plays as best as we possibly can," he says. Also, don't get distracted by any outside noise.
He also adds his own 10 P's: People, partnership, process, prospecting, performance accountability, positivity, persistence, practice and preparation, party (celebrate success) and passion.
Coley was born and raised in the area known as Carol City near Joe Robbie Stadium, now known as Miami Gardens and Hard Rock Stadium.
His love of football started early.
"If you saw me walking around as a 10 year old, I'm pretty sure I had a football in my hand walking around the neighborhood looking for a football game," he said. He was a safety in high school and converted to linebacker as a scholarship athlete at UM from 1992 to 1997. He started 2½ years and played under coaches Dennis Erickson and Butch Davis. The teams played in two national championship games, but lost both to the University of Alabama and the University of Nebraska.
Coley admits to not trying hard as a student in high school since he knew football scholarships were coming, but after breaking his leg in high school, he realized he might not have a pro career. As a health science major and business minor at UM, he says he always sat in the front row so he would pay attention and made it a point to never skip class. The results were being named an athletic Academic All American.
Then, there was the day he was sitting in the student lobby. He had previously seen members of UM's Iron Arrow Honor Society, which is the university's highest honor, wearing their Seminole Indian inspired jackets—but he didn't connect it to a drum beat he heard in the distance.
"I hear this drum and I see all these people coming and I'm like, 'Wow, that's crazy. … So they come into the lobby, and I'm sitting there. And they started coming towards me. They say, 'Are you Antonio Coley?' I'm like, 'Yeah.' 'Please stand.' And they go through the whole spiel and at the end of it, they beat the drum, it starts getting faster. And with the last beat this, this little girl, like 5-foot-2, was holding the arrow. She hits you with it across your chest, and she knocked me down. I was like, 'You trying to kill me.' She's like, 'You're big.' I fell down on the couch."
Big shot, though, he was, Coley had a humble start to his career. He had some interest from NFL teams, but went undrafted and calculated that he probably wouldn't succeed in the pros. One day, he put on the only suit he had and went to a job fair in the fitness center. With his business minor background, he checked the boxes for several banking and accounting firms. He became a trainee at Barnett Bank and started as a teller across the street from the campus.
"I had people coming and saying, 'What are you doing. All of this to be a teller?' But, you know, that was one of the funnest jobs, rotations, that I actually kind of had," he says. After Barnett was acquired by NationsBank, his original second choice of SunTrust successfully pursued him to join its management training program. "That's when I moved from Miami to Fort Lauderdale and I worked in this building that I can see right here from outside my window," he says pointing to the SunTrust office off of Las Olas Boulevard.
Coley kept prospering among the frequent bank mergers in South Florida, serving as president and CEO of Colonial Bank in South Florida, city executive of BB&T in Broward, regional president in Central Florida for BB&T and then the same role in South Florida. SouthTrust and Wachovia also pepper his résumé, including a stint as commercial banking director of Wachovia's Gulf Coast region.
These days, Coley is very active in the community, serving on the Beacon Council board, the Orange Bowl Committee, the Jack and Jill Children's Center board, the state board for One Blood and the Super Bowl Host Committee.
UM hasn't forgotten about him, though. Coach Manny Diaz has had him talk to the team and some recruiting classes, he says.
Coley notes that Truist recently hired Quadtrine Hill, who was a fullback on the 2001 national championship team. "He's competitive, disciplined, works hard, knows how to bounce back—resilient. He does all the things that we look for."
And that sounds a lot like Truist's head coach for the region.♦