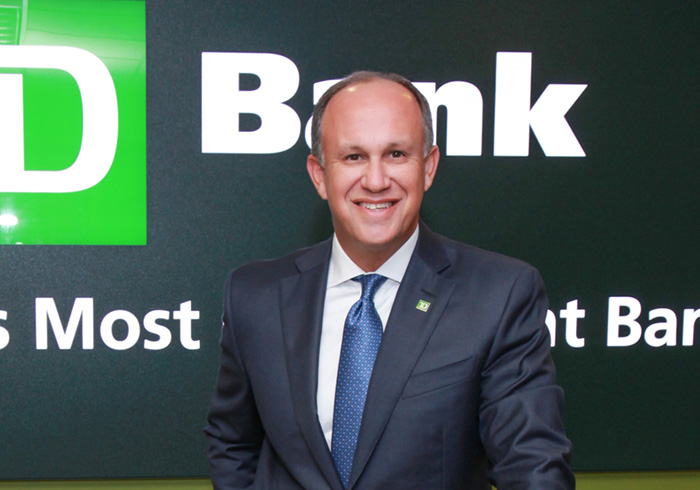 Tops at TD
Ernie Diaz leads TD Bank's rapidly growing operations in Florida
By Kevin Gale | Photography by Larry Wood
Ernie Diaz, regional president for TD Bank in Florida, actively promotes business ties with Spain as chairman of the Beacon Council, but a party the bank hosted at the U.S. embassy in Madrid had particular resonance for his father.
Before Diaz traveled overseas to attend the party, his father told him a story – a reminder of what it means to live in the United States. "You are going to host an event at the house of the U.S. ambassador to Spain," he told his son. "The last and only time that we were there, we were standing outside at 3 a.m. in the morning, 49 years ago, trying to get a visa to come to the U.S. Now, how great it is that you are going to host an event there?"
Indeed, Diaz's business and civic career shows how he has lived the American dream. He arrived in Miami when he was 3, after being born in Pinar Del Rio, Cuba, and having stops in Spain and California.
In his role as state leader of TD Bank, Diaz has been leading one of the state's fastest-growing banks. The bank has a strong customer orientation, evidenced by branches that are open daily and a best-in-Florida ranking by J.D. Power for customer satisfaction among banks.
"I think TD is a bit of a disrupter in many ways – in a good way," Diaz says.
TD Bank has $10.86 billion in deposits in Florida, including $1.3 billion in Broward County, $1.9 billion in Miami-Dade County and $2.4 billion in Palm Beach County, according to the latest FDIC data.
TD Bank has grown to be one of the nation's 10 largest U.S. banks. Its name comes from its parent, Toronto-Dominion, which trades under the ticker symbol TD and is the 19th-largest financial institution in the world, according to Forbes.
Before joining TD, Diaz worked with many of the most famous names in Florida banking history.
While going to college, he held a night job doing credit card collections for Barnett Bank and Southeast Bank, where he entered the management training program and became a nighttime supervisor.
He graduated from Florida International University, only to find Southeast taken over in 1991. He worked at Terrabank for nine years and then moved on to Union Planters, where he met two key mentors, Adolfo Henriques and Angel Medina Jr., who now lead Gibraltar Private Bank & Trust. In 2004, Regions Bank acquired Union Planters, and Diaz became the commercial real estate team leader in South Florida. He later became president of Mercantile Bank, until TD Bank acquired its parent company in 2011.
He likes the culture of diversity emphasized by the bank. "It's something they live every day," Diaz says. "If you see the makeup of my team, I am the poster child for diversity in Florida."
Diaz also likes the emphasis on growth.
"We have very, very strong growth compared with my competitors," Diaz says. "We have a convenience model that resonates in the market. People like the fact that they can walk in to any of my stores seven days a week. Couple that with a commercial banking strategy, and I think that's why we are getting the results in the marketplace."
While the bank has verticals in fields such as corporate and health care banking, it's avoided the silo structure that some banks have, Diaz says. All the Florida operations report to him, and all the deposit relationships are still in the branches.
The bank has 151 statewide locations, two branches under construction and a few more planned to fill in market gaps, Diaz says.
At a time when online banking is growing quickly, TD Bank finds that some demographic segments, including older customers, still like going to a physical branch. Diaz says, "They are a very important segment to us, so why would you want to disrupt that?"
TD Bank would consider an acquisition in the state as well. "We have said in markets like Florida, if it would help build up a geography, we would look at it," he says. "We have done de novo [creating new branches], and we do it well. But we would be opportunistic if there was an opportunity."
A map of the state's branches shows it is active in almost all the major markets, but there are no branches in the Panhandle and only one branch in the southwestern part of the state – a location in Naples that shares space with sister company TD Ameritrade, Diaz says.
Diaz will finish up his term as chairman of the Beacon Council in August. He is enthusiastic about what the public/private economic development organization is focused on, including capital investment, job creation and talent development.
Diaz likes how the council is positioning Miami as the city of the future, not just the gateway to Latin America. He says, "It's an easy vision to embrace." ↵
Ernie Diaz
• Currently: Regional president for TD Bank in Florida, overseeing retail, small business, commercial and specialty banking at 170 locations
• Previously: Market president for TD Bank in South Florida; president of South Financial Group's Mercantile Bank; middle market executive for South Florida at Regions Bank; leader of commercial real estate team at Regions Bank
• Community: Chairman of the Beacon Council executive board, Orange Bowl committee member
• Education: Bachelor's degree, business administration, Florida International University; master's degree, accounting, Nova Southeastern University; Florida-licensed CPA