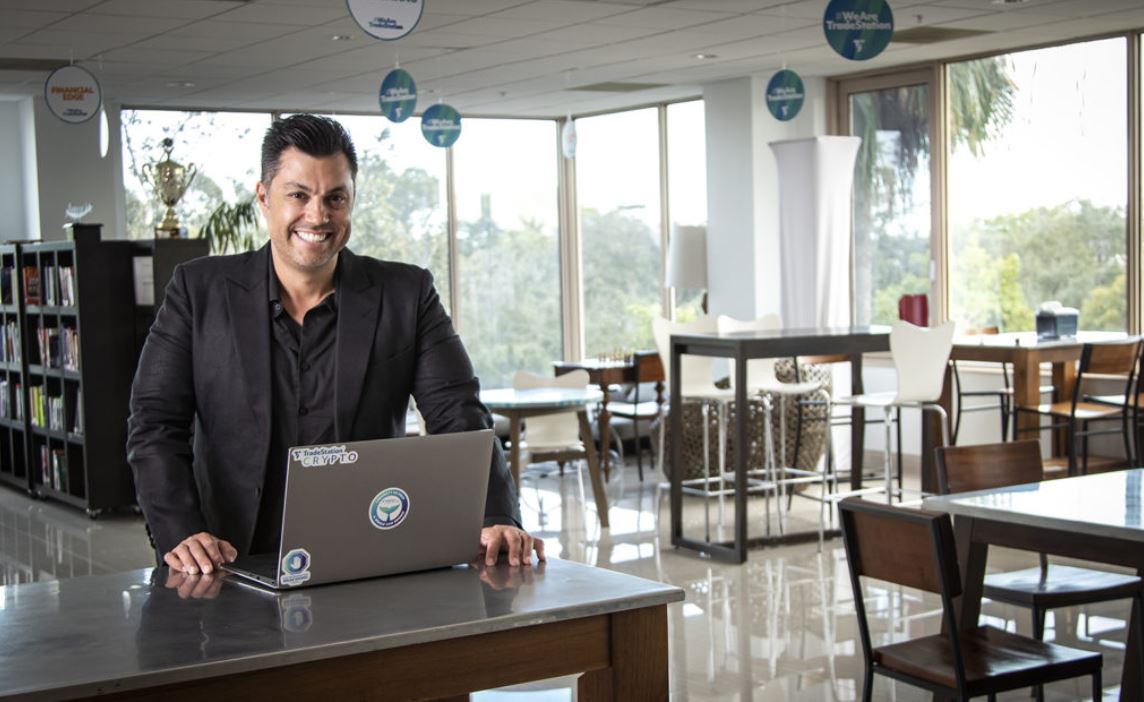 TradeStation launches cryptocurrency trading
Photography by Eduardo Schneider
Investing and trading in cryptocurrencies can be an adventure, but it's also an opportunity for TradeStation, a Plantation company often lauded as the top brokerage for professional traders.
TradeStation has launched TradeStation crypto, which aggregates price quotes from multiple crypto exchanges and provides an intelligent order routing system to give customers the best prices. Currencies handled include bitcoin, bitcoin cash, Ethereum, Litecoin and Ripple.
Leading the effort is James Putra, the unit's head of product strategy.
He's a homegrown success story with a bachelor's degree in management information systems from Florida Atlantic University. Shortly after graduation in 2004, he became employee No. 4 at ReconTrader Corp., a Fort Lauderdale startup that developed algorithmic trading software.
"We were doing 'fintech' (financial technology) before we even knew what fintech was," he says. "We grew that company and sold it four years later."
Putra says he thought he had the Midas touch, but he lost everything in the next startup, Elite Global Trading, which developed foreign exchange trading software and lasted four years.
"Toward the end, we were selling blood just so we can feed ourselves and keep the company afloat. And what we realized was, you should never give up, but you have to know when to pivot," he says.
He subsequently moved to California to help brokerage giant eTrade launch a foreign exchange product, but missed Florida. His small San Francisco apartment cost twice as much as his three-bedroom home with a pool in South Florida.
Within a year, though, TradeStation hired him in 2012 and he helped take its core desktop product to Japan after the company was purchased by Monex Group, a company Putra likens to the Japanese equivalent of Charles Schwab.
After going back and forth to Japan to launch that effort, he suggested to TradeStation president John Bartleman that he launch an innovation lab. The resulting TradeStation Sandbox fueled several ideas, including trading concierge, which is a personalized service for ideas and news for customers.
TradeStation did a lot of work around data analytics and brought in experts in data science from Florida Atlantic, the Massachusetts Institute of Technology and Boston University.
"We put them all in a room and just did this crazy, like summer hackathon that came out with quite a few interesting product concepts and ideas," Putra says.
Monex CEO Oki Matsumoto decided in 2017 that fintech and crypto trading should be a priority for the company.
"That really shifts everybody's focus from looking at crypto as something that is novelty or fun or risky to OK, the big guy wants us to look at it, pay attention," Putra says.
As the effort geared up, "what we were noticing is that there wasn't a lot of excitement or enthusiasm in the newer generations to trade equities at the time," Putra says. "Where the excitement and enthusiasm was around these crypto assets and bitcoin in particular."
Adding crypto as an asset class to the TradeStation trading platform seemed like a logical extension. Putra was detached from the innovation lab to just focus on crypto.
TradeStation didn't want to be a cryptocurrency exchange, so it looked at crypto as an extension of its brokerage operations, he says.
"Our role as a broker is to try to find good markets for the customer and liquidity. When you take out the idea that you're going to be the actual exchange, you start to look and you become indifferent to where the venues are so we can connect to multiple places. We can provide a service that allows a customer to have one account with us and not have to deal with all the hassles of managing multiple different relationships.," Putra says.
While much of the crypto world has little regulation, TradeStation gravitated toward collaborating with companies that were familiar with traditional markets, he says. "So when we would talk about things regarding market structure or regarding settlement or technology, operational models, we spoke the same language."
Beta testing started in August and the system went live in November. He estimates 150 people at TradeStation have worked on the project, including a lot of nights and weekends. Florida is among the 28 states in which TradeStation clients can trade crypto.
Those who want to trade cryptocurrencies with TradeStation first must open a Trade–Station Securities equity account. "Once you can get approved for the equities account, we can enable you in the crypto," Putra says.
While TradeStation is popular with professional traders, ordinary investors can open account and don't have to be accredited investors.
Once they are authorized to trade in crypto, customers can see the best available prices across multiple sources. Bid and ask prices can be viewed. TradeStation's smart order router then pushes orders to the best available price, Putra says. Major orders can be pieced out for fulfillment to avoid someone else trying to take advantage of a trade.
With a base of customers now, Putra and his team are trying to gain customer insights by tracking metrics, such as deposits coming in and repeat logins.
"We're in the learning phase to see are we getting those customers that we thought we would get? Are they behaving in the way we thought they would behave? And do we have the right tool for the people that we are getting? And because everything's new, across the entire business, it makes it challenging to really measure because everything from the brand, the marketing, the product, all the pieces are new, except for the core broker dealer on the securities side," Putra says.
Early on, it seems like many of TradeStation's previous customer base are buy-and-hold investors with cryptocurrencies. There are a lot of different types of trades customers can do, though, such as trading one cryptocurrency for another. Often, after trading other cryptocurrencies they will come back to bitcoin, which is the most established and liquid cryptocurrency.
Cryptocurrencies can be especially useful for investors who live in countries where currencies are struggling with inflation, but they aren't necessarily a refuge from stock market turmoil. As the coronavirus was influencing stock market volatility, bitcoin dropped from $10,474 on Feb. 13 to $7,324 on March 11.
There's still a lot of volatility, Putra notes, but that appears to be lessening as crypto-derivative contracts are issued by the likes of the Chicago Mercantile Exchange, the Intercontinental Exchange and ErisX, which Monex invested in.
"They're all they're putting products out there that are allowing customers to play on both sides of the market. And it allows customers to do more complicated strategies other than just hold this asset. So, you could do things like owning bitcoin, and going short the futures contract where you couldn't do that before the futures contracts came out," Putra says. The release of new futures products has tended to spike excitement in crypto.
Legislation to regulate crypto has been proposed by various governing bodies, but Putra says it isn't clear who's going to own what piece of regulations. He thinks TradeStation is well-positioned because regulators are familiar with the company as a regulated broker dealer in the equities space.
"The regulators will look at the various products and companies in a familiar way to them. They'll naturally gravitate toward those assets and those companies that look and smell like products that they are used to deal with, which is good for those companies and maybe not so good for the companies that are not used to operating in that," he says.
A lot of the major brokerages are entering the crypto space, with upstart Robinhood being a player that has offerings similar to TradeStation. (After the interview with Putra, Robinhood received a lot of negative attention for system breakdowns that prevented customers from trading during market volatility.)
If you are thinking about trading or investing in crypto, Putra recommends spending time learning more about crypto as an asset and what the industry is all about. TradeStation has educational materials, and Putra personally likes the book Cryptoassets by Chris Burniske and Jack Tatar, but that's not an official endorsement by TradeStation.
"It's the same with any asset class," Putra says. "You should always have a feeling for what it is you're getting involved with. There's this interesting thing that happens where you get bitten by the bug, or our team calls, 'you get cryptoed.' And you just you go off this deep end and this ravenous information gathering and it's something that's so interesting and exciting from an educational perspective." ♦