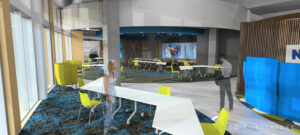 The Alan B. Levan | NSU Broward Center of Innovation (Levan Center), set to open this summer, gives new meaning to the word "ambitious." The state-of-the-art facility promises to be an intellectual and entrepreneurial resource the likes of which the region has never seen—an economic development engine focused on the themes of innovation, technology and entrepreneurship, organized along four philosophical pillars: ideate, incubate, accelerate and post-accelerate.
Designed to serve the South Florida community—and encompassing everything from nurturing ideas, delivering education unconventionally, developing talent, connecting creatives, and fostering new companies and technologies—the Levan Center will be a hub of activity. It will be a home to industry certifications; specialized workshops, seminars and short courses; industry-leading speakers; boot camps; pitch sessions; and hackathons. It will be a magnet for the great minds of South Florida.
The name on the door belongs to Alan Levan, chairman of BBX Capital Corporation and chairman and CEO of Bluegreen Vacations. "The Levan Center's goal is to develop, nurture and attract the talent and innovation that will propel the South Florida region (Broward, Miami-Dade, and Palm Beach counties) into the foremost hub in the country's global tech and innovation ecosystem," Levan says. "It will concentrate on being the gateway and connector between entrepreneurs, leading companies, students and potential investors in the region. It will offer incubator and accelerator programs for early-stage and young-startup companies, mentoring opportunities, a technology-focused makerspace, a showcase and pitch area, technology and innovation skills classes, and more."
Meanwhile, the chief innovation officer at NSU and executive director of the Levan Center, John Wensveen, is responsible for overseeing this unprecedented public-private partnership. "This is a dream position and an opportunity for NSU to be a changemaker, fostering an innovation mindset in South Florida that will result in a hub of scientific, technology and innovation development," Wensveen says. "The Levan Center links entrepreneurs with academia, industry, government and the investor community, resulting in breakthrough ideation, new technologies, talent skills pipeline, company formation, new jobs and scaling of early-stage and young startup companies. This is a unique model that will play a key role in the establishment of South Florida as a designated tech hub."
As for Levan, he knew he wanted to create something lasting and philanthropic for South Florida. "From an early age, I grew up in a family where my parents were giving back to the community," he says. "We were not a wealthy family, so the giving back was about giving time—my parents did a lot of rolling up their sleeves for nonprofits in the community. It was giving time, whether it was PTA, Boy Scouts, and my mother, even at 95 years old, was president of her assisted living association, giving back to other members. It is part of my DNA."
When Levan acquired controlling interest in BankAtlantic in 1984, one of the first things he did was create the BankAtlantic Foundation. Its mission was to give back to the community. "We were the first corporate supporters of Habitat for Humanity and the first tenants in Junior Achievement World," he recalls. "In the '70s, we were the first corporate supporters of the Greater Miami Opera. I've been a trustee on the board of NSU for 20 years, including a term as chairman of the board."
But the Levan Center he envisioned was an endeavor of a different order, so he set to work taking the temperature of the technology habitat. "I started soliciting queries about what the greatest challenge that technology companies were having here in Broward County and determined that the greatest obstacle was a lack of qualified skilled talent," Levan says, echoing a common complaint among local CEOs and other business leaders.
"Because of my involvement with NSU, I believed that I could lead an initiative to create a center of innovation that would enhance the technology and innovation ecosystem in South Florida," Levan says. "George Hanbury, president and CEO of NSU, became a co-founder, with me, of this idea." As it happened, the on-campus library had a vacant floor—the fifth floor—that was an ample 54,000 square feet. "It was a natural to locate the Alan B. Levan | NSU Broward Center of Innovation there," he says.
NSU agreed to provide $5 million, and because the library is a public-private partnership between NSU and Broward County, Levan and Hanbury asked the county to contribute an additional $5 million. "Additionally, my wife and I and the Levan Family Foundation provided a large philanthropic gift," Levan says. The idea was embraced by then-Broward County Commissioner Steve Geller, who is now the mayor of the county. "He shepherded it through the Broward County Commission," Levan says. "And, interestingly, when the project was approved by the county, not only did they approve the $5 million request, but every single commissioner spoke in favor of it because the idea was so compelling, and everyone realized that this could really move the needle for technology and innovation in Broward County."
Of all the sources that contributed to Levan's can-do attitude, he cites one that was especially influential and meaningful to him: Steven Johnson's Where Good Ideas Come From. "He wrote about 'the adjacent possible,' where world-changing ideas generally evolve over time, as slow hunches rather than as sudden breakthroughs—and you need the adjacent concepts in order to get there," Levan explains. "For example, you couldn't have created PayPal or eBay without computers and then the internet. Similarly, for South Florida, those adjacencies already include attributes for success, including university and government support, as well as the existence of large technology companies and thousands of people already engaged in technology and innovation. I believe the goal here is very achievable."
Levan looked beyond South Florida for ideas—and ways to learn from the mistakes of others. "I probably talked to a dozen directors of innovation centers around the country," he says. "And I asked them if they had to start over, what would they do differently, and they said that they mistakenly thought a technology center was a physical place, and what they learned is that it's not only the place that creates success."
Levan quickly grasped that beyond the appeal of the planned venue, the Levan Center would be an idea, a network, a vast collaborative of like-minded people. "As much goes on outside the place as inside the place," he observes. "What we designed is a phenomenal place, a 'wow' experience that will turn heads, but John and I both know that the heavy lifting is done collaboratively: locally, regionally, nationally and internationally. It requires the buy-in of academia, government and the corporate community. That's how you build a technology hub." 
Wensveen, who holds a doctorate from Cardiff University and whose résumé includes senior roles in education and the airline industry, says that his new position is a perfect fit for his "hybrid" background, which is characterized by success in both the academic and professional spheres. "I've been able to successfully balance higher education environments and industry environments, and both consulting and entrepreneurial ecosystems," he explains.
Wensveen's ability to move easily and seamlessly between these rarefied worlds has accorded him special insight into what he brings to the table: "Someone asked me recently to define myself in two words, and what I've come up with is that I'm an applied futurist," he says. "I have this ability to use the skills that are required from all my different experiences that are very global in nature. I've learned how different things are done in different parts of the world and take those techniques and apply them to any type of scenario. Every single day in my role means looking at the future—looking at trends, challenges, opportunities, and then developing strategies that we can implement successfully in the short, medium and long term."
His self-identification as an applied futurist feeds right into one of the Levan Center's exciting new programs: LEVL5: SPACE DOCK™, a bold initiative that will connect the South Florida region to the Space Coast and the national and international space networks. "The goal of LEVL5: SPACE DOCK™ is to help put South Florida and NSU on the map in the space sector and to incubate and accelerate space entrepreneurship opportunities in the region," Wensveen says. The Levan Center has recruited Andrew Aldrin, a renowned and seasoned veteran in the space sector, to assist in the launch. "He will help catapult LEVL5: SPACE DOCK™ into becoming a significant force in this sector," Wensveen says.
Levan and Wensveen have consistently emphasized the Alan B. Levan Center | NSU Broward Center of Innovation will occupy an intellectual space beyond the borders of the NSU campus, and into the sprawling—and growing—creative and entrepreneurial network in the tri-county region, the United States and the world.
BACKED BY THE BOARD
"I am so honored to have such an incredible board of governors and others join our mission as we work to elevate South Florida's economic and scale-up abilities," says Levan, who is chairman of the Levan Center's board. "These leaders will be a driving force to help identify what additional support the community needs to grow our local businesses and create an ecosystem of innovation where entrepreneurs are supported and can bring their skills up to the next level that is required to be successful." The testimonials of several influential community leaders demonstrate their enthusiasm for, and commitment to, the Levan Center:
Steve Geller, mayor of Broward County: "My highest priority as mayor is to bring high-paying jobs to Broward County," Geller says. "I will work with our friends and partners in the business community to accomplish this. The new Alan B. Levan Center | NSU Broward Center of Innovation will help to provide the infrastructure to accelerate job growth, particularly in high-tech industries and other careers that require high levels of training and skill. Broward County has been good at creating small businesses, but bad at growing them into large businesses. We're confident that the Levan Center will help these small businesses grow into big ones."
Keith Koenig, CEO of City Furniture, chair of the Broward Workshop and member of the Levan Center's board of governors: "This facility is the missing piece that will push South Florida forward as an innovation ecosystem," Koenig says. "To have a central location in Broward County where entrepreneurs have the resources and support to create, grow and expand their business will help advance our local economy. To have a central location in Broward County where entrepreneurs have the resources and support to create, grow and expand their business will help advance our local economy."
Bob Swindell, president and CEO of the Greater Fort Lauderdale Alliance: "Our community has a long tradition of innovation and a deep pool of entrepreneurial talent," Swindell says. "The services, coaching and support that will be found at the Alan B. Levan Center | NSU Broward Center of Innovation will serve as a catalyst to help take Greater Fort Lauderdale's startup ecosystem to the next level of success. An innovation lab of this magnitude will be an asset not only locally, but nationally as the Alliance works to attract businesses and entrepreneurs from around the country and world."
George L. Hanbury, NSU's president and CEO: "I am confident that John Wensveen has the leadership and skills needed to lead NSU's new Alan B. Levan Center | NSU Broward Center of Innovation as we charge forward in our mission to be recognized as a preeminent university," Hanbury says. "We look forward to opening this center, providing a resource for our community and our students to be the facilitators of innovation."
Board of Governors
Alan B. Levan | NSU Broward Center of Innovation
George L. Hanbury II – President, CEO, Nova Southeastern University
Harry Moon – EVP, Chief Operating Officer, Nova Southeastern University
Ron Chenail – EVP, Provost, Nova Southeastern University
Alan B. Levan – NSU Trustee, Chairman, BBX Capital Corporation, CEO, Bluegreen Vacations Corporation
George Platt – NSU Trustee, Managing Partner, LSN Partners
Bertha Henry – Broward County Administrator
Bob Swindell – CEO, Greater Ft. Lauderdale Alliance
Marcell Haywood – CEO, Encompass Onsite
Lisa Lutoff-Perlo – CEO, Celebrity Cruises
Keith Koenig – CEO, City Furniture
Ron Antevy – CEO, e-builder
Jonathan Wolfe – Sr. Director, AutoNation
Carl Schramm – Professor, economist, author, former CEO, Kauffman Foundation
John Machado – CTO, Ultimate Kronos Group, formerly known as Ultimate Software
Licenia Rojas – SVP/GM & CIO, American Express
Javier Villamizar – Operating Partner, SoftBank Investment Advisors
John Wensveen – Executive Director and Chief Innovation Officer, Alan B. Levan | NSU Broward Center of Innovation