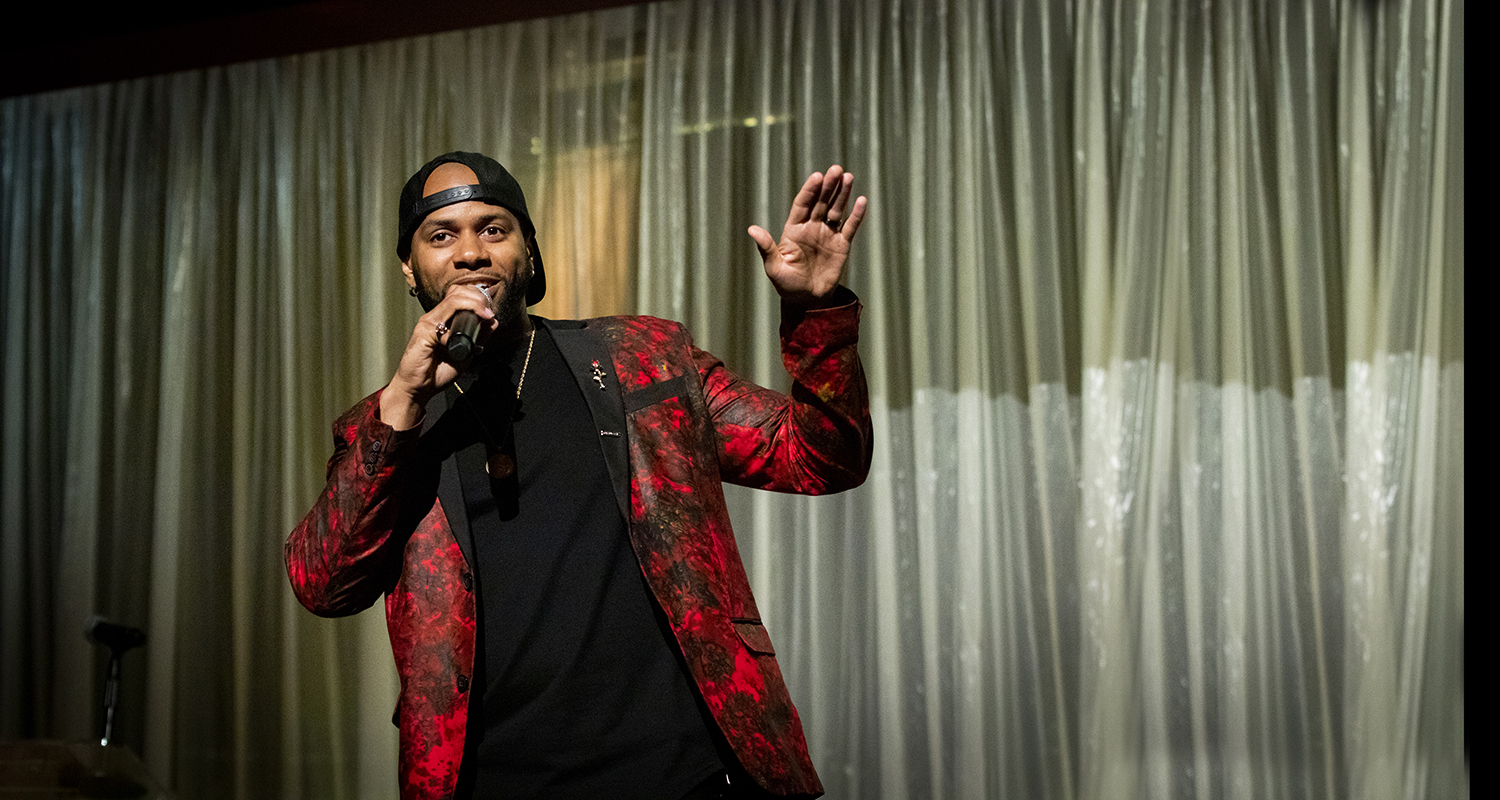 Alexander Star: The entertainer, entrepreneur
Positive-energy vibes and endless optimism exude from Alexander Star as he sips from his cup of herbal tea at a peaceful, tree-lined Wilton Manors coffee shop.
Star, 33, born in Pennsylvania to an African-American father and a mother of Ashkenazi, Romanian Jewish background, can be described as many things, including rapper, composer, business leader, humanitarian and motivator.
As for his formative years, Star says: "I was born in Pennsylvania, raised in Tennessee, seasoned in North Carolina and baked in South Florida."
He began writing music as a youngster, following in the musical tradition of his father, Michael Caldwell, a renowned concert pianist as well as a former U.S. artistic ambassador. Star sees his music as more than words and melody. "Music is a powerful tool in getting people to smile and unite," he says.
Regrettably, he says, today's America is completely fragmented and polarized politically. However, Star believes music is a salve for people to cast aside their differences. "In terms of the ability to depolarize, music has the power to do that," he says, "but it has to be done the right way. It has to give a message, but not be too preachy."
As an example, he cites the fact that for the past five years, he has led therapeutic songwriting collaborative workshops for kids from deeply troubled backgrounds. The results are encouraging, he says, as he's seen kids who bloodied each other the previous day working together end up cheering each other on as songwriters.
Star points to a few of the musical artists whose work he admires and have influenced his own creativity. "Bob Marley and his son, Damian," he says. "Plus, Will Smith. In his career, he never degraded a woman in any of his songs."
Star says rap music has changed dramatically from its earliest days when lyrics often were demeaning to women.
As for his own music, he finds the positive feedback he receives from his audience to be most inspiring. "I'm most proud of actually hearing from people I've never met telling me my songs have impacted their lives," he says. "They place value on what I'm creating."
Star began writing musical lyrics to rhyme when he was a child. In elementary and middle school, he sang in a chorus. He became a "battle rapper" after he moved to South Florida, and had his talents discovered by Johnny Mars, who saw him freestyling on a basketball course.
Star says he composes music by first coming up with a concept. He starts with an introduction which leads to a conclusion. "I play the keys," he says. "It's mainly done in my head. I bring it to other musicians."
Star says he writes music that is personal to him and meaningful. He does not simply compose songs because they're what others want to hear. He is enthusiastic about the state of today's music industry. "I'm super optimistic," he says, adding artists today have many levels of freedom, largely because of the internet. "You don't need a record label," he says. "You need funds. That's the speed bump. You need marketing capital."
One needs marketing capital to promote one's artistry. He says without it, "you're a grain of rice in a bowl of rice."
When it comes to today's well-known recording artists, he'd most welcome an opportunity to perform alongside Bruno Mars.
Star's artistry has taken him both around the nation and around the world. He's been to New York already three times this year, including two performances at one of the world's most recognizable locations: Times Square. He also has performed in Israel, Rome, Tokyo, Rwanda, Morocco and Mexico. He is proud of the fact his appearance on Les Anges 9, a highly rated, popular French reality TV show, has brought him fame and recognition overseas. "It's humbled me even more," he says, "when people you don't know, know who you are."
On Les Anges 9, Star is a vocal production specialist providing training and feedback to the performers.
No discussion about Star is complete without delving into his involvement with the local business community. "I do keynote concerts for a lot of organizations, corporate functions and events," he says. "I transform the atmosphere in the room."
He describes his musical message as always uplifting, bringing positive vibes to the room. In many ways, his powerful message can be likened to traditional motivation speakers appearing at business lunches and conventions, but with an added twist: his encouraging words of rhyme are put to original music. He's appeared at SFBW's Apogee awards presentation. Star also is the chief brand ambassador for AFR clothing, described as a social entrepreneurship fashion brand donating 20 percent of its profits to educate underprivileged children in Africa.
Despite his increasing fame and rising-star status, he still maintains his friendship with childhood friends and buddies. "When you rise up, they rise up with you," he says. "I surround myself with friends who are professionals. It's symbiotic when we work together."
Star treasures the moments he spends with his 8-year-old son, Zion. "He's taught me how to be a kid again," he says. "I learn how to look at the world through untainted eyes."
The singer, who sports a chai, the Jewish symbol for life, around his neck, believes the positivity of his artistry can make the world a better place if more people were able to hear his message. He's hoping to garner corporate support and funding to better market and spread his message. ♦