Portrait photography by Eduardo Schneider
Professional Bank may have had an inauspicious grand opening, but it wasn't an indicator of things to follow.
The Coral Gables bank completed its initial capital raising in the summer of 2008 and opened for business a few months later, on Sept. 8. Chairman and CEO Daniel R. Sheehan tells how cocktails and hors d'oeuvre were being served at the grand opening of the South Miami branch on Sept. 15 when a TV in the lobby flashed some breaking news:
"Lehman Brothers had just filed for bankruptcy protection. So, here we're launching a new venture in the financial space and there's the largest bankruptcy filing in the financial space," Sheehan recalls. While it was a little eerie, Professional Bank took advantage of its pristine balance sheet while bad loans dragged many rivals under.
"Needless to say, there were a lot of lessons learned over the next couple years, but we were net beneficiaries in that," Sheehan says. "While the rest of the world was scrambling to deliver and solve loan issues, we were levering up and enjoying a clean balance sheet amid an otherwise turbulent market and providing loans in a scarce marketplace."
Flash forward to 2019 and Professional Bank had $890 million in assets at the end of the second quarter, up 40 percent from 2018's second quarter. Commercial real estate lending was up 43 percent and residential lending was up 35 percent. Quarterly net income reached $1.16 million.
Shortly after the deadline for SFBW's print edition, Professional Bank Professional Holding Corp. and Marquis Bancorp, another Coral Gables bank, announced the signing of a merger agreement. Subject to shareholder and regulatory approvals, the combined banking institution will be known as Professional Bank and have approximately $1.6 billion in assets, making it the 12th largest community bank in Florida and the fourth largest in South Florida.
Professional Bank and Marquis Bank both have top, five-star rating from Bauer Financial. Professional Bank completed a $20 million capital raising in December after a $19 million capital raising in 2017.
"We have held Marquis Bank in high esteem for several years now and look forward to the partnership. They have a number of talented bankers on their team along with a great staff, both of which will be a natural fit within our culture. The combined institution will advance our plans for scale and profitability along with the implementation of certain technologies across this larger platform," Sheehan said in a merger announcement. "The combined resources will accelerate our growth in South Florida and beyond."
Professional Bank's  impressive numbers were already fueling further growth.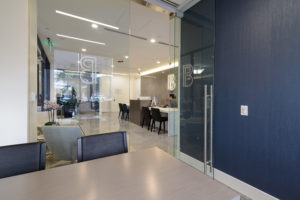 The bank recently opened new branches in Boca Raton and the Dadeland area of Kendall and has opened loan production offices in Doral and Wellington. The Palm Beach Gardens branch is expanding its location. The bank has opened a digital laboratory in Cleveland, gaining experienced bankers in the process. Sheehan sees the possibility of eventually moving into Florida's other large metro areas: Tampa Bay, Orlando and Jacksonville.
Marquis Bank, which was established in 2007, operates branches in Coral Gables, Aventura and Fort Lauderdale. It held $680.3 million in assets and $559.7 million in deposits as of June 30.
"We are truly excited to be partnering with Professional and believe now is the time to combine our franchises to create the premier community bank in South Florida. This is a tremendous opportunity for two high-performing banks with similar cultures to join together in this transformational merger," said Javier J. Holtz, Marquis Bank's chairman and CEO said in the merger announcement. "This is a win-win for our clients, associates, and shareholders."
While Professional Bank's name might imply it's just targeting doctors, lawyers, attorneys and other professionals, it has a broader array of customers, Sheehan says. It does well with entrepreneurs and real estate owners, for example.
"I really like and enjoy the small business customer who needs a responsive bank to handle their cash management and other treasury services and that might need a little bit of credit loans to complement their business," Sheehan says. "We also really like the tax-exempt space: 501(c)3s, educational facilities, private schools and municipal finance."
About 40 percent of its portfolio is residential loans, Sheehan says. "We really like one- to four-unit family residential. While everybody knows what a mortgage is, if you execute well during that experience and transaction, we are really able to gain trust and enjoy a deeper trust." That leads to deeper relationships and more business.
There were about 14 individuals that hatched the concept for the bank in 2007, Sheehan says. Sheehan had a background in capital markets with Cohen Financial, L.J. Melody and Bear Stearns. He was asked to join the board and also wrote a check to become one of the initial investors.
Over time, he became more involved in the bank, and he became chairman in 2013. "What's exciting about this business and one of the benefits is, every business is like a lemonade stand—some more complicated than others. I'm having a lot of fun and learning a lot in this business. I get to look at a lot of lemonade stands every day," he says.
The announcement of the bank's Digital Innovation Center came in December. One of its leaders, Ryan Gorney, came from accounting giant Ernst & Young, where he served as an executive director in the digital strategy area for financial services. He also had a key digital role at KeyBank. His role at Professional Bank is executive vice president, chief information officer and chief digital officer.
Professional Bank also landed Chris Rice, who was KeyBank's VP of digital front-end engineering.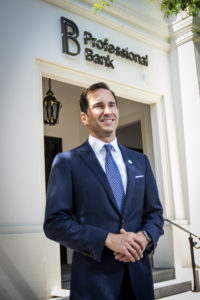 "The forthcoming technology and digital offerings will provide Professional Bank the bandwidth to offer its services to a broader universe of potential clients and aid in its future revenue growth and client acquisition," Sheehan says. The bank wants to balance high touch with its customers and technology support.
Shortly after Sheehan's interview, Professional Bank announced it is the first sub-$1 billion community bank in the nation to use Moody's Analytics QUIQspread automated spreading technology—as part of a suite of Moody's Analytics solutions that also includes CreditLens, ImpairmentStudio and MARQ software. This allows Professional Bank to review loan applications faster, more accurately and more efficiently than most lenders. Sheehan said the system will enhance deal flow management, loan reviewss and approvals, which will directly benefit our commercial borrowers.
The bank also announced an Apple Watch app and a person-to-person payment service that allows clients to send money to any individual with a debit card with funds available immediately.
Another key executive at Professional Bank is president and COO Abel Iglesias, who was promoted in 2016 from chief lending officer. Iglesias previously was president and CEO at JGB Bank and a senior executive VP of BankUnited.
While Sheehan was born in Canandaigua in upstate New York, he has deep South Florida roots. He mainly grew up in the Palm Beach Gardens and Jupiter area, going to the Benjamin School and Palm Beach Gardens High School, he says. He was a wide receiver on the football team at Duke University and then transferred to the University of Florida. He gained an MBA from the University of Miami.
His parents owned the Sheehan Agency, a real estate agency in Jupiter where his wife, Christy, is now strategic development partner. Her older brother was one of Sheehan's college teammates. Christy is a former pro volleyball player and was captain of a Penn State volleyball team that played in two national championship games.
Sheehan lived in Miami for 15 years, but moved a growing family to North Palm Beach five years ago. The Sheehans now have three kids ranging from 5 to 9.
When he's not busy trying to grow the bank, Sheehan says he enjoys jogging, golf and boating on his 31-foot Jupiter, a brand of sportfishing boats. ♦