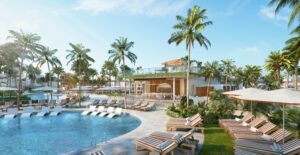 Billed as the 'most significant evolution in its history,' the Boca Raton Resort & Club will transform its accommodations and name over the next year. The resort will once again be known as The Boca Raton, which was its namesake from 1944 to 1988. The rebranding is part of a $175 million enhancement to provide five distinct hotel destinations with varying amenities at one resort.
"A New Golden Era" will be unveiled during the winter of 2021/2022 and will feature luxurious enhancements to improve the guest experience through modern accommodations, trendy culinary concepts and innovative amenities.
"The Boca Raton has a remarkable history as an internationally recognized landmark and a private escape for in-the-know travelers," says Daniel A. Hostettler, president and CEO of The Boca Raton. "A New Golden Era will pay homage to the resort's storied past while introducing innovative new amenities and experiences that will inspire both members and guests and define The Boca Raton as one of the world's most preeminent luxury resorts and private clubs."
The resort opened in in 1926 as The Ritz-Carlton Cloister Inn. It now operates as a year-round escape for members of The Boca Raton Club and resort guests. After the renovations, the resort will feature five hotels (Cloister, Yacht Club, Beach Club, Tower and Bungalows) spread across 200 acres of waterfront land.
For more information, visit TheBocaRaton.com.