Soon after the worst terrorist attack in Israel's history, nearly 100 members of a synagogue in Boca Raton partnered with Jewish National Fund-USA to offer support. The group raised enough funds to donate two bomb shelters painted with murals to residents living in Israel's Gaza Envelope. The project, passionately led by Rabbi Rony Keller of Congregation B'nai Israel (CBI), who is also a member of Jewish National Fund-USA's Rabbis for Israel affinity group, began as a High Holidays fundraising campaign but quickly turned into a showing of unity and solidarity for Israel after the atrocities committed by Hamas on Oct. 7, 2023.
CBI's members sprang into action just days after the war began, providing immediate support to those affected in Israel. They went above and beyond their original goal, raising $20,000 to fund the painting of two essential safety structures. The initiative helps ease children's fears, mainly when the structures are near playgrounds or other play areas.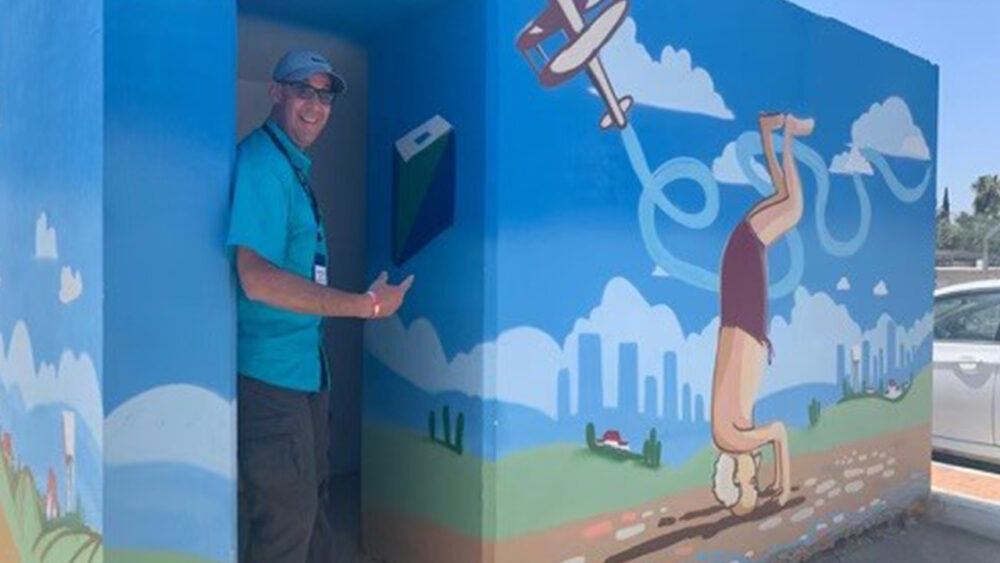 Living in the Gaza Envelope is a constant reminder of the ever-present danger of missile attacks. With just 15 seconds to find a bomb shelter when the siren goes off, residents need quick access to protection. Therefore, the area has bomb shelters every few feet, including on highways, parks, playgrounds, community swimming pools, schools, and other gathering places. The Jewish National Fund-USA partnered with a local Israeli artist to inject some much-needed life into these drab concrete shelters. By painting them with vibrant and colorful designs, they transform them into unique works of art that uplift the community.
"We were devastated to learn that some of these life-saving structures were targeted by Hamas while families were seeking shelter as missiles rained down from above," Liana Konhauzer says, Jewish National Fund-USA Director, South Palm Beach. "Jewish National Fund-USA was there for these residents before the war; we are there for them now, and we will be there for them when this is all over. That's what this campaign is really about. We're currently making plans to rebuild and beautify the land of Israel in the future because we are certain Israel's future is bright."
After personally witnessing the painted shelters during the Rabbis for Israel Mission to Israel last summer, Rabbi Keller felt a deep connection to Jewish National Fund-USA's Bomb Shelter Beautification Initiative.
"My eyes were completely opened on the mission," he says. "I realized the extent to which Jewish National Fund-USA works on the ground in Israel. It's not just water solutions and planting trees, but making sure Israeli families are taken care of, and the extensive reach and incredible work they do go far beyond what most people know. I knew I had to get my congregation involved with this nonprofit, so I thought tzedakah in the form of painting bomb shelters for kids in Israel would be a beautiful mitzvah that would really resonate with our members."
"People always talk about donating money to Israel, but it's hard to specifically see where your money goes," he continued. With Bomb Shelter Beautification, people can see exactly where their charitable dollars go and appreciate knowing they are directly helping save lives. Who knows how many families, IDF soldiers and even journalists covering the war may have been running to these shelters as the war rages on. I speak for my congregation when I say it's been a privilege to participate in this project."
Jewish National Fund-USA is currently collecting emergency funds to provide immediate aid to Israelis affected by recent events. Your contribution can help thousands of families receive essential supplies such as food, shelter, clothing, toiletries, firefighting and protective gear, psychological assistance, and more. To assist with this noble cause, please reach out to Liana Konhauzer at LKonhauzer@jnf.org or donate directly at jnf.org/supportisrael