[vc_row css_animation="" row_type="row" use_row_as_full_screen_section="no" type="full_width" angled_section="no" text_align="left" background_image_as_pattern="with_pattern" z_index=""][vc_column][vc_column_text]
Years ago, Gino Santorio tried his hand at being a TV anchor. "I was terrible at it," he says now, which no one believes.
Any producer would take one look at him, put a coffee cup in his hand and cast him as the affable host of a morning show. But if there weren't at least some truth to Santorio being bad at the job, perhaps he would not have gone in a completely different direction, professionally: into a health care career marked by roles of increasing and varied responsibility—chief operating officer, chief financial officer, and for the past two years, president and chief executive officer at Broward Health.
Born in Albany, the state capital of New York, and educated at the University at Albany, the first-generation Italian-American worked as a budget analyst for Gov. George Pataki and then briefly for Gov. Eliot Spitzer. Another budget analyst position brought Santorio to Florida, and around 15 years ago, he parlayed his background in finance into a career in for-profit health care, rising to the CFO level in 2008. He was at Jackson Health System for six years and joined Broward Health around three years ago. He says he didn't realize that health care would be his calling until he was already in the industry. "I thought my career would lead more in the direction of a county administrator or city manager," he says. "Once I started in health care, I pretty much instantly fell in love with it."
Despite his polished appearance, Santorio is a low-maintenance guy. The weekend warrior whose preferred workout, pre-pandemic, was Brazilian jujitsu—"You can't really have a light workout when someone's trying to fight you, but there's a tremendous amount of camaraderie"—has segued to weighted vest workouts in the park. ("It's not fun, but it's effective.") This is a man who buys his suits off the rack and cuts his own hair. Really. "I've been doing that for 15 or 20 years," he says. "I started because I could not just break away during normal hours to get a haircut. So I figured out how to do it."
Married to a speech pathologist, and dad to a 2-year-old son, Santorio is quick to grasp the gravity of the part he plays in our anxious new world: "I really want to thank the people who tirelessly go out and sacrifice themselves and do what they do—the doctors, the nurses," he says. "It's not just impressive. It's inspirational for the whole community and for all leaders." As a key player during a medically fraught time, Santorio shares thoughts on his career path, his day-to-day life, and the elusive goal of "making it."
ROLE PLAYING
You've been a COO, a CFO and a CEO. Which is the most fulfilling?
I was also a chief compliance officer. They all play their vital roles, and having had the opportunity to have served in different roles has given me a greater appreciation and understanding. Finance is just the lens that I see the world through. Some people who work their way up to be hospital CEOs take the clinical route. Others come from the operations side, where you really learn how things tick—everything from the productivity of a transporter to what type of radiology procedures are best based on the community and specialists that you have. It kind of gives you the other side of the house. And from the CFO perspective, you can really understand the business of health care from every avenue.
But it became clear that CEO was the best fit?
It's something that I always wanted to do just because I could make the most impact in health care there. I didn't know if there was something I was going to love more than being COO. And once I got the opportunity, I loved it, and it was a great fit for me.
How has the pandemic changed what you're doing in your role?
You know, it hasn't really changed what we're doing. It has changed how we're doing it. We have 8,000 employees, and close to 3,000 employees are now using some kind of telework at this point. Being able to maintain the strategic plan, when a majority of that plan used to be implemented through in-person meetings, and converting to an electronic platform was huge. This pandemic has certainly accelerated the necessity to have data in order to manage the disease, and that's something that we've put greater emphasis on.
What is your typical day like?
I have a different answer for every day of the week, and that's part of what I like about my job. You have your vision that keeps you on track and your mission and everything ties back to that in terms of your strategic plan, but my day-to-day takes some really big swings. After Hurricane Dorian, I remember calling volunteer groups and figuring out who had a private jet so we could ship supplies out to the Bahamas. I was out there literally lifting supply boxes onto a friend's jet. That was one day. The next day, I'm in a community meeting on homelessness. My day can be totally different from one day to the next, but over the course of a month or a year, directionally, you're still hitting the same things that you said you were going to do—executing on your strategic plans, growing the community and being there for the community when it's needed. How you do that from day to day is what changes and keeps things interesting.
[/vc_column_text][vc_empty_space][vc_single_image image="61350″ img_size="full" qode_css_animation=""][vc_empty_space][vc_column_text]
DELICATE BALANCE
What do you do for yourself to maintain a healthy balance?
You find a way to fit things in. It's surprising how much time people waste throughout the day. Having a routine makes things easier in terms of working out and eating healthy. This job really doesn't lend itself to a routine, so you have to schedule when you can make things happen. So if I have a morning meeting and then the whole day is jam-packed until eight at night, that means I have to work out at 5:30 in the morning. If you're working remotely from home, and you have a meeting that starts at 7 a.m., and a meeting that ends at 7 or 8 p.m., you might be able to take 30 minutes at lunch for a workout. You have to be flexible. I tell my employees that wellness starts with them—if they're not well, they can't take care of the patients. And my wife, Michelle, motivates me to make sure we stay healthy, and that definitely helps.
How important were mentors in your life?
Certain family members were mentors in terms of instilling hard work and showing me that if you work hard you can always attain success through opportunity. There's plenty of opportunity in this country. That started at an early age, with my parents and my brothers. And for professional mentors, there are a lot of people I tap into in the community that I refer to as my kitchen cabinet—hardworking, successful individuals who really have an open mind about things—and sometimes hearing their take on things, even if they're in different industries, is really extraordinarily helpful.
Do you remember the best piece of advice when you were starting your career?
Always do the right thing, and you'll never have a problem.
What does doing the right thing mean to you?
In an organization, for example, it's really putting the vision for the organization ahead of yourself, and doing so with the highest level of ethics. You know, there are a lot of shortcuts in this world, and you may be able to get some short-term benefit by skirting some of the rules, but in the end, it's only going to cost you more. 
You've achieved so much at such a young age. Do you ever have a moment of, "I've made it"?
I never really quite feel that I've made it. I've been doing this now for more than a decade and I remember feeling proud of something I did 15, 20 years ago and the celebration in my household lasted about 15 seconds before it was, 'Great job, what's next?' It was always the 'What's next?' that really forced me to continuously push myself and improve. It doesn't mean that you don't appreciate how far you've come and where you've been, but it keeps you grounded and forward-moving.
[/vc_column_text][vc_empty_space][vc_empty_space][blockquote text="From hurricanes to active shooters to a pandemic to cruise ships stranded with no one to take care of sick patients, Broward Health has stepped up every single time." show_quote_icon="yes"][vc_empty_space][vc_empty_space][vc_column_text]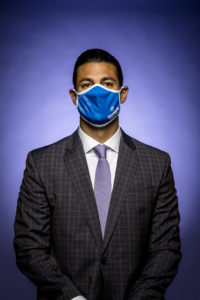 TIME-SENSITIVE
Is there something you've done for yourself or bought for yourself to reward yourself in the last year?
You know, I really can't think of one. I would say that the things I've done to reward myself would just be to spend time with my family. Last month, the board asked me to take a day off—they actually voted at a board meeting to force me to take a day off. [Laughs.] So I got to spend a long weekend with my wife and son. That's the kind of stuff you just can't buy.
So you're a pretty driven guy if the board has to vote to make you take a day off.
I really don't take a lot of time off. Even when you're off, you're constantly kind of on the job. During the pandemic, I have had a difficult time disconnecting. Even though I have a very strong team that could carry the weight without me, from a participation standpoint I just feel I have to do my part to be there.
I know you're not a "fashion victim," but do you have any advice for men who want to look as put together as you do?
Laying out your clothes the night before saves a tremendous amount of time and saves me from getting yelled at by my wife for turning on the light in the morning. I really like my Cole Haans. They're really light and very comfortable and they pretty much go with everything. I have three pairs—one in every color. And I wear an Apple watch. I like not having to pull my iPhone out of my pocket for notifications. You can get the general gist of it and deal with it later or take care of something now. I have another watch, a Breitling that was given to me when I was younger. I put it on and then I'm always checking for notifications that don't exist.
What advice would you give to people starting your career in terms of following their passion?
First of all, people need to concentrate on their strengths. A lot of people focus only on their weaknesses. And make sure that money is not your driver. If you're good at something, and you enjoy what you're doing, you're going to be a whole lot happier and a whole lot more effective. And more fulfilled.
The advice used to be to follow what you love. More recently, the advice is to pursue what you're good at. A few years ago there was a slew of articles with the same theme: Following your dream is bad advice. The headlines were based on a Stanford study that concluded that following your dream can narrow your focus so much that it actually closes off avenues to success.
It's very difficult because some people are good at what they enjoy, and some people are not good at what they enjoy, and that becomes a hobby, not a profession. But everyone is good at something, so if you're good at something, you can generally find a way to make it lead into something you enjoy doing.
Any final thoughts about the place you spend nearly every waking hour? What does Broward Health do especially well?
I think what we do particularly well is consistency. Our caregivers are consistently there every time the community needs us, even when others aren't. From hurricanes to active shooters to a pandemic to cruise ships stranded with no one to take care of sick patients, Broward Health has stepped up every single time.
Photos by Nick Garcia[/vc_column_text][/vc_column][vc_column][/vc_column][/vc_row]