Jeff Zalaznick wants Miami to know that he isn't just visiting Florida. "We're here."
That's a big statement, as the original Carbone, the beloved, refined red-sauce joint in New York's Greenwich Village, is still one of the hottest tickets in town. Zalaznick, one of the three founders of Major Food Group (the others are Rich Torrisi and Mario Carbone), sounds like he's here to stay, an easy promise to keep, as the outpost of Carbone that debuted in Miami Beach's South of Fifth neighborhood last January is proving just as popular as its Manhattan counterpart. With a lushly decadent interior designed by the renowned Ken Fulk and expanded garden seating (110 seats total), Carbone is one of South Florida's biggest gastronomic success stories. The bar scene is already locally legendary.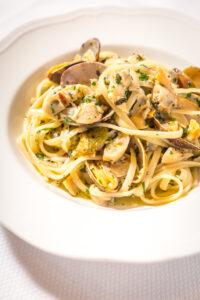 Zalaznick, born and raised in New York, found himself deposited in Miami Beach during lockdown. When asked if he realized if he was part of New Yorkers' new migration to Miami, he is quick to stake his claim. "I think I was at the beginning of it," he says emphatically. "I got pretty lucky because I came here a year ago, for what I thought was vacation, then the pandemic hit and I ended up staying here and I never left. I ended up falling in love with the place and realized that not only was it an incredible place for me personally, for my family, but also for business. We got laser-focused on staying here. We already had plans to expand here, and we already had a lease signed here and the space here, so it all came together. Now we're really excited to be doing a lot of business down here."
When pressed to name his favorite dish on the menu, he chooses the beef carpaccio, and when prompted to describe Chef Carbone in a few words, "the best" and "unending passion" spring to mind. It's a passion evident in the delectable Dover sole, the memorable lobster ravioli and the tuna tartare, and the swirling, sculptural carrot cake. Even the Caesar salad, prepared tableside, registers as a moment of theater and toothsomeness.
The trio of founders became partners over a decade ago, at Torrisi's deli and restaurant that Zalaznick recalls had about 14 seats, on Mulberry Street in New York. "We met there," he remembers. "They were cooking incredible, classic Italian food. I was in the process of looking to open an Italian restaurant with a very similar philosophy, and we kind of naturally gravitated toward each other. We got to know each other, had a meeting and we sat down and talked about what we wanted to do. Their dream and my dream were the same: our idealized version of a midcentury Italian American restaurant that we grew up with in New York. It was meant to be. The rest is history, and that's what ended up becoming Carbone. The idea of Carbone is what brought us together and that was the genesis of Major Food Group."
Carbone's portfolio of venues is well curated, with the Miami location assuming its rightful place among the global culinary capitals of Hong Kong, Las Vegas and Tel Aviv, in addition to the Village. Zalaznick is quick to make an audacious claim: "In five years, I think that Miami will be the epicenter of food in the country. It's really shifting because of all the exciting things that are happening right now." MFG is developing a steakhouse in Brickell and has debuted ZZ's Sushi Bar, located in the Design District, proving that beyond Carbone, Zalaznick is not just a spectator: He's here.