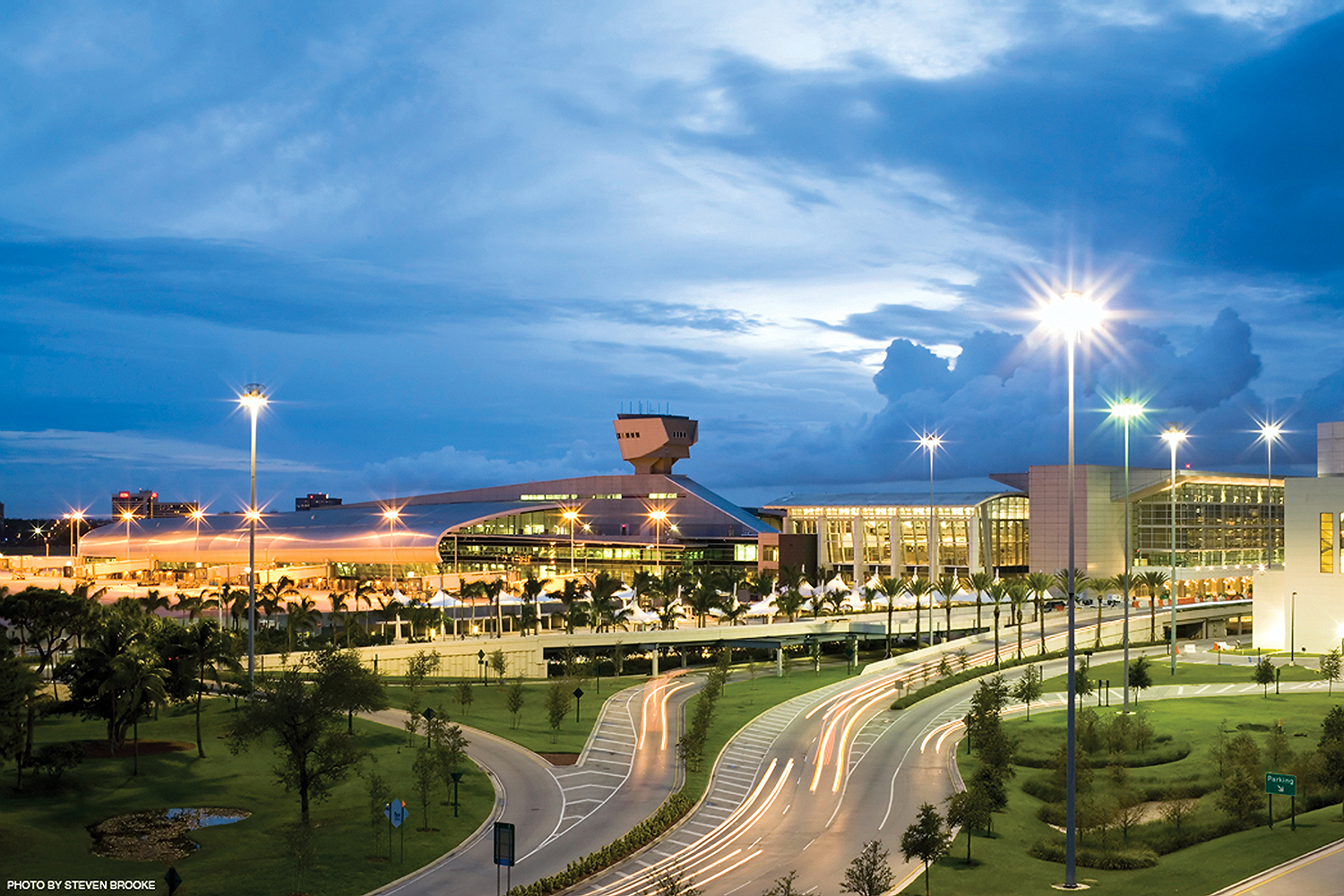 Economic Flight Path
Pharmaceutical hub, service to Asia and a free trade zone could fuel further growth at MIA
By Kevin Gale | photo by Steven Brooke
Miami International Airport is positioning itself as a global hub in the distribution of pharmaceuticals under an initiative being pushed by Miami-Dade County Aviation Director and CEO Emilio T. González.
More than 100 manufacturers, cargo carriers, logistics companies and other stakeholders, such as the Beacon Council and the University of Miami Health System, met in February to see how they can maximize MIA's designation as the first pharmaceuticals freight hub in the Western Hemisphere and only the second globally after Brussels.
González says about 80 percent of the fresh flowers in the United States already flow through MIA, so the airport is well-versed in handling fragile products that need temperature-controlled environments. MIA was awarded the pharma hub destination by the International Air Transport Association.
González noticed that in 2014, organic growth in pharmaceutical cargo was up 80 percent over five years to $3.3 billion in product value and saw a major opportunity to boost that. The potential for future growth is huge since MIA has about a $3 billion share of the $400 billion to $500 billion pharma hub business.
March will mark the third anniversary of González's arrival at MIA and overseeing the county's four general aviation airports. "Every year, I like to undertake a major project," he says. "If you are not moving, you are not moving ahead."
The airport endured years of massive terminal and other infrastructure projects, with the county authorizing spending of $6.4 billion, but González says remodeling of the central terminal has been pushed back for 10 years. One reason is that it would be difficult with the 8.4 percent growth for the airport to take down the terminal and still accommodate the needs of carriers.
Rather than tear down the E, F and G concourses, the airport has improved aprons and "hard stands," areas for planes to park instead of clogging up gates when there's a gap between flights.
As it stands now, the airport has about 8 million square feet of terminal space, which makes it the largest structure in the region. It can handle 130,000 passengers a day.
A new app for smartphones was just unveiled that uses beacon tracking technology to help passengers move more smoothly through the airport. It can notify them if a gate has changed or give suggestions on where they can eat or have a drink.
González is pushing to make MIA a top-tier global passenger hub, which means it would have flights to all the key global destinations like Los Angeles International Airport or John F. Kennedy International Airport in New York.
While MIA has been a pre-eminent hub for the Americas for decades, in recent years, it's pushed to add more East-West services with airlines such as Finnair, Qatar Airways, Turkish Airlines and Thomas Cook. MIA has been positioned to attract the service because of the region's growing prominence internationally in terms of real estate, finance, technology, and the arts and cultural scene, González says. "You can live anywhere in the world and say, 'Miami,' and people know about it."
A major push now is to get direct passenger service to Asia, which is a goal shared by many business leaders. "We are the only major U.S. airport that doesn't have Asia service," González says.
The airport already has Asian cargo carriers – Asiana, Cathay Pacific, China Airlines and Korean Air, which stop over in Anchorage on their way to Asia.
MIA uses major data analytics to help woo new carriers. Just because passengers didn't fly directly to MIA doesn't mean that the airport doesn't have analytics on how they got there to help a new airline decide what frequencies and type of aircraft would be appropriate.
MIA has talked with passenger airlines in Taiwan about adding nonstop service, which would be about an 18-hour flight. Because Taipei is a major hub for Asia, the service would be attractive to Asians in general. That would be similar to how service to the major hubs in Istanbul and Qatar have broadened MIA's reach to the Middle East. González expects the service to start within the next two years.
In another move to boost international business, MIA is pursuing making the entire airport a free trade zone (FTZ). In an FTZ, payments of duties aren't required on foreign merchandise unless it enters Customs and Border Protection territory for domestic consumption.
González says MIA has older hangars and warehouses that could be redeveloped as warehouses for the FTZ along 36th Street. He thinks the return on investment would be lucrative and could involve public-private partnerships. He says it is likely that the airport could get the federal FTZ designation by the end of 2016.
Emilio T. González
Current Role
Director and CEO of the Miami-Dade Aviation Department
Background
26-year career in the U.S. Army, retiring as a colonel
Director for Western Hemisphere Affairs at the National Security Council at the White House
Director of U.S. Citizenship and Immigration Services, an undersecretary position within the Department of Homeland Security in Washington, D.C.
Senior Managing Director for Global and Government Affairs at Tew Cardenas
President and CEO of Indra USA, the U.S. subsidiary of Spain's Indra Sistemas S.A., a leading multinational IT company
Director of City National Bank
Education
B.A. in International Studies from the University of South Florida
M.A. in Latin American Studies from Tulane University
M.A. in Strategic Studies and National Security Affairs from the U.S. Naval War College
Ph.D. in International Relations from the University of Miami
Honors
Boy Scouts of America 2014 Hispanic Heritage Award
Latin Builders Association 2014 Public Administrator of the Year Award
Friends of the American Latino Museum American Latino Influencer Award
2015 Greater Miami Aviation Association Juan Trippe Award