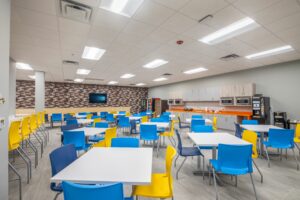 By converting an outdated building previously used as a cooking school into a state-of-the-art facility for the aviation industry, Excel Construction of Florida continued its role in providing modern office space for aeronautical companies around South Florida.
"We've been fortunate to complete several aviation-related projects this year in Miramar and have completed countless new tenant buildouts, expansions and new building construction projects here, which helped to ensure that this project was completed seamlessly," says Excel Construction of Florida president Eric Wolf.
The new headquarters of VSE Aviation Services (VSE), formerly 1st Choice Aerospace, will now consist of nearly 105,000 square feet of space in the Miramar Park of Commerce. The enhancements include new offices, restrooms, a substantial and vibrant breakroom, maintenance and repair space and a new distribution area. The renovations provide each office and conference room with glass-front designs and contemporary custom furnishings and fully integrated technology.
"The beauty of this project was the transformation of this space from what was previously Le Cordon Bleu cooking school to a state-of-the-art aviation facility," Wolf says. "The contrast between the two spaces couldn't be more profound. With this challenging and transformative project, we were able to salvage and integrate some existing components while upgrading and revitalizing the space into something fresh and new."
VSE is based in South Florida and provides services and parts for commercial, cargo, business, general aviation, military, defense and rotorcraft customers worldwide.