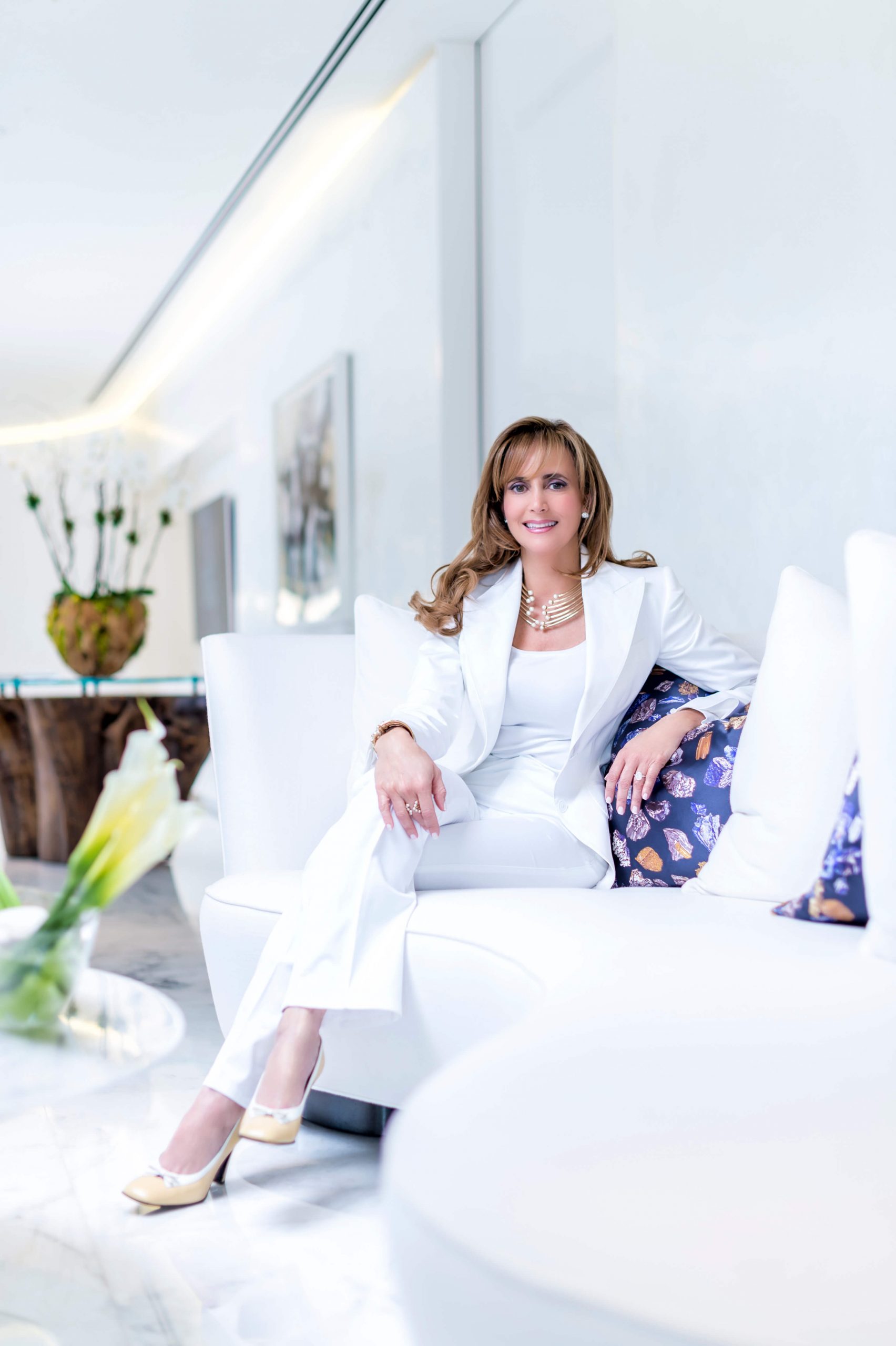 Fortune International's Ana Cristina Defortuna Explains How European Luxury Is Moving Northward Along the Coast
"There will be one Pompano Beach before the Ritz-Carlton and another Pompano Beach after the Ritz-Carlton."
When Fortune International Group's name is connected with a real estate project, especially as the developer, look for the other names involved to be illustrious and global—European, to be specific.
Take Jade Signature, in Sunny Isles Beach: President and CEO Edgardo Defortuna and his wife Ana Cristina, who serves as executive vice president, recruited the revered interior designer Pierre-Yves Rochon right after they stayed at the Four Seasons Georges V, Rochon's Paris masterwork. (Actually, they cut the Jade Signature deal after Rochon agreed to design the couple's Key Biscayne house—home comes first.) And it was the Pritzker Prize-winning architectural firm Herzog & de Meuron that signed on as the project's architect after the Defortunas drove through a snowstorm to meet with them at their headquarters in Basel, Switzerland.
When it came time to tap a designer for the Ritz-Carlton Residences, also in Sunny Isles Beach, the Defortunas enlisted Michele Bonan, the Florentine master renowned for his work on Cipriani chain of restaurants (including in Miami), the J.K. Place hotels in Paris and Capri—and opulent homes and yachts from Ibiza to St. Tropez.
That Ritz-Carlton, completed two years ago, proved so successful that Fortune International has once again partnered with the luxury hospitality brand for their newest joint endeavor: the Ritz-Carlton Residences, Pompano Beach (to be completed in 2025). The upcoming property, with architecture by Revuelta, is composed of a 32-story beach tower with 250 feet of ocean frontage and a 14-story marina tower, across the street, overlooking 250 feet of waterfront and a private resident marina.
For this project, which was co-developed with Oak Capital, the Defortunas returned to the Italian well to find their interior designer: This time, the pair chose Piero Lissoni, the Milanese architect who created the interiors for the Ritz-Carlton-Residences, Miami Beach, and has left his imprint—as either creative director or designer—for such iconic companies as B&B Italian, Boffi, Cassina and Cappellini. (Look for the brand-new sales center—and the eventual towers—to be filled with acclaimed pieces Lissoni created for such brands.) Ana Cristina Defortuna describes how it all came about.
Ritz-Carlton has an enormous footprint in South Florida, and now with your second project with the company, Fortune International has become a believer in the brand. What helped make the match?
What's most incredible is the service that Ritz-Carlton provides—as they say, "ladies and gentlemen serving ladies and gentlemen"—that makes a difference in the lives of the residents. In both of our residences, that's what makes the difference compared to any other projects that you see in the region in general. I get very involved in the hiring of all the people who work in the building. For example, I interview the people who do the valet parking—they get training of 140 hours, so you can imagine the training that everyone else receives. At the end of the day, that's what gives the building soul and personality and community. The fact that Ritz-Carlton loves to work with us is an honor.
How did the development of the Ritz-Carlton, Pompano Beach, happen?
It happened in the midst of the pandemic. My husband knew about this property. We have three boys who were doing online school, and we told them about this property we were considering purchasing. My kids have been involved since they were very little, going to the construction sites with their helmets and their neon vests, going to the sales centers, so they understand our work very well. It's very visual—very easy for a kid to understand. "It's so cool, what you guys do," they tell us. So, the five of us get in the car. It was March or April 2020—a beautiful day, you could hear the waves of the ocean. The last place we'd developed, we had to knock down a building, but here was an empty piece of land. And we crossed the street and showed them the other side of the property—the marina side—and we told them that this was part of the property, too. And they said, "We can have a boat and Jet Skis and go paddleboarding and kayaking? You have to buy it. Whatever it costs, it's worth it."
This property is really going to elevate the profile of Pompano Beach, right?
One hundred percent. There will be one Pompano Beach before the Ritz-Carlton and another Pompano Beach after the Ritz-Carlton, because of the type of amenities and the type of lifestyle being designed by Piero Lissoni.
How did you decide on Lissoni to be the designer?
We met Piero Lissoni many, many years ago. He's been coming to Art Basel Miami Beach. And every year we go to Milan to the Salone del Mobile [furniture fair]. So, we became friends, and he's an incredible human being, and I adore his wife Veronica [Gaido]—a wonderful person, so positive, and she's famous, too—she's very involved in the art world, very talented. That's why she comes to Art Basel every year. A great couple. We always wanted to work together but had yet to find a project for him. When we finally went ahead and purchased the land in Pompano Beach, we knew that Oak Capital had worked with Piero Lissoni for the Ritz-Carlton Residences in Miami Beach, and they said it was an incredible experience. I saw this beautiful, sculpted staircase that he'd designed there—to connect the ground floor to the rest of the amenities—and we went to Milan to meet with him. We had met with him in his office before, just initial meetings, but this time was for real. Immediately, he was drawn to the property and excited, how he would envision the relationship between the beach and the marina.
Your travels, especially to Europe, have led to so many of your collaborations. How central is it for Fortune International to bring that sensibility to South Florida?
Edgardo and I are very fortunate to travel to the French Riviera every summer, and we love it there. And we wanted to bring some of that French Riviera and European vibe to Florida. We wanted Pompano to retain that tranquility that it has, yet we wanted to bring that European sophistication—that chic, elegant vibe—and we thought Piero Lissoni could change the way that people live. It will be unprecedented for Pompano.