Months ago, virtually every interior designer, locally and nationally, began to notice it: In terms of residential space management, the concept of the home office changed abruptly. The office as a prestigious nook for occasional usage was out. A desk as an obligatory, studious design element: equally gone. Every homeowner suddenly wanted their home office to be more—larger, more functional, more comfortable, more inviting, more something.
What was clear was that clients, newly homebound thanks to COVID-19, were devoting much more thought and emotion to these now-essential rooms, whether they were envisioned and installed before or during the pandemic. "We are continually taking spaces that we'd decorated before and turning them into offices," says designer Scott Sanders, who lives and works in Palm Beach and New York. "I've done this three times in the last couple months for different clients. It's actually really hard to buy a desk now—they are sold out for months." His solution was to locate vintage desks and restore them.
Dunagan Diverio Design Group has fielded similar requests. "We've gotten inquiries from potential clients asking us to come their homes to redo offices," says Tom Diverio. One current client had enlisted the Coral Gables firm to design a combination gym/office, "but now with the pandemic he decided the gym had to go somewhere else. He's focusing on having an 'official' office now."
Miami-based designer Jessica Jaegger [design pictured left] has likewise noticed the requests multiply. Her clients specify offices regardless of whether the residence is home base or a holiday getaway, and the guest bedrooms are not overlooked. "We are currently working in the design phase of three projects—two for clients who will be living in the units and one client with a vacation home—and they all have requested offices," she says.
"We've just finished a project for which the client requested a redo of their master suite to incorporate a private office," Jaegger continues. "And what is different is the type of office areas being requested. Previously, clients would request a desk space in their bedrooms, but in these three recent projects, clients wanted dedicated office spaces. Even in the vacation home, for each bedroom that will serve adult children and their wives, we were asked to provide desk areas for both spouses to work remotely."
In a brave—and busy—new world where work never seems to take a pause, interior designers are delivering true functionality without letting originality suffer. The aesthetics of the offices are as varied and distinctive as the homes they landed in. For a restoration of a landmarked Palladian-style home by architect John Volk, located in Palm Beach, Sanders sourced a custom metal desk with a Calacatta marble top from John Boone, and paired it with a restored Karl Springer chair from the late 1960s. "It felt like Palm Beach, and the bone detailing is really incredible," he says.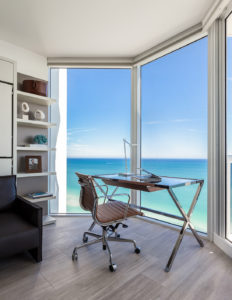 For a Zen office on Star Island, Dunagan Diverio conjured modern mindfulness, courtesy of a metal and black ash Dupont desk and a leather Eames chair from DWR. The pie-shaped office abuts a glass wall with a lush, sunlit garden on the other side.
On the other end of the spectrum, Interiors by Steven G created a contemporary baroque man-cave for a Coconut Grove businessman (featured image above), complete with a cherry-red Hermès desk, a teal Sentry swivel chair by Bernhardt Design and a Scarface-inspired original canvas. Someone was no doubt paying close attention to that line about all work and no play.
With additional research by Matthew Phenix