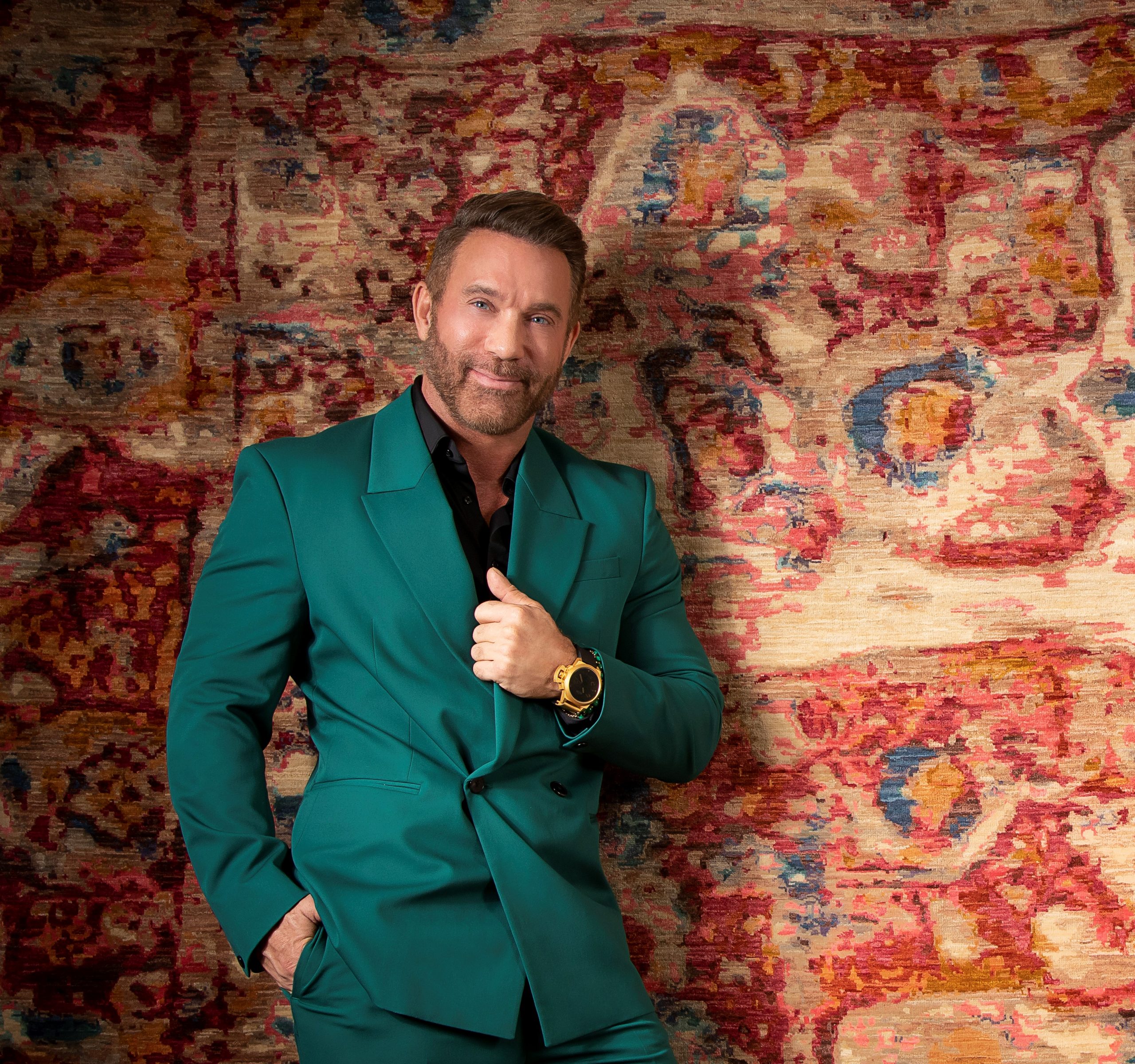 Interior Designer to the Stars Wade Hallock Has Exploded Onto the Women's Fashion Scene
And then there was the time when Cher gave him some valuable career advice…
There always had been an undercurrent of momentum to Wade Allyn Hallock's prodigious talent as a Miami-based interior designer, one that rivaled a game of telephone. This client told that friend. That friend became a client. And so on.
Better still, Hallock purposely flew below the radar with an air-of-mystery approach that his increasingly exclusive clientele appreciated. In short, Hallock kept quiet. He didn't plaster finished projects all over his website. He didn't name drop the A-list celebrities with which he worked in Southern California, unless they gave him the green light.
Still, by the early 2010s, more than a decade after he launched his eponymous design group in 2000, insider buzz about Hallock's timeless, sophisticated design style had caught the attention of TV producers.
Thankfully, the Goddess of Pop was there to drop a truth bomb.
"I had a couple of opportunities to be on some reality shows back then," Hallock says. "At the time, I was working with Cher on her home in Malibu. So, I told her about the reality shows. And she said, 'If you want to stay with a certain type of clientele, you won't put yourself out there like that.' "
That wisdom remains seared into his interior design brand. And, yes, discretion may be the better part of valor for Hallock when it comes to self-promotion in the high-end residential world.
But what happens when you launch a jaw-dropping collection of women's evening wear, cocktail dresses and bridal silhouettes—under the Wade Allyn banner—that has the potential to change the way people view style in South Florida?
Don't you want the rest of the world to see it? Potential clients beyond the invite-only crowd of 450 that packed the Scottish Rite Building in Miami this past March for a runway spectacular—against a dazzling Hallock-engineered backdrop of chirping birds and cherry blossoms—to celebrate the brand's launch?
"I want it to happen just as it did with interior design," says the 53-year-old. "All word of mouth. I don't want to flood the market. I don't want it in department stores. I want to be comfortable with the pace [at which] we're producing pieces.
"And you know what? If you can't get it, it's more desirable."
There's certainty in Hallock's voice that comes from ignoring the "what ifs" in life. If he feels it, he seizes the moment. And he does it his way. No questions. No regrets. It's been that way for as long as he can remember.
EYE ON THE PRIZE
Hallock was born in Hartford, Connecticut; his mom and dad divorced when he was 5. After bouncing back and forth between parents, he lived mostly with his mom (Hallock has a brother and two half-sisters from his mother's previous marriage). Something about his mom's drive and dedication—she worked for real estate developers—spoke to him. He loved her high energy.
He also loved interior design. There was no HGTV in those days. And no one in Hallock's orbit worked in a purely creative field. Still, he pushed furniture around whatever house the family was living in, rearranging rooms with an innate sense of where and how pieces should be staged. He'd sit in his classrooms at school daydreaming how to reimagine the space as something completely different.
When his mother moved to Atlanta, Hallock attended a grade school that offered a "interior design" course that consisted of little more than cutting pictures out of magazines.
"But I took it," he says. "And that was ballsy. I was the only boy in class. And I do remember being chastised a bit. But nothing was going to stop me from pursuing what I wanted to do."
A similar sentiment held true in his personal life. By the time he started college, both parents knew that their son dated men. One year, before Thanksgiving break, while Hallock was at Florida State University (he studied interior design there, architecture at the University of Florida, and art history at Florida Atlantic University in Boca), he asked about bringing his boyfriend at the time home for dinner. If his half-sisters could bring their boyfriends, why couldn't he bring his?
"The feedback was, 'Absolutely not,' " Hallock says. "So, I stood my ground and didn't go home for Thanksgiving. My mom, unfortunately, was someone who thought being gay was a 'choice.' But I didn't have time to engage in babble.
"Fortunately, for me, I never felt different than anybody else. I understood that I had a different desire. But I also felt incredibly comfortable in my skin."
That comfort extended to a growing reputation among his friends, who leaned on him for fashion advice, as the Style Whisperer. Hallock shares a story about two girlfriends who were working with Madonna's stylist for months to find the right wedding dresses. He went to New York to visit his friends. It took him 30 minutes of shopping to pull two perfect Halston gowns for them.
The anecdote speaks to his uncanny ability to spend time with someone, understand who they are at their core—and then translate that. Later, this would become the hallmark of his interior design work.
But, first, there were dues to pay.
TAKING THE LEAP
Though he didn't have a formal degree in the discipline, Hallock's design sensibility coming out of college made an impression on the owner of a firm in Fort Lauderdale. Too much so.
"I worked for an owner who had four different design teams," Hallock says. "He'd have us design something and present it to him. I'd show him my work, and he'd be like, 'You're new, so you don't know what you're doing.' I think to myself, 'Oh, my god. I suck at this.'
"But then teams would come in after me—and he'd literally sketch out what I had just shown him. It wasn't the greatest environment. So, I left."
Soon after, Hallock began working for a furniture showroom in the Design District. The company was working with a hotel development group led by Patrick Guarini, a prominent figure in hospitality circles who noticed right away that the best design ideas were all coming from Hallock. He approached him about starting his own company—and designing two freshly built hotels a year for Guarini (in this case, Hampton Inns).
"Patrick saw it in me," he says of the launch of Hallock Design Group in 2000. "He gave me the opportunity to jump, and I did. I wanted to. I was ready."
Less than a decade later, the word-of-mouth excitement driving his interior business in South Florida spread to Los Angeles. In 2009, Hallock began working on a project for Loree Rodkin, the famed jewelry designer who created the pieces worn by first lady Michelle Obama at the presidential inaugural balls in January of that year.
"Loree knows everyone," Hallock says. "I did two homes for her, and she started introducing me to everybody. That opened the floodgates."
Suddenly, and very quietly, Hallock began tackling projects for A-list celebrities, including (of the ones he's comfortable mentioning) Oscar-winning actor Matthew McConaughey and trailblazing singer/songwriter Pink. He even traveled with Cher to Hawaii, after working on her Malibu estate, to scout locations for a new beach home.
Hallock admits to being briefly overwhelmed before starting the project for McConaughey and wife Camila Alves. He worried that, because the actor is so accustomed to fantasy worlds, the McConaugheys' home somehow needed to reflect the surreal life.
"I'm thinking, how can I compare to what he sees on movie sets," Hallock says. "But Matthew and his wife couldn't have been more sweet—and more grounded. I wasn't creating a sci-fi set. It needed to be something they love to come home to."
For Hallock, that means latching on to someone's core aesthetic. With the McConaugheys, the design language emerged after seeing their home in Los Angeles. With other clients, Hallock asks for photos and Pinterest images. "If you send me 10 different pictures, I'll find the string of truth that tells me what makes your heart beat."
Just ask Pink.
"When I finished the first house I did for Pink, she walked through each room and said, 'You didn't just capture me—you captured the best part of me,'" Hallock recalls. "There's no better compliment."
DRESSED TO THRILL
The idea for a fashion collection had been percolating, but with the interior design business hitting on all cylinders, Hallock didn't have the time. Then came the COVID-19 pandemic in 2020.
"When doors open, I run through them," Hallock says. "And they were opening."
Despite having no formal training in clothing design, Hallock certainly understood fabrics. And he knew, from his years as a Style Whisperer, that he had an eye for fashion. He just needed someone who could help him bring the visions to life.
He drew inspiration from the movie Dior and I, the story of Raf Simons, who took over as lead designer at Christian Dior after John Galliano was fired in 2012 for an anti-Semitic tirade in Paris. Simons then had two months to prepare his first-ever haute couture show.
"[Simon's] process looked very similar to mine," Hallock says. "He took a bunch of images, he did the drawings, and he gave those to the atelier. I didn't see Simons doing any sewing, so that gave me a little more confidence."
Hallock found his own highly skilled atelier, a man he refers to by his first name, Andrés. ("I owe him everything," Hallock says.) In addition, he'll review designs with his stylist friend, Veronica Porras, who he credits with seeing creations in a different light—she helped to transform one piece, originally intended as a vest, into a shirt—and pushing Hallock out of his comfort zone.
"I think there's a little fear pulling me back with fashion because I didn't study it," he says. "But Veronica told me to forget all the rules. Just have fun."
Despite the lack of sleep that comes with running two businesses, Hallock confesses that he is, indeed, having the time of his life. It took nine months from conceptualization to the final stitch to produce the 60 pieces in his debut collection (50 of them were presented at the launch event in March). The colorful creations—designed with silks, chiffons, lace, sequins and hand-brocades—reflect the sensual but sophisticated style that Hallock says Miami fashion can aspire to be.
"We're more than just bathing suits," he says of a collection that was entirely produced in South Florida.
On the March evening of the line's debut, Hallock brought together the best of his two worlds, transforming the Scottish Rite space into a forbidden lost garden that perfectly complemented the dreamy fashion. Even the lighting on the cherry blossoms changed colors to match the clothes being presented on the runway.
"The lighting was subtle, but everything was working together in sync that night," Hallock says. "It was magic."
The magic is just beginning. Hallock already has a summer/resort collection in the works (think hand-macrame, mixed with silk, crepe and chiffon), with a fall collection on deck (expect tweed, light gabardine and pieces with texture). In addition, he's intent on broadening the brand with menswear, leather goods, handbags, belts and more.
And if all that weren't enough, Hallock also has plans for a Wade Allyn Home Accessory line.
"I look forward to growing," he says. "There's so much I still don't know. But I'm enthralled with the process. It's a piece of fabric, and suddenly someone is wearing it—and it has a whole different language."
"Usually, I'm doing design for somebody else. This is me just doing design for me. It's my vision. I have goosebumps just thinking about it."
Photography by Eduardo Schneider