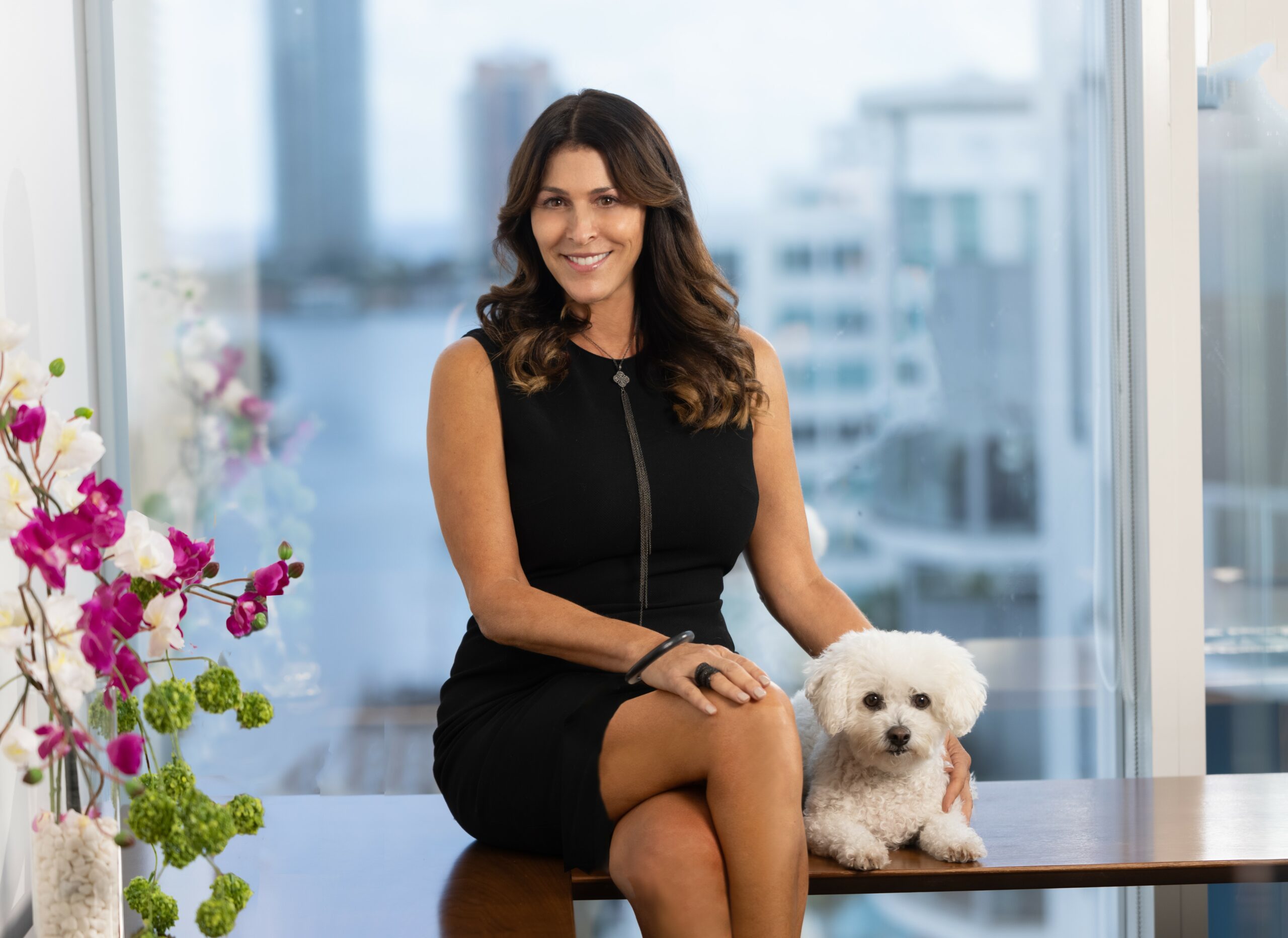 It's Game on Once Again for UBS, Lead Partner of Art Basel Miami Beach
After last year's cancellation of the fair, UBS VP of wealth management & financial advisor Laura Raybin Miller is ready for her art-minded clients to fly in
Laura Raybin Miller made her way to the upper echelons of UBS in an unexpected way. Born in New York, she came to South Florida as a child. With parents in the restaurant business and her father opening dining venues along Hollywood Beach, it felt natural to Raybin Miller to graduate Florida International University with a degree in hospitality management. She married young, had a child soon after, divorced, and then the single mother began her career in trustee development at the Greater Fort Lauderdale Chamber of Commerce.
If her starting salary was meager, the networking opportunities were fabulous—she met everyone worth knowing in business, politics and philanthropy, and parlayed her contacts into a role where she was empowered to create the chamber's international business department. Expertise in—and licensure in—securities came to Raybin Miller from an unlikely route—through a subsequent position with Israel Bonds; she began placing bonds in the portfolios of both individuals and institutions. Her relationships and investment acumen ultimately landed her a job with UBS; her tenure at the Swiss multinational investment bank and financial services company began nine years ago and today she serves as vice president and financial adviser in UBS's Aventura location.
If several global investment banks carry a certain cachet, it is UBS that holds special significance in South Florida because of its longstanding connection to Art Basel—both globally and in Miami Beach. "We're in our 25th year of partnership with Art Basel [in] Switzerland, and our 19th year with Miami Beach," she says. (UBS also has served as lead sponsor for Art Basel Hong Kong since 2014.) "As you can imagine, it's a great opportunity for me and other advisers to share the passion and pursuits that clients have around art. We not only sponsor the fair, but we have this wonderful VIP lounge where we're able to host individuals, we have curated VIP tours and it's an opportunity to sit with clients and network with them."
UBS has collected contemporary art for more than 60 years, possessing one of the world's largest corporate art collections, with more than 30,000 works created by artists from more than 75 countries. (The company notes that global sales of art and antiques reached an estimated $50.1 billion in 2020, down 22% from 2019 but still an eyepopping figure.) Raybin Miller and her team manage investments for their ultra-high net worth clients, who frequently own art collections valued in the hundreds of millions of dollars, which could often be a significant part of their total net worth and family holdings. And she has a special interest in working with female clients in life transition and educating them on the various aspects of investing in art.
The investment adviser has seen and managed it all, from acquisitions to donations. While many collectors pursue opportunities to preserve their collections on a multigenerational level to benefit their families and the community for generations, other collectors opt to endow museums with their collections. But the catch for the grateful museums is that the gifts often come with restrictive covenants to ensure the collections stay intact—conditions might include prohibiting the use of art for lines of credit, or selling or separating collections. "There are lots of parameters that the collectors may reach with the institutions," she says. "Typically, what I've learned is that once the collection is endowed, it basically becomes a restricted asset, remaining in the permanent collection of the museum—and the collections can't be sold or pledged. That's why museums are often hard-pressed for cash."
Raybin Miller's clients are in the opposite position, flush and ready to fly into Miami to view and scoop up the most buzzed-about pieces from the world-renowned fair that had to skip 2020 because of the COVID-19 pandemic. With U.S. borders now open to foreign travelers, the pent-up interest will be on full and frenetic display. It's anyone's guess as to whether Art Basel—and Art Week more broadly—will turbocharge the global art market's return to the heights of 2019, but UBS is doing its part, for example, by hosting an uber-exclusive wine and art salon before Art Basel Miami Beach opens its doors to the public. The private event's charming and able host: Laura Raybin Miller.