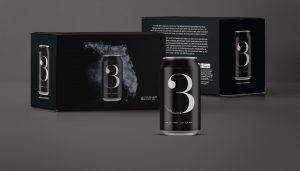 As the craft beer market exploded during the last 10 years, creating an abundance of breweries and copious amounts of flavors, Kevin Thomas, CEO of 3 Mavins beer, saw a middle ground with untapped potential.
An avid beer lover and traveler, Thomas and his wife, Maja, always enjoyed trying local beers at every destination they visited. But it was a night of barhopping in Columbus, Ohio, that cemented the idea of crafting a beer brand for the average consumer who is unmoved by commercial beer brands yet finds craft beers too rich for their liking. After sampling some beers they liked and disliked, the idea to craft a beer brand that would appeal to a broader audience began to percolate.
"Ultimately, you could say all great ideas come after a night of drinking," he says jokingly. "We believe we're like the average consumer. We kind of find ourselves in the middle ground and we think that there's a market between the Bud Light drinkers and the craft beer connoisseurs that's largely unaddressed, and we fall in that market. We wanted to combine ingredients and flavors that we really liked to sort of bring out a sweeter flavor profile in the lager than what customers would traditionally get in stores."
While the idea to start a new product grew over a night of sipping beers from a series of barstools, the process of crafting the concoction involved lots of legwork. After nearly eight months of researching different styles, ingredients and brewing methods, 3 Mavins' amber lager was born.
"We believe we can create something that caters to us and people like us to create that middle-ground product that anyone can enjoy," he says, "whether you're a craft-beer drinker and a beer connoisseur, or you're just that average everyday consumer who grabs a six-pack of Bud Light because it's familiar and you know what it's like."
After developing their first beer out of their Fort Lauderdale kitchen, Thomas and his wife had to determine the best way to get the product into the hands of consumers. Because of restrictions in Florida for alcohol, a business-to-business plan emerged: Thomas knew he couldn't scale his brand properly without help from well-known establishments—spaces where consumers could actually purchase the beer. So, the idea to collaborate with other businesses as a beer contractor and have them sell their beer brand allowed 3 Mavins to establish a presence in South Florida and around the state.
Luckily for Thomas, consumers have taken notice of the beer, and partnering with breweries and distributors around Florida has helped 3 Mavins become well-known statewide. The product is available at all Fresh Markets in Florida and hospitality venues around South Florida, including the Thesis Hotel in Miami, World of Beer, Brass Tap and Big City Tavern in Fort Lauderdale, to name a few.
"We're a B2B and we're responsible for marketing the brand, but, ultimately, the consumer is the one who buys our product," Thomas says. "South Florida, obviously, is a strong market for us. But we're building a nice base in Tampa; we've got customers really from Jacksonville down to Key West. And Orlando is a big market for us. It really is a pretty diverse group of customers." Now its founders have aspirations to evolve 3 Mavins into a national brand.
Just a year after coming to market, Thomas says one of the biggest challenges remains gaining market share and earning customers' respect by proving the company can provide a good product. While earning name recognition entails a lengthy endeavor, Thomas hopes that by sticking to what works and concentrating on delivering middle-of-the-road beers, the company's simplified selection will help 3 Mavins earn his drinkers' trust. After 3 Mavins' amber lager launched in 2021, the company released a second label in November (Encore Session IPA) with plans to release their third and final label in the coming year.
"Ultimately, it's building that brand recognition," he says. "I think that's been that's been the toughest thing—getting people to listen to you because there's so many choices when it comes to beer and getting people to understand that you're more than just a beer company, and that you've got a mission beyond just producing great beer, but beer is the catalyst to do more."