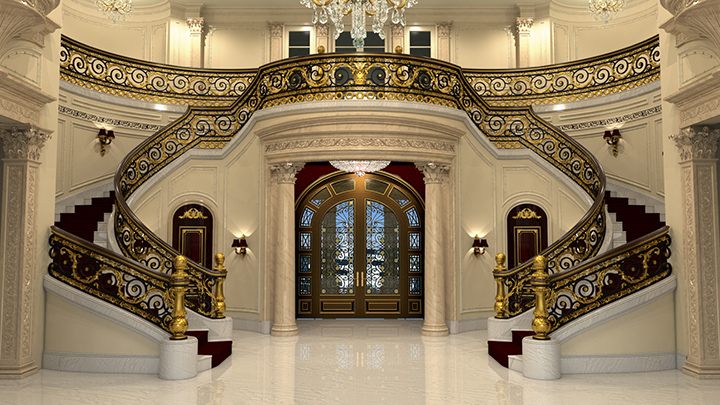 Le Palais Royal
The more than 60,000-square-foot, French-inspired Beaux Arts mansion is along the Atlantic Ocean in Hillsboro Beach.
The home's name is similar to Domaine National Du Palais-Royal, a so-called village in the city by the Louvre in Paris. It is along a wooded stretch of State Road A1A known as Millionaires" Mile, although there are undoubtedly some billionaire residents.
The home was designed and inspired by Joseph Leone and in-house architect Denio Madera Design. William P.D. Pierce of Coldwell Banker Residential Real Estate, who is called the agency's top individual broker in South Florida, is marketing the palace. The home is scheduled for completion in 2015.
"This grand palace will be a landmark that rivals Europe's greatest palaces. A true masterpiece, it is adorned with custom detailing exclusive to its design and incomparable finishes," Pierce says.
The South Florida Le Palais Royal boasts 11 bedrooms and 17 bathrooms that sit on over four acres and 465 feet of beachfront. It also has frontage on the Intracoastal Waterway with 492 feet of dock that can accommodate up to a 185-foot mega yacht.
A 13-foot, 22-carat gold-leaf gate and 26-foot entrance fountain transports visitors into a world of opulence and luxury. The fountain is one of six exterior water features that adorn the property. There's a 30-car underground garage.
The entryway features double "day and night" custom-designed doors, one of bronze-encased glass and the other of solid mahogany inlayed with 22-carat gold leafing. The doors open beneath a $2 million marble staircase with steel-iron railing and gold leaf, which took craftsmen more than two years to construct. The grand entrance and lobby open up to the expansive Le Salon with panoramic views of the Atlantic Ocean.
The palace has what's billed as the first-ever IMAX Theater contracted for private use, featuring a 50-foot by 27-foot screen and seating for 18 with a bar and IMAX lounge. Other features include three master bedroom suites and one presidential master suite, each with a Jacuzzi overlooking the ocean or Intracoastal Waterway. The kitchen, or La Cuisine du chef, will feature a La Cornue Grand Palais custom range and custom cabinetry made of solid mahogany accentuated with 22-carat gold leafing. The family room will feature a 1,300-gallon Living Color aquarium enclosed within custom cabinetry that will accommodate a high definition 3D television. Living Color is a South Florida company that has a TV show called "Fish Tank Kings."
La Palais Royal features a 4,500-square-foot infinity edge pool with a 12-foot cascading waterfall, double loop LED-lit waterslide, fire pit, and swim-up bar for outdoor entertaining. The pool was designed with state-of-the-art technology including an automated temperature gauge sensor and triple sanitation system, which utilizes saline, chlorine and ultraviolet light. An outdoor hot tub is positioned above a waterfall, and there is also a plunge pool off the master suite on the second floor of the exterior terrace. The courtyard also features an outdoor summer kitchen with a pizza oven, outdoor lounge for entertaining, and an entrance to indoor spa massage rooms.
Worried about someone coming in? Fear not. Security guard accommodations have been built on the property as well as an air-conditioned kennel for on-site guard dogs. ?