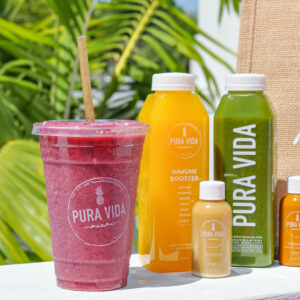 "Especially here in South Florida," says Omer Horev, who with his wife, Jennifer, owns and operates the Pura Vida all-day cafe concept, "the restaurant business in general is tough." That clear-eyed (and quite correct) assessment must be part of what has made the company such a delicious success. In October, Pura Vida opened its sixth location in the Miami area, and in December, debuted its first spot outside Miami Dade County, a 2,500-square-foot indoor-outdoor space in West Palm Beach's newly rebranded Rosemary Square area. 
The pair have built a company that in many respects transcends its category by becoming that elusive "third place"—a not-home/not-work spot that draws Floridians to visit, and linger, because of its entire feel. "We want each location to feel like an extension of our home," says Jennifer, who designs all the store's interiors. "Welcoming and organic and a place you want to keep coming back to as your 'neighborhood' spot."
The concept is working. Begun as a side project in 2012, Pura Vida has grown steadily over the past several years, even during the pandemic. With locations in South Beach, the Miami Design District, Edgewater, Coral Gables and Palm Beach, the pair plans to add outposts in Aventura, Coconut Grove and Las Olas, perhaps as early as this year. Astonishingly, since the COVID-19 pandemic began, Pura Vida's headcount has more than doubled, going from around 110 employees to 275—restaurant industry jobs, in a sector that has suffered mightily in the last year.
"We took a hit for the first few months last year," Omer says. "However, we were able to quickly pivot, adapt and ultimately focus on our expansion plans. Before COVID, we were already set up with a well-established mobile app and strong customer loyalty, which allowed us to focus on delivery and takeout, helping us get through the rest of the year while also building the business with that approach in mind."
It helps that Pura Vida's offerings feel relevant to South Floridians. The menus feature all-day breakfast items (Omer's go-to is the relatively comforting Perfect Egg Sandwich on a Sesame Bagel), superfood smoothies, fresh juices, salads, wraps, and bowls (Jen picks the Signature Acai bowl, when she wants something sweet), along with gluten-free and vegan sweet treats. Local and organic whenever possible, the bright dishes coming out of the kitchen have a visual appeal that matches the locations' breezy interiors. Each venue features both indoor and outdoor dining, and a stylish design that Jennifer describes as a "laid-back beach vibe—with a little luxury flare." If there is such a thing as a wellness hub, Pura Vida is making it happen.
A big part of the equation is customer service, and the entrepreneurs boldly state their commitment to developing careers for their staff, who often function as the most visible aspect of dining out. "There were growing pains at the beginning with finding and training staff while making sure the customer experience was at a level we are happy with," Omer notes. "Employee retention is a major challenge in the hospitality industry. At Pura Vida, we really focus on creating a positive workplace culture. We provide our staff the skills and resources to grow within the company, offer health benefits for full and part-time employees, and organize monthly team-building activities that promote a healthy lifestyle." 
In a challenging year, that kind of focus may be key to the thriving business; what they offer internally is also what they present to a public clamoring for a more well-rounded existence. 
"Jen and I don't view hurdles as a problem," Omer says. "but rather as an opportunity to gain a new perspective." 
— David Zivan