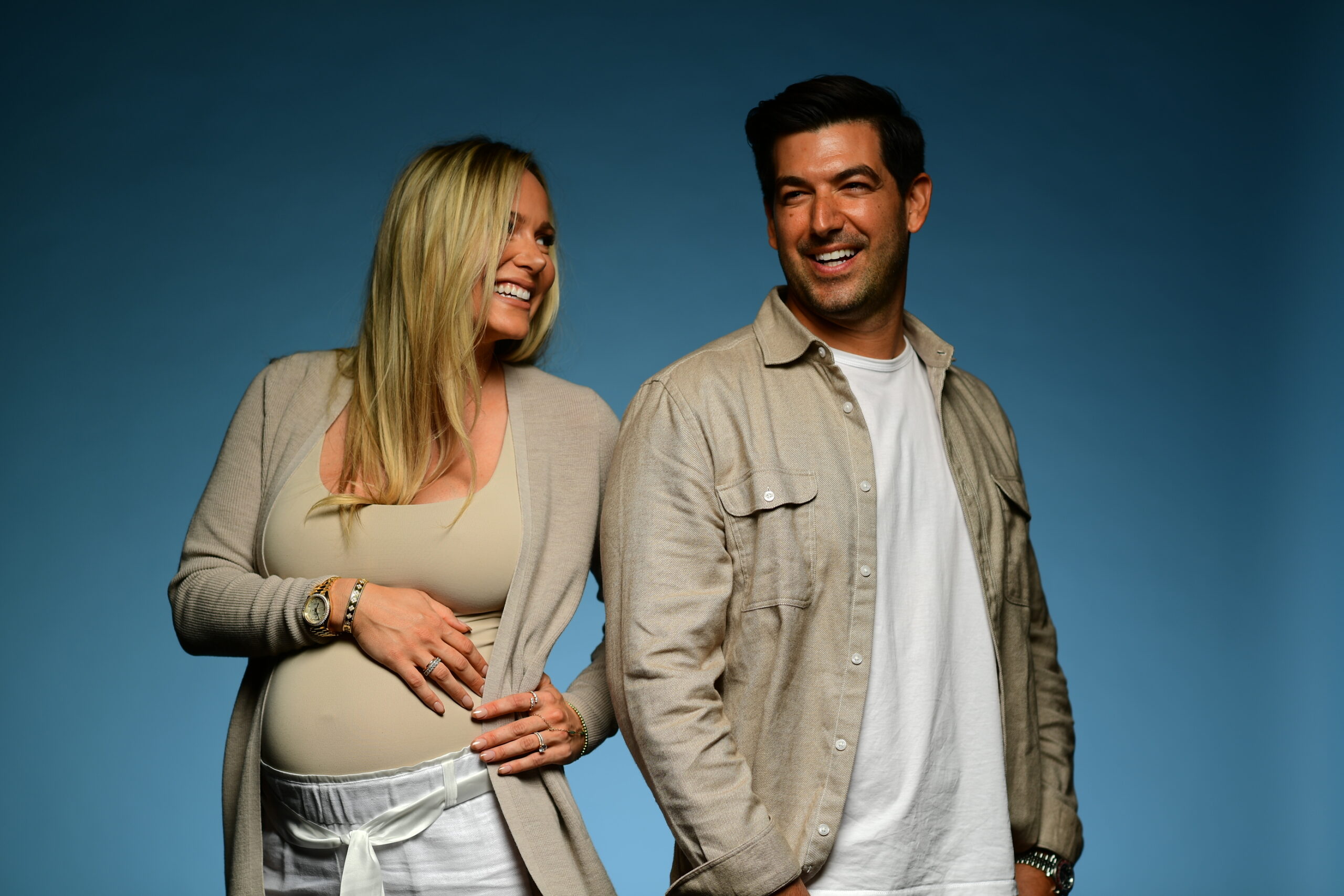 How Pura Vida Grew Out of Omer and Jenn Horev's Special Bond
They met cute and now evangelize for a clean lifestyle
PASSION PROJECT
"Pura Vida started as a passion project for me," Omer says of his and his wife Jen's chain of comfortably chic, healthy-casual dining spots. He readily acknowledges that he and Jen came not from the culinary world, but from real estate. The two met cute, in 2014. Both were working for small real estate firms in Broward: Omer had a listing and Jen brought in the buyer. They were sold on each other. He was darkly handsome and swarthy—he emigrated from Tel Aviv when he was 21—while Jen, though born in Chicago, was a Fort Lauderdale girl, blond and sun-kissed. They married three years ago and have a four-month-old at home.
The genesis for Pura Vida had been, he says, on the back-burner—until he met Jen, who convinced him to quit his real estate job and chase his dream. "I was always passionate about hospitality and community," he says. "I identified areas where people live, work and play to offer that third place"—not home, not the office, but an inviting atmosphere where people could eat, work and be a bit social.
Omer's real estate background came in handy when prospecting for fertile ground for third places. Starbucks and Panera Bread set the mold for the third-place concept, but as Omer says, "I wanted a more elevated experience, a better guest experience." The Pura Vida openings occurred in quick succession: South Beach, in the South of Fifth neighborhood (2012), Coral Gables, near the University of Miami (2016), Edgewater (2018), Miami Design District (2019), West Avenue in South Beach and West Palm Beach (2020), followed by Aventura (2021).
The two traded a honeymoon in order to launch the Design District location ("I owe her a honeymoon," Omer says, with a chuckle), but their riskiest bet was arguably West Avenue, with Omer thinking he could succeed where other casual and health food venues had foundered. Despite its location across the street from numerous high-rise condominium buildings, West Avenue between Ninth and 10th is a notoriously hard nut to crack. But Omer and Jen turned the block into a destination, as young entrepreneurs quickly flocked—and continue to flock—to the garden-like setting for wraps, juice shots and healthy bowls, all-day breakfast (almond berry toast, avocado smash), and an addictive chocolate peanut butter smoothie with a base of organic, grass-fed chocolate protein.
"I think we created a community of health-minded people who care about what they're putting in their bodies and care about being in a great space," Jen says. "We get families, businessmen, yoga moms." Omer adds that their customer base is so devoted that they see people coming in not only a few times a week, but a few times a day.
The COVID-19 pandemic made the third-place ethos seem all-the-more prescient, with remote work becoming the norm, but millennial Floridians growing sick of their apartments. "We see the shift in people's priorities—and, in fact, I can tell you in the past year, the way we think about designing, and the space we need for a future builds, have changed," Omer says. "We used to have smaller units, but now we realized that people want the experience of hanging out, so we have bigger spaces. And we are sensitive to what can happen in the future with COVID-type situations." Jen emphasizes the indoor-outdoor aesthetic of the airy, whitewashed venues: "We have a larger outdoor area, which you see in the West Avenue location. We want to make people feel comfortable and we're doing this across our stores now."
Hospitality is a graveyard for first-year failures, and slim margins are the rule even in good times. How has the pair succeeded, and come out of the other side of a pandemic? Answer: There was an app for that. "Overnight," Omer recalls, "we shut down our stores and had zero business. But once the local government allowed us to reopen, people really wanted to come back to restaurants. We had to come up with a convenient way for customers to come and grab our food. Our app has done tremendously well in the past year."
It was not their first bite at the app apple. They'd developed three apps before, but COVID-19 focused their thinking, and they anchored the app with a loyalty component. Jen says the quality of the food images sold people on the app. "Our app is user-friendly," she says. "You can see the photos clearly and you can customize it deeply. That's a key element." She feels other venues fail to prioritize the importance of uploading current images.
In the end, Pura Vida furloughed only one person out of a collective staff of 300. If anything counts as a pandemic-era success story, that does.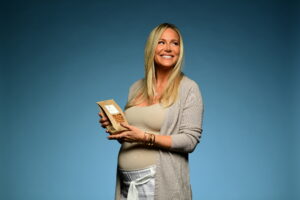 MEMORIES OF ISRAEL
When Omer thinks back to growing up in Israel, his memories are suffused with food. "I have so many memories of being in my grandma's kitchen, the tradition of going to the Friday market, of walking through the streets past the food stalls. The thing that registers with me the most is being at home, seeing my mom and my grandma—it was very veg-forward: a lot of greens, a lot of shallots, particularly. I don't know if you've had the experience of eating lunch or breakfast in Israel, but most restaurants have a lot of vegetable options. And I remember the Shabbat dinners, and all the preparation."
The first time Jen went to Israel with Omer, such scenes became indelible. "We made a salad with his grandmother," she remembers. "I don't speak Hebrew, so we weren't able to communicate that way, but she taught me about all the herbs, and that was one of the salads I wanted to bring home to create our menu." That effort, imported directly from an Israeli kitchen, became the gluten-free Jen's herb salad: arugula, kale, mint, Italian parsley, cilantro, organic quinoa, jalapeno, spiced walnuts, crumbled feta and scallion, doused with apple cider vinaigrette.
"Our vision for Pura Vida is to promote health and wellness," Omer says. "I'll tell you a story. I was driving to Orlando when I moved here from Israel, and the food options were very limited—just fast food on the highway. And I said to myself, if I want to drive anywhere in the United States, I want to make sure I can have a decent meal. So my goal is to have Pura Vida in most corners of the United States, just like McDonald's and Burger King, but we should see more healthy, fresh food available. We believe people should have better options." Omer says that a lot of visitors to South Florida approach him to ask why they don't have a Pura Vida at home.
"Our explanation is that in order to grow this brand, we have to stay on this certain path." They want to expand in Florida before going out of state, "but our eyes are on the Northeast in terms of growth, and we do like Texas, maybe Georgia." And for those who are wondering, here's Omer's stance on franchising the brand: "I don't like to say no, because you never know what the future holds," he says, after a freighted pause, "but generally speaking, we don't like the franchise model because you can lose the integrity of the brand and the quality of the product. Clearly you can see the difference in food quality and the guest experience, everything that has to do with operations. When I walk into my restaurant, I look at everything, whether there's dust in a corner or a plate left on a table for too long. You better believe that I address it."
Omer believes that it would be very difficult to maintain Pura Vida's high standards under a licensing or franchise model. "Look at the history," he says. "Look at what happened to Starbucks when they started a licensing model—the quality went down. But look at Chipotle—they're corporate-owned, and you can see that they manage to keep the quality in a certain place." He allows that he's encountered a lot of interest from prospective franchisees. "It's a sexy brand, right? People think they can take it to Mexico or Europe. We've had offers from all around the globe as well as from the United States. But we're not there yet. We just want to make sure we do it right."
To both of them, part of doing it right means gender equity. "Our business it very driven by women," Jen says. Seventy percent of the workforce is female, which Omer says is unique in the restaurant world. "I think that's one of the reasons that makes us so special. A lot of the women are back there preparing food like your mom and grandma," Jen says wistfully, turning to her husband.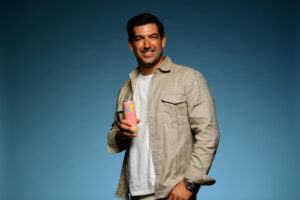 BRAND INTEGRITY
Omer is undeniably savvy and ambitious, yet he's coming from a place beyond business. "I'm obviously an entrepreneur, and I like to promote the brand, and it's nice to make a business out of it," he says, "but I have to mention that it's not about opening 20 Pura Vidas and giving franchises away. It's about opening a Pura Vida in a community and being a part of that community. We take a lot of pride in watching people and their habits changing, dropping weight, leading an active lifestyle. When I see people coming back to my restaurant, I see they're making healthy choices for themselves."
When Omer felt it was time to unveil a more traditional Israeli dining experience, he turned once again to the South of Fifth neighborhood to open Abbalé Telavivian Kitchen in March 2021. Around the same time, Omer and Jen closed on a $6.8 million home on Pine Tree Drive in Miami Beach; they purchased the five-bedroom, 6½ bathroom waterfront house from hospitality fixture Keith Menin, of Bodega Taqueria y Tequila fame.
When asked what it's like to be both life and business partners, Omer says "challenging."
Jen says "amazing," laughing.
"Pura Vida is so personal, because Jen makes it an extension of our home," Omer says, noting that Jen even created a signature scent for the restaurant. "We take so much pride in the store, whether the ideas come from our own home or our travels. We see Pura Vida as a lifestyle brand."
"We wanted the space to be an escape from the everyday life," Jen says. "It's about transporting yourself to a vacation"—if even for an hour. Given that Jen designed the look of Pura Vida based on their tropical travels—Tulum, Mykonos, and of course, Israel—is it too much to envision a Pura Vida hotel brand? Omer laughs, knowingly. "It's definitely on the agenda," he allows.
"I think we're lucky," Omer adds. "We both have different skills sets and we complement each other, and we also learn to allow each other to do their job." Omer focuses on the real estate component, contract negotiations and operations, while Jen attends to the creative element, designing and marketing. "We're constantly working," Jen says, "but it's something that we love and created together, so it's a big blessing." In order to relieve the pressures of work, they have Tuesday date nights where the agreement is to avoid talking about Pura Vida. "It's interesting," Omer says, "because both of us can make mistakes and start talking about work, then we catch ourselves and really try to enjoy each other."
Photography by Nick Garcia