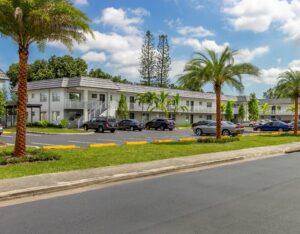 Two multifamily properties in Miami Gardens and Miami Beach are now in the hands of new owners after Ytech sold the apartments for $119 million. The Miami-based real estate development firm sold Ocean House NoBe (pictured, top), a 186-unit residence in the North Beach area of Miami Beach for $41 million, as well as Lake House (pictured, left), a 491-unit complex in Miami Gardens for $78 million. The firm had previously purchased the properties for $41.4 million.
"Developments like Ocean House and Lake House are critical for unlocking the widespread social opportunities embedded in any emerging neighborhood enabled through smart municipal policies and urbanization, binding the need for economic prosperity, environmental stewardship, and social mobility," says Yamal Yidios, CEO of Ytech. "This sale marks the start of a new phase of growth for Ytech as we evolve from over a decade of industry expertise in the multifamily space to being a well-capitalized developer of luxury condominiums in the Brickell neighborhood."  
Over the last 15 years, Ytech has developed and redeveloped more than $2 billion in real estate across the southeast United States, covering over 7,000 residences and offices with more than 10 million square feet of property. The firm plans to continue to develop luxury condominiums in South Florida, with over $1 billion in luxury development planned in the Brickell area alone.