Tucked away from the bar and club scene of Fort Lauderdale Beach sits a gem of a Mediterranean restaurant still capable of offering scenic ocean views to produce the ideal setting for a luxurious waterfront dining experience.
Morèa's indoor dining room with 20-foot floor-to-ceiling windows ensures that all 275 seats and the spacious bar/lounge deliver something of a Greek island quality (the giant murals of Greek goddesses add to the effect). The gorgeous waterfront patio and bar anchored by a fire pit perfectly complements this more serene stretch of the beach, while Morèa's small plate offerings, wood-grilled meats and seafood, handcrafted cocktails and fine-wine selection encompass the restaurant's prime attraction.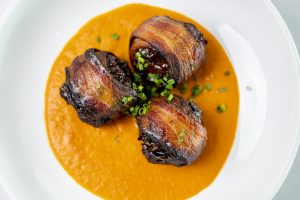 The company behind Moréa, the North Carolina-based LM Restaurants, is run by Lou Moshakos, his wife, Joy, and their daughter, Amber. It's not a coincidence that the family-led restaurant has perfected communal dining by creating a group-friendly flow and setting for diners to come together to share the experience as one. Moréa's extensive selection of shared plates allow couples, families or business executives to enjoy an eclectic mix of Mediterranean delights.
The exquisite menu is divided into five categories: Share, From the Land, From the Sea, From the Garden and Flatbreads. Our waiter's first recommendation was the bacon-wrapped dates with piquillo sauce and Marcona almonds. It's easy to see why the dish has become a go-to for patrons since the restaurant opened in January. Another sharable recommendation is the crowd-pleasing burrata with grilled country bread, balsamic vinegar, heirloom tomatoes, prosciutto crisps, pesto and arugula.
After the appetizers awakened our senses and teased our appetite, we segued to the From the Land menu to taste the grilled rack of lamb with salmoriglio (a southern Italian condiment composed of lemon juice, olive oil, garlic, salt and herbs) and Peruvian chili sauce, which was truly the evening's highlight. The lamb was juicy and seasoned to perfection. Another highly recommended dish featured in the From the Sea genre is the clams linguine, with middleneck clams, white wine, garlic and butter. The pasta and clam mix may be an Italian staple, but Moréa's version surpasses expectations because of its especially bright, fresh sauce.
Along with a hearty, seasoned menu, cocktail lovers are sure to be pleased with the vast array of unexpected craft drinks you'd be hard-pressed to find anywhere else on Fort Lauderdale Beach. The smoked hibiscus is concocted with mezcal joven, agave, fresh lemon and cilantro. One sip was all it took to see why it earned its namesake—its smokiness was quick to enhance the preparation of the lamb. And while you can find margaritas up and down Fort Lauderdale Beach, Moréa hews to authenticity and earthiness with the Moréa margarita, which features Casamigos Blanco tequila, Ferrand orange liqueur, fresh lime, beet juice, agave and black lava salt; the last gives the traditional Mexican cocktail a more worldly vibe.
Although saving room for dessert proved challenging, we were rewarded with the satisfying simplicity of Moréa's housemade chocolate mousse topped with olive oil, sea salt and whipped cream. Though sweet, Moréa's barrel-aged feta cheesecake provides a nice contrast and some complex notes, with its berry compote, graham cracker crisp and dehydrated meringue drops.
With its scenic location directly across the ocean, subtle takes on authentic Mediterranean dishes and its modern dining experience, Moréa offers a refined elegance on Fort Lauderdale Beach that will leave friends, family and group gatherings surely feeling of what dining like a Greek god entails.