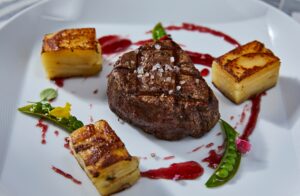 Executive Chef-Owner Mariano Araya will bring his personal style of cuisine perfected over two decades when he launches Casa Mariano on Saturday in Doral. The menu is inspired by his most beloved dishes featuring South American and Mediterranean flavors. Araya will bring many of his cooking methods from his previous restaurant, Mariano's Cuisine in Doral, which he hopes to continue building his culinary resume featuring bold flavors and freshest ingredients from both areas of the world.
"This concept is a labor of love," Araya says. "From the moment guests step inside, I want them to feel like they are walking into my own home. Every detail, from the décor to the menu and the wine selection, was carefully considered and refined. I'm thrilled to finally welcome everyone to my casa!"
Casa Mariano's menu includes hot and cold appetizers, salads, plates of pasta, as well as various entrees, steaks, and a unique selection of Chef Mariano's suggested house specialties. General Manager and sommelier Victor Tapia manages the beverage program, which features a bevy of wines to pair with Chef Mariano's dishes. Along with the curated wine list, Casa Mariano also offers innovative wine-based craft cocktails.  
"The wines that have been selected are sourced from all over the world," Tapia says. "Now, with shortages and shipping delays from certain areas, some wines that we were originally going to feature are not available. That challenge has motivated us to find even more unique and special labels that we know our guests will find enjoyable and complementary to Chef Mariano's cuisine and its vibrant Mediterranean flavor profiles."
Casa Mariano's 1,475-square-foot interior reflects an elegant, warm and inviting environment with indoor and outdoor seating to accommodate 70 guests. It is located at 8200 NW 27 Street, Suite 106 in Doral. For more information, visit CasaMariano.com.