On the exclusive La Gorce Island in Miami Beach, the renowned architecture and design firm Choeff Levy Fischman has introduced the latest addition to the thriving market of luxurious homes boasting award-winning designs.
This newly built home, designed and developed by The Aquablue Group, combines minimalist design with top-of-the-line amenities and a beautiful secluded location, resulting in a truly unique living experience.Situated in the exclusive La Gorce Island enclave, this two-story residence spans 14,771 square feet and boasts 172 feet of stunning waterfront. Upon entering the home, visitors are greeted by a grand entrance boasting a reflecting pond with floating stairs. The pond is surrounded by a cascading water feature on one side and a living green wall on the other, providing a serene and picturesque atmosphere.
At this unique residence, an air of indoor-outdoor synergy inspires and informs the design. The main level boasts formal dining and living room areas that majestically stand side-by-side. Towering glass windows open up to the lush backyard, creating a seamless connection between indoors and outdoors. The modern kitchen features high-end appliances, a massive island, and marble and wood details. It looks out onto an inviting outdoor alfresco dining area with an outdoor kitchen, a bowl-shaped fireplace, and seating areas. Upstairs, the 1,800-square-foot premier suite dominates the second story with an equally masterful balcony that offers stunning views of Biscayne Bay. The suite also features a spacious main bathroom and a grand walk-in closet.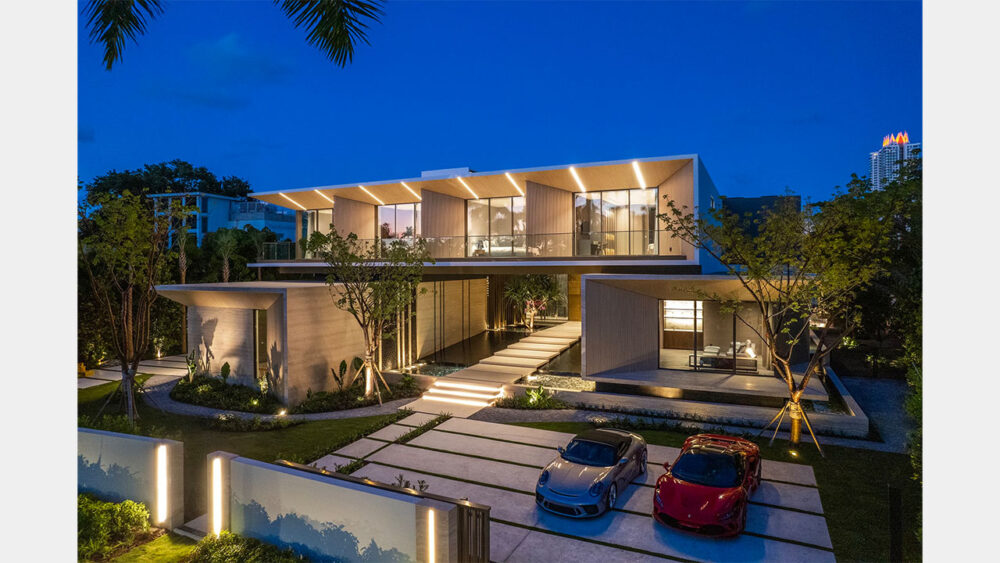 "Enhanced by the light cladding materials, dark accents, exotic stone feature walls, and deep-tapered profiles to create the character of the design, this home exudes grandeur, luxury, and elegance," Raphael Levy says, Principal of Choeff Levy Fischman. "Light-colored materials such as limestone and white oak present a dramatic contrast to the dark metal and frame colors."
The property boasts a plethora of luxurious amenities, such as a catering kitchen complete with a walk-in refrigerator, a sound-proof theater, a gym equipped with a steam shower and sauna, a marble wine cellar, an office, an elevator-accessed rooftop deck, a 90-foot-long infinity-edge pool with an integrated hot tub and a large yacht dock. The warm and inviting interior finishes, which the Aquablue Group provided, feature high-end materials like leather, marble, and stylish wall coverings handmade by Italian artisans. Additionally, the home was expertly designed to meet demanding LEED Gold standards, boasting a highly efficient mechanical system, high-performance glazing and roof-based solar panels.