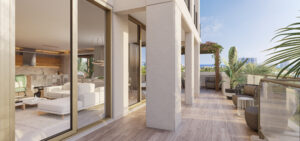 As inventory for real estate in South Florida continues to be scarce, any residences on the market tend not to last long and the Royal Palm Residence is furthering the trend. The luxury boutique residence in Boca Raton recently sold out 70% of its units after summer sales generated $10 million.
After breaking ground on the Royal Palm Residences in December, Group P6, a real estate development company in South Florida, anticipates completing its 48-unit luxury condominium in 2022.
"Right now, inventory in Boca Raton is at a 10-year low," says Ignacio Diaz, Managing Partner at Group P6. "If someone is interested in buying a new condominium, now is the time to do it as there are very few residential buildings under construction or in the city's pipeline. As a result, inventory is going to shrink, further driving up prices. Since the pandemic, many people are realizing that where you live can make a huge difference in your quality of life, so people from the Northeast want to be here as well as local residents who want the convenience of downtown living."
Located at Fifth Avenue and East Royal Palm Road, the property offers three to five-bedroom residences ranging from 2,425 to 7,168 square feet. Prices start at $1.75 million and a penthouse sale earlier netted $10 million after being listed for 48 hours.
Amenities include dual-entry private elevator access directly into the unit, European kitchens and modern appliances. Other luxuries include underground parking spaces and an expansive wellness plaza featuring a state-of-the-art fitness center, boutique pool with a heated spa and a club room.
For more information, visit RPresidences.com.