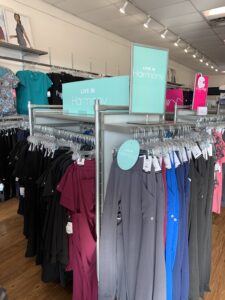 A new retail store in Pembroke Pines is set to offer the medical community more stylish options regarding purchasing medical clothing. Scrubs & Beyond will host its Grand Opening on July 24 to provide healthcare workers with more alternatives of brands and styles to ensure caregivers can access the garments or 'scrubs' they need. The event will be hosted by influencer Katie Duke, a nurse practitioner with her own line of scrubs.
The new site enables South Florida caregivers to access any of Scrubs & Beyond stores within a 25-mile radius of its North Miami Beach, Tamarac and Pembroke Pines locations.
"With eleven healthcare systems within 25 miles of our Scrubs & Beyond locations, we are now able to serve [over] 85% of the 48,095 caregivers employed by these hospitals," says Brian Bugara, Senior Vice President of Scrubs & Beyond.
The 5,300 square-foot Pembroke Pines location will carry well-known labels such as Barco, Cherokee, Med Couture, Koi, Dickies, Dansko, Landau, Littmann and more. The store will also feature a section of fashion-forward private label collections, including its own Beyond Scrubs collection.
"When we evaluated the South Florida region with its high concentration of caregivers, we recognized the opportunity to better serve this community," says Brian Bugara, Senior Vice President of Scrubs & Beyond. "Our mission is to take care of caregivers; everything we do places the caregiver first. We know how hard they work and the impact of COVID on their lives. Because of that, we felt the need to support them in the best way we can. That is why we made the investment in this market, opening two new, convenient, 5000-square-foot locations and investing in re-branding another."