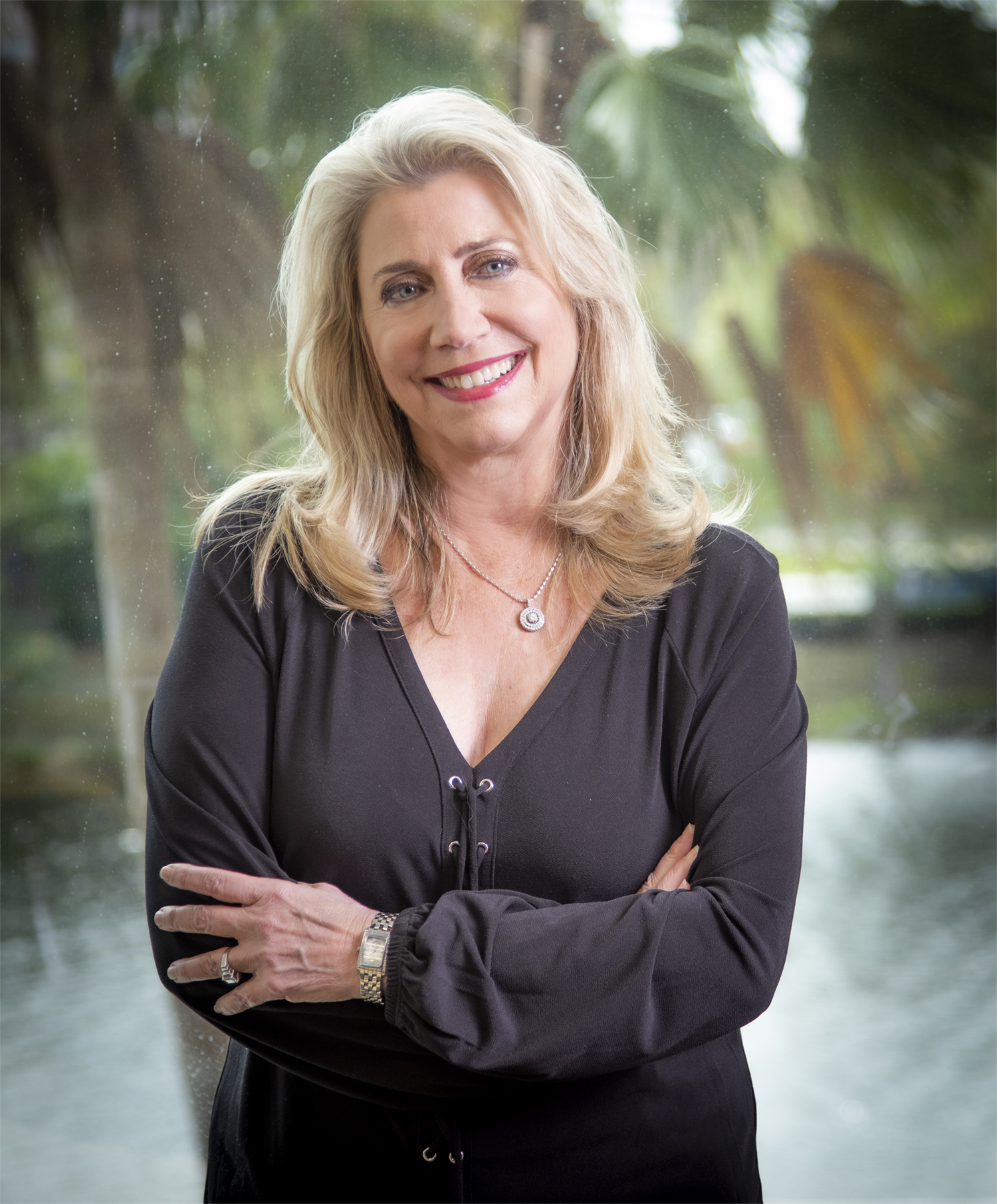 She has you covered
Anita Byer, president of Setnor Byer Insurance & Risk, looks back on her unique business journey—and looks to her industry's present and future when it comes to coverage needs
By SFBW Editorial Staff | photos by Eduardo Schneider
In the beginning: Anita Byer moved between Miami and Palm Beach Gardens as a youngster, majored in English at the University of Florida, then returned to South Florida. Her father was an insurance professional with Prudential, but she actually started Setnor Byer in 1981 with her mom and sister. When her mom became ill, the sisters took over the business. Byer was 27 at the time. Ten years later, she bought out her sister's share of the company.
Male call: "It was phenomenally exciting starting [a company with her mom and sister]. There's nothing better in a start-up than when you're first starting out. There's a belief that you're going to [conquer] the world. I remember the smell of the paper we used. The smell of the carpet in our office.
"When we opened the agency, my mom took the family leads—I think there were only about three—and I went on the road to do cold calls. I was pathologically shy as a little girl, so it took a lot for me to go door to door. I went into some seedy warehouse districts. I remember one time knocking on one of those doors, and there are five guys sitting there looking at filthy girly magazines. I walked in, looked at them, and said, 'Bye, gotta go!' I have a fair amount of stories involving my discomfort in those situations.
"At the time, there weren't many women in insurance. … I looked even younger than I was. Working with contractors, for example, it would be like, 'How is this little girl going to help me with my construction accounts.' There were obstacles. And I struggled at times. But if you're going to be successful, you have to [persevere], and you have to approach that many more people. It's a numbers game."
After the storm: "In 1992, after Hurricane Andrew, about 60 percent of our insurance portfolio pulled the plug on us. Plus, my mom had just gotten ill. So, we were dealing with a lot of adversity. My sister felt we needed to sell the business. We met a nice guy, a few years younger than us, who came from a wealthy family. He had an agency in Miami, and he offered to buy us. But he was going to take our salaries and split them in half. He goes, 'I can only pay one full salary, but it's good because I get two for the price of one.'
"I still know him. He's a wonderful man. But he was a kid. And he didn't know how poorly that would sit with me. I'm the kind of person where, if you say the wrong thing, I'm done. Two for the price of one was it. It was such an offensive statement to me. We had struggled for nine years. We were sad that we hadn't gotten further, but we had done a lot with no help. We didn't have family money or family contacts. So, I told him, 'You're not getting two for one.' I wouldn't even counter or negotiate. I realized in that moment that I would never sell or work for someone else."
Survival of the fittest: "How did we get through that period? Premiums went up. The 40 percent of our business that remained, we moved those clients over and were getting double the premiums. From there, we doubled down on the company. My sister and I were working 70-hour weeks. We worked until 6:30, went to this little Italian restaurant in our plaza—and kept talking about work. My husband loved me, but he couldn't stand me back then. I was consumed by work. But I loved it. I never felt hopeless. I felt if other people can do it, so can I."
By the numbers: Today, Setnor Byer works with about 35 people (some are contractors). According to Byer, the firm has several thousand clients and generates some $40 million in gross sales.
Words to live by: "I adore my mother and father, but when we launched Setnor Byer, we were on to something much more complex. So, I didn't have a business role model when I was younger. Later, I met a gentleman who owned an agency, and we tried to merge. I can't say he was a role model, but I learned some things from him.
"I remember my father would come to the agency after he retired, and he'd see me speaking to people. 'Who was that? Why are you so friendly with that man?' It bothered him that his daughter was engaging men at that level. He didn't like me being so affable. So, I questioned myself.
"But this gentleman, I noticed, talked to everybody. I'd say to him, 'Why are you going out for lunch with so-and-so? He's not a prospect.' And he'd go, 'He might be a future employee. He might know someone that needs insurance. I've learned to say yes to lunch.' And I've learned that lesson as well."
In retrospect: "I think not having a mentor has slowed me down—and I think that being a woman has slowed me down to an extent, career-wise, because I spent 20 years fighting the male-female dynamic. Now, it's better. But I'll still meet a male contractor who does a double take in his head. Like, 'Can this woman really do this?' On the flip side, I have an advantage with women. Women want to do business with other women."
Insurance in the digital age: "We do a lot of cyber risk, and we're pretty competent at it because I have a technology company. At Setnor Byer, when I have a work-flow need, I build technology solutions. Recently, I built one that worked so well for me that I'm selling it nationwide to other agents. So, I'm an agent who speaks cyber risk. And, trust me, it's needed.
"We had a 300-person law firm where someone imported a virus that scrambled their data, scrambled their backups. Just one little click. We had another client with a similar hacking incident; someone took over her email server and sent out messages to a client saying, here's our new banking information. A lady in the Bahamas wired $300,000 to the phony account. If the client had computer fraud insurance, she would have been covered, because it was someone coming from outside and causing economic injury to the company by hacking or changing data. …
"So, the crime coverages are important. Computer fraud. Social engineering fraud, which is when you're talking to someone and trust is being built, and you do what they ask you to do. Those are two big areas for coverage right now. Every day we're seeing more and more in these realms. And they're getting pretty sophisticated.
"We're even seeing cyberblackmail. 'Hey, your server is working right now. It's not going to be working tomorrow. I want $500,000.' … Cyberinsurance is going to go through an evolution, though. It's very affordable now. But everybody is going to get hacked."
Insurance in the COVID age: "Supply-chain insurance is only a piece of what's happening now. It's very pricy, only 4 percent of small businesses can afford it. It's usually when you have complex chains going on. We have one client that was very nervous about China; their supply chain was cut off. They also have Vietnam and other places to pull from, but now they're saying the problem isn't the supply chain. It's the demand. People are demanding less of this particular product because it shows up in venues where people congregate. And people are cancelling trips.
"I do a fair amount of cruise clients, and they're all calling me asking me what insurance we have. Unfortunately, nothing. Disability for yourself? Health insurance? Possibly worker's comp, but that's doubtful because the condition has to come from an occupational exposure. So, in that case, maybe a nursing home, maybe a hospital. But it still has to be the largest contributing factor, and how can you prove you didn't get coronavirus from the outside world? … There's a lot that still has to play out."
Final thoughts: "I've never begrudged a client for leaving. I only ask that they tell us why. That said, I'm pretty confident in our level of service, knowledge, our feel for marketplace, our expertise at risk management. We're very good.
"From a production standpoint, I'm probably in the top 1 percent. But it's never enough for me. I don't like losing." ♦
Did You Know?
• In 1997, Anita Byer founded The Human Equation, an online education provider that delivers training and knowledge to businesses throughout the United States and Canada.
• Byer has authored more than 50 online training courses on risk management and is a continuing education teacher to human resources professionals and small businesses.
• She is currently a board member of the Broward Workshop and an adviser on the Council of Economic Advisors.
About Setnor Byer
Over the course of its nearly four decades in business, Setnor Byer Insurance & Risk has emerged as one of the region's most esteemed independent agencies, offering a broad range of strategic and value-driven options for its clients. The company researches coverages for families and individuals (automobile, homeowners, life), and does a deep dive for businesses, developing a custom program around their specific needs. Setnor Byer offers products from many of the nation's leading insurance companies (think Travelers, The Hartford, Progressive, Cigna). In addition, commercial clients of Setnor Byer receive complimentary access to the firm's comprehensive risk management services. Visit setnorbyer.com (900 S. Pine Island Road, Suite 300, Plantation; 954.382.4350).