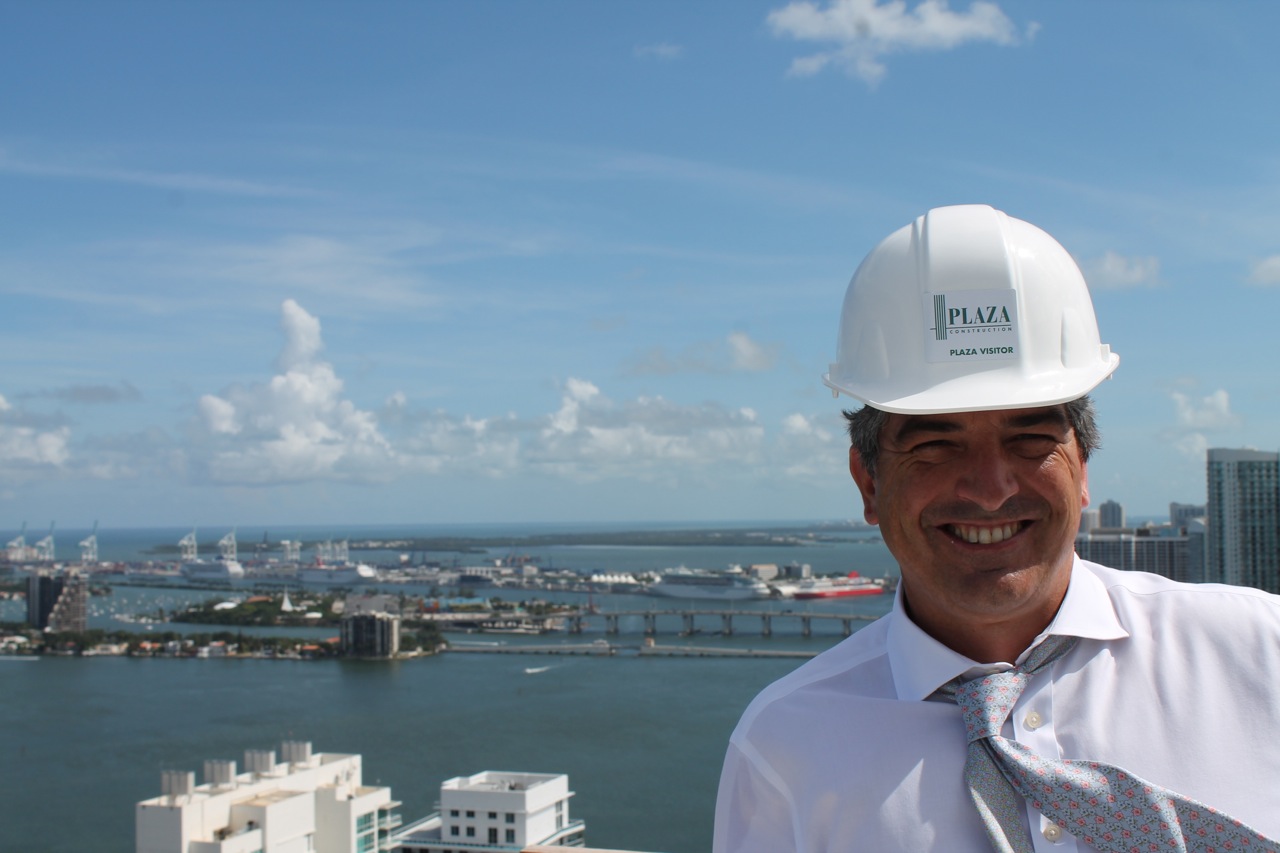 Slideshow: A spectacular 43-story view in Miami
It's approaching cocktail hour on Friday afternoon in Miami, but I feel like I'm living an episode of Don Wildman's "Off Limits" Cable TV show.
I'm climbing inside the construction elevator at Icon Bay, which soars 43 stories above Biscayne Bay, which is sparkling in the late afternoon sun on a postcard perfect day.
Leading our tour group is Carlos Rosso, who is president of the condominium division of Related Group. Along with me is my friend Jim Fried, managing partner of Aztec Group, SFBW columnist and host of the Fried on Business show on Thursdays at 5 p.m. on 880 AM.
Fried recently had Rosso on his radio show and Related Chairman and CEO Jorge Perez was on the cover of the first issue of South Florida Business & Wealth. We've joined a group of brokers getting one of the first glimpses of the spectacular view from the 43rd floor.
What strikes me first is what a Zen experience it is being so high and out in the open above the city. There is little noise that high up and the traffic heading north on I 95 looks like a collection of Matchbox cars. (I'll soon be brought back to reality with an hour long journey to the Golden Glades interchange.)
I've been in plenty of office buildings downtown, but being at 28th Street is quite different. There are very sweeping views of the skyline without other buildings blocking the view. One really gets a sense of how wide Biscayne Bay is from that viewpoint. (Check out the attached slideshow for the views and renderings of the completed project.)
If Jorge Perez's vision is fulfilled, Icon Bay will be along a bike and pedestrian path that would extend south to downtown. The project relates well to the water with a park that will be open to the neighborhood.
An infinity pool will be perched right along the edge of the bay and cabanas will create a resort-like atmosphere. The park will have a fountain and Related would like to put a circular arcing fountain in the bay.
The building's design offers a huge opening at the end of 28th Street to frame the sightline of Biscayne Bay at the ground level.
The units above will stretch all the way from the west to the east side of the building, which means all the residents get views of the bay. Brokerage websites indicate listings start at $500,000 for a 928-square-foot 1 bedroom/1 bath+den to $900,000 for 1,530-square-foot units with 3 bedrooms/3 baths.