Suicide at Former Versace Mansion Nearly Coincides With Anniversary of Murder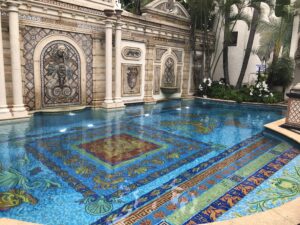 Two men were found dead in an apparent double suicide at the location of the former Versace mansion in South Beach, according to Miami Beach police. The bodies were found July 14, nearly 24 years after fashion designer Gianni Versace was killed in front of the property on July 15, 1997. According to the report, the two men, 30 and 31 years old, were each found by housekeeping staff with an apparent self-inflicted gunshot wound to the head. Nothing in the police report links the suicide with the anniversary of Versace's death.
The residence was built in 1930 by architect, author and philanthropist, Alden Freeman. After purchasing the property in 1992 for $2.95 million and the adjacent lot, Versace spent nearly $35 million to expand and enhance the property with a new pool and garden.
It was then sold by Versace's family in 2000 and has been operating as The Casa Casuarina, a boutique five-star hotel, since 2015. Casa Casuarina offers three types of suites, a rooftop lounge, a specialty cocktail bar and Restaurant Gianni's At The Villa.