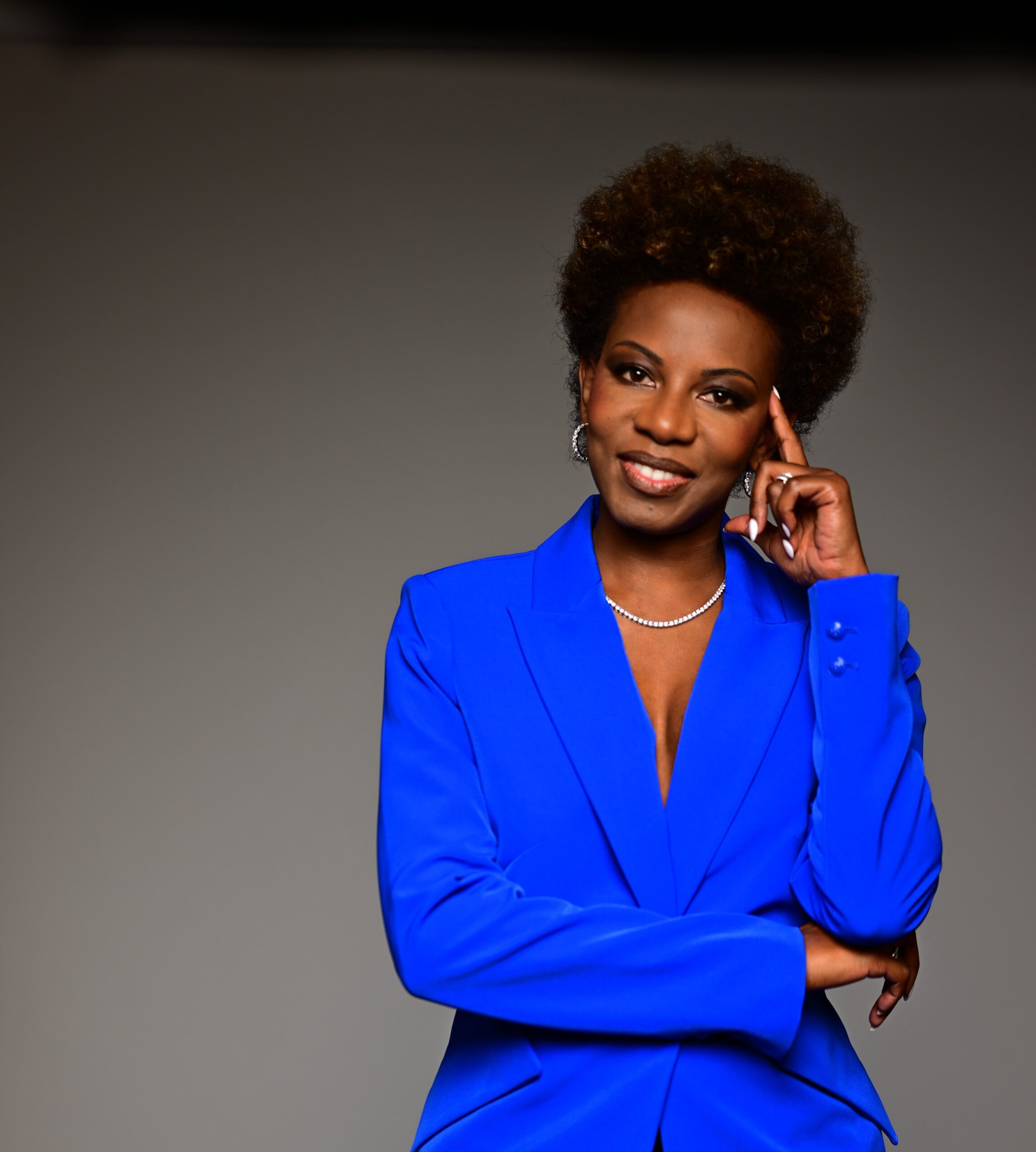 Tamara B. Rodriguez, the High-Profile Co-owner of Island TV, Exudes Powerhouse Elegance
"I tell young women all the time: You have to think about somebody who you're going to be with who supports what you want and supports your passion."
Tamara B. Rodriguez picked up a pair of business degrees from the University of Miami (undergraduate and graduate degrees in accounting) and never looked back. As the chief financial officer of Fatima Group and Centuric, she is responsible for a conglomerate of thriving organizations across a wide range of essential sectors, including shipping and warehousing, tourism, technology and media in Haiti, the United States and the Caribbean.
Her career transcends finance: Rodriguez has made a huge and lasting mark in media as the influential co-owner of Island TV, a Fatima Group company and a Miami-based television network with more than 25 years of on-air news and entertainment programming. Island TV boasts a South Florida viewership of over 400,000 households in 15 island markets throughout the Caribbean, plus access to millions through its diverse digital platforms. The media company serves as a vital platform to educate, inform and engage Americans of Haitian and Caribbean descent around civic, cultural and political issues.
Rodriguez has a lot going on, to say the least, so she and SFBW touched on a range of topics, both personal and professional—with considerable overlap.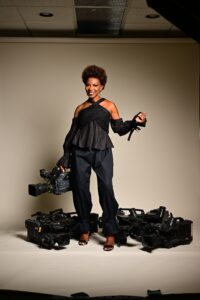 Given your diverse business activities, we fully expect your words to make a statement, but I also know you're trying to make a statement with your fashions.
I wanted to select some women designers, so the jewelry that I was wearing, from Ivy Lane Gems, was co-created by a Haitian woman, and the clothes I was wearing were also from Haitian women designers—my black outfit was designed by Azede Jean-Pierre and my make-up was from women-owned L'artiste Collective. It was important for me—as it is in everything that I do—to uplift the Haitian American community. So, I was really excited that I could do that.
What characterizes these fashion choices? Do any words come to mind?
Bold.
Is there a boldness to Haitian culture?
Absolutely. Think about our journey as a people. Haiti was the first country in the world to become an independent nation following a successful slave revolt against the French in 1804. Our slave revolt—we dared to believe that we're free; we believed that there was more to our story than being slaves. We beat the French and we became independent. Jan. 1 is our Independence Day, so that's the equivalent of the Fourth of July. On January 1st, one of the traditions is to eat a traditional soup called Soup Joumou: I think of it as a type of squash mixture; it's a very hearty soup with pasta and potatoes and carrots and celery and spinach. The reason we drink that soup is because we weren't allowed to drink it as slaves, because it was seen as a soup that only the rich and the French could drink. When we won our independence, our first leader said that as a way to commemorate this independence, we're going to have this soup on the First of January and show that we also deserve to drink it. We regained our humanity and we've regained our power and we're owning our power.
So, yes, I do think the culture is bold. I don't think we get hung up so much on our past, but it's more about we can and we did. The family I come from, the culture I come from, is a culture of we can and we will. So, I do think "bold" is the right word to describe not only the designers that I chose but the style that I chose and the colors that I chose.
Were you born and raised in Haiti?
I was born and raised in Haiti. I came here when I was 9, so I guess I was really raised in South Florida, but with deep Haitian connection and culture. My parents [Fred and Hermine Beliard] did not speak to me in English at home, and that was to make sure that I would retain my native tongue. I was born in 1979; in the mid-1980s, the dictator fell, so there was a lot of chaos in Haiti. I was 5 years old at the time and my parents obviously wanted a better education for me, and my mom had a sister in Canada, in Montreal, so she sent me to Canada by myself. It was the first time I took a plane, and I took it by myself.
What was it like when you and your family finally settled in Miami?
When I was 9, I flew to Miami—again by myself—and met my parents in Miami, in Kendall, so that's really when we all kind of lived together in the United States. I think that was a harder transition because I didn't speak English and so I entered elementary school in the fourth grade and I was teased like crazy because I didn't speak the language. I went to high school in Miami at an all-girls school, being the only black kid in the whole high school—also very challenging. I say this to you because my experiences are part of the reason why today it's so important for me to let people know that I'm from Haiti.
At the time there were a lot of boat people arriving—as a matter of fact, this year is the 50th anniversary of the first boat landing in Miami with Haitian migrants, so there are a lot of events around that. But I remember being teased and the kids would say, "Hey, did you come by boat? Why is your hair like this? Why is your nose like this?" It wasn't very cool to be Haitian during that time—it was hard. When the Fugees won a Grammy [for Best Rap Album in 1997] when I was in high school, they went on stage with the Haitian flag and it was the first time that I felt that it was OK for people to know that I was from Haiti, which is kind of sad, but it is what it is.
Your story is one of such reliance and perseverance. Of all your businesses, is Island TV the closest to your heart?
I think Island TV is important because it gives a voice to a community and it affirms the footprint of Americans of Haitian descent in this country, particularly in South Florida.
Tell us how Fatima Group fits into your career.
Fatima Group is a family-owned business. My father is the chairman of the board, and my uncle is president. We are in three main industries. We are in hospitality—we own four hotels in Haiti, particularly in the northern part of Haiti. We're in the shipping industry: We ship containers from Miami to Haiti, and then when the containers arrive in Haiti we unload those containers, so we manage the port in Cap-Haïtien, Haiti. It's important to specify Cap-Haïtien because this is the city where the revolutionary war took place, so it's a very historical (and proudful) city.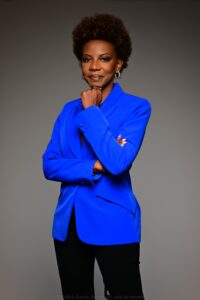 And what are the connections between shipping and hospitality and media? To some, these would seem like disparate sectors.
The connection is that Cap-Haïtien is a very small town. Though it's the second largest city in Haiti, it has a small-town mentality, so my family's roots date back to the first emperor. Since my family has very deep roots in that town, my grandfather was an entrepreneur, and he built the Hotel Imperial. That's the hotel where I lived in Haiti—that's where the entire family lived. My father is one of six, and all six siblings lived in that hotel, so that was one of the first businesses that my grandfather had.
So, the business success of your family originated from that hotel?
Pretty much. Another part of my grandfather's business was a bus system. At first, he couldn't find the financing that he was looking for, so he went to go pray at Our Lady of Fatima and a few days later his uncle came to him and gave him the money for him to start his bus company. My grandfather almost looked at that as divine intervention. Years later, really decades later, when my father decided to create this conglomerate, it was a no-brainer to call it Fatima Group. Even after moving here, my father kept going back and forth to Haiti for those businesses in Haiti. His siblings lived in Haiti, so he was managing the businesses from a distance; he was always the lead, the oldest of the six siblings, and although he lived in Miami, he was able to delegate.
Though you didn't launch Island TV, you've made it flourish, right?
Island TV was started by a husband and wife about 27 years ago. When they started, it was very small; the programming was only in Haitian Creole. They had a handful of advertisers, but they had a great relationship with Comcast where they were on for 24 hours a day, seven days a week, at a very nominal fee, so it was doable, but they got to a point where they couldn't sustain the business. My father believes in making this community as strong as it can be and giving this community a voice and a fighting chance. He knew that media is important. Every community grows through access to capital and media.
So, he was on a plane one day with the previous owner and she told him that she didn't know if she could sustain it and would like to sell, so my father said, "OK, I would like to buy it." My father is an entrepreneur at heart and has instilled that entrepreneurship in me. That was about five years ago when he made that transaction, and since then we have grown it to be fully digital, so you can now download Island TV's app on Android and any smart device. We're on Roku, Apple TV and Amazon Fire, and you can watch it on its website. We are still broadcasting on Comcast, but now we also broadcast in 15 Caribbean islands on cable, and what that means that is if you're watching Island TV on your phone, that's the same thing that maybe a friend of yours in Jamaica is watching on cable.
What is the most recent island to sign on?
Trinidad.
Are you ever on air? You're too charismatic not to be.
I try not to be, but yes, I am. Not regularly. I do a lot of community work. I'm a breast cancer survivor, so one of the things I'm very passionate about is cancer awareness, not only in general, but also for the Caribbean community, because cancer is still a very big taboo in our community. So, what I've done is I've partnered with different hospitals or with different groups where I am almost kind of an advocate or an ambassador. For example, for many years I worked with Baptist Hospital. The first time they did a Haitian Creole ad was with me, and they invested in this Haitian Creole ad to talk about cancer awareness, so that's when I go on TV and I talk about getting your mammogram and being your own advocate.
You're also the CFO of yet another company, Centuric?
Yes, Centuric is my husband Richard Rodriguez's company—he is also an entrepreneur. I work for my father under the Fatima umbrella, but I also work as the CFO of my husband's IT company. So, I always joke that I have two bosses: my dad and my husband.
How do you manage to wear so many hats and do it with such seeming ease and grace?
I think I'm very driven. The people around me are driven—my husband, my father, my family. I also think I'm very well surrounded. We have two teenage daughters, and my husband supports what I do; he helps me. So, in order to have this interview with you, he has to go pick up the kids, so choosing a partner who encourages and supports me is also really part of the strategy. I think it's important to think about that. I tell young women that all the time: You have to think about somebody who you're going to be with who supports what you want and supports your passion.
Photos by Nick Garcia