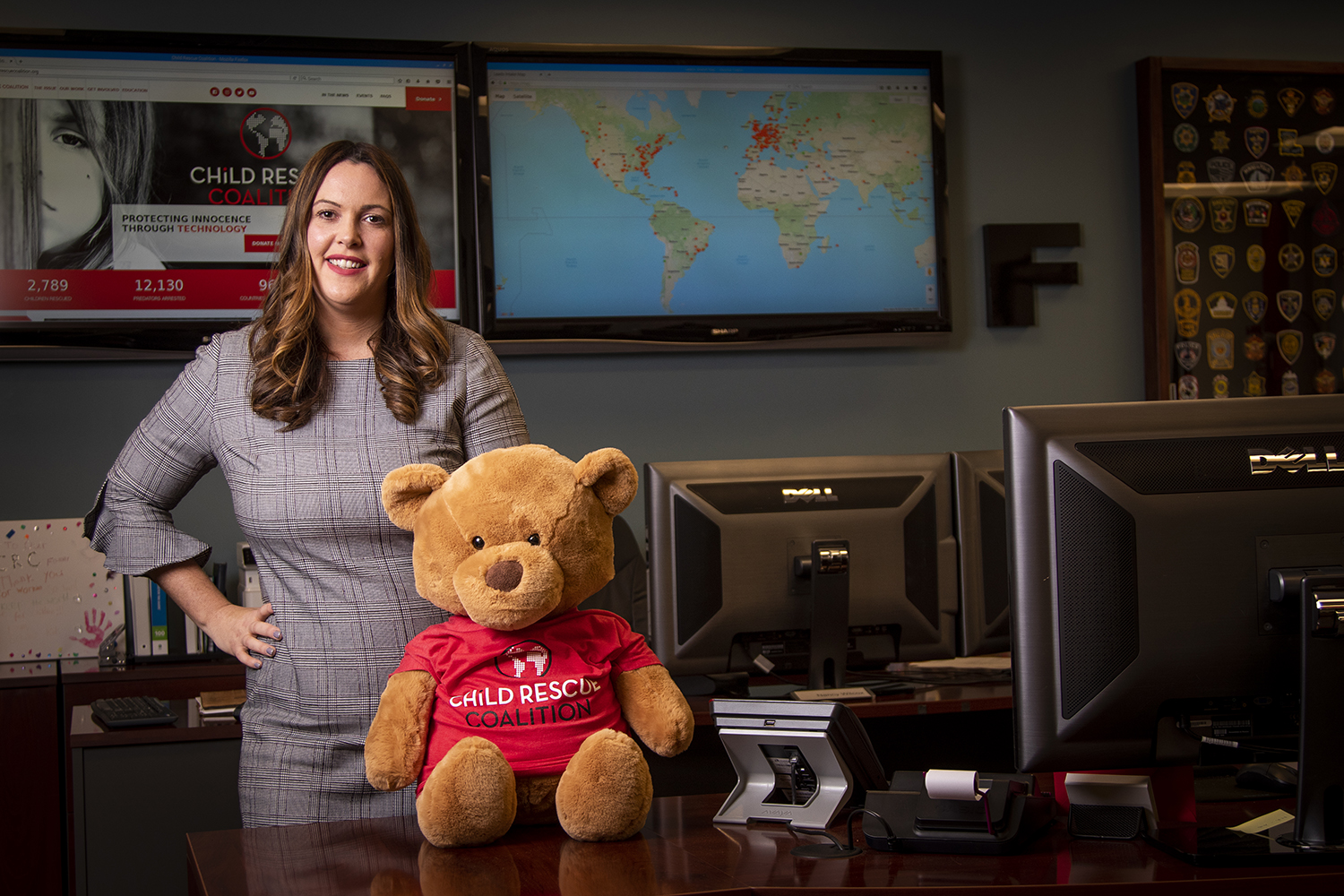 Technology powers fight against child predators
Photography by Eduardo Schneider
The legacy of serial entrepreneur Hank Asher's fight against child exploitation is living on at a nonprofit organization in Boca Raton.
Child Rescue Coalition is using part of the technology developed by Asher's last company to track down exploitive images of children on peer-to-peer networks under the direction of founder and CEO Carly Yoost, one of Asher's daughters. It's also starting to commercialize the technology by working with a service that provides babysitters.
The coalition doesn't actually look at the often-horrifying images of abuse and exploitation. Instead, each image has an electronic fingerprint designated by law enforcement agencies.
Asher, who died in 2013, is regarded as the father of "data fusion"—taking an array of public record databases and aggregating them into one easily searchable system. His first tool, Database Technologies Autotrack, was developed before the internet and he sold it for $175 million. He sold his second company, Seisint with its Accurint tool, to LexisNexis for $775 million.
Asher's systems were the first to take scant information and generate solid leads for investigators.
"If there was a hit-and-run case, or a kidnapping case where the investigator/detective all they got from witnesses was a color of the car and maybe a couple numbers of the license plate, we now had a tool that could be searched to find a list of suspects that matched that description," Yoost says.
Asher was notable after 9/11 when his Multi-state Anti-Terrorism Information Exchange, also known as MATRIX, turned up a treasure trove of information on the hijackers. The system was also vital in finding the Beltway Sniper and was donated for use by the America's Most Wanted TV show.
But Asher's biggest driver was protecting children, Yoost says. Early in the launch of Asher's last company, TLO, an event in Boca Raton included John Walsh of America's Most Wanted, whose son Adam was abducted in Hollywood and killed, and Mark Lunsford, whose daughter Jessica was abducted in Citrus County and murdered.
Asher's sudden death came as TLO was still ramping up and Yoost and her sister, Desiree, stepped in to stabilize it, which was accomplished via a Chapter 11 filing.
TLO was eventually sold via a 23-hour long auction to TransUnion, which has 440 employees in Boca Raton, and provides free space for the Child Rescue Coalition.
Asher's TLOxp lives on at TransUnion and is still used by law enforcement all over the nation, Yoost says.
The Child Rescue Coalition looks for what might be termed the worst of the worst when it comes to images and the sites that host the most files. It specifically is looking for files of children 12 and younger, so there is little excuse for perpetrators to claim they looked of legal age.
Each illegal file has a unique identifier. "It's like a strand of zeros and ones and a serial number that exists only for that file," Yoost says. The coalition has a database with more than 1 million illegal files.
The coalition's technology scans chat forums and peer-to-peer file sharing, the type of technology once popularized by Napster early in the internet's history. The coalition then captures the IP address, which can be used by the appropriate law enforcement agency to subpoena the internet service provider's records to get the name on the account and the physical address.
Especially high-risk file sharers can be spotlighted, such as those who not only have illegal images, but "grooming" manuals on how to gain the trust of parents and children. While the manuals are actually protected under the First Amendment, the combination with illicit videos and photos is a major red flag, Yoost says.
With the commercialization of the nonprofits service, the babysitting company can check the IP address of an application and the coalition can see if it matches something flagged on the its system. Background check companies and hospitality companies are other potential partners Yoost is interested in.
Yoost says the system could be employed by companies in general to ensure no one is using their systems to look at exploitive images. Law enforcement could be alerted if that happens.
Yoost says it would be interesting to work with a company such as Facebook that would have information about IP addresses and information about those who are in close contact with children, such as a teacher or youth group leader.
Facebook and other social media companies already work with the National Center for Missing and Exploited Children to find illicit files on their networks using the hash list. The center gets notified and then alerts the appropriate law enforcement agency.
In contrast, Yoost says, "We're tracking things that aren't owned by entities. So, there's no Microsoft or Facebook security team with these peer-to-peer networks—nobody owns them. And besides us, nobody's tracking them and it's actually where the majority of child exploitation material gets traded, because it's almost like the wild, wild west and you get whatever file you'd ever dream of. So, without us pushing, collecting this information to give to law enforcement, these predators would go unknown that they're doing this kind of material."
Adding even more urgency, an estimated 85 percent of people trading the images are actual physical abusers, Yoost says.
The coalition trains law enforcement officers for three to four days before they are given access to its system. A county sheriff's deputy might get access to just one county while a Homeland Security agent might get national access. A color-coding system highlights IP addresses already under investigation to avoid duplication of effort.
Investigators can further build their cases by capturing time stamps and key word searches, which can show the intent of what was being searched for.
Sometimes old-fashioned investigative persistence is still needed.
In one case, a police officer in California noticed an illicit file trader would pop up frequently on open WiFi networks, such as at a pizza or yogurt shop. The investigator kept getting subpoenas for IP addresses and ultimately set up a sting at a yogurt shop that kept popping up.
"They actually busted the guy downloading in his car and he was a California Highway Patrol officer downloading in his patrol car, like on duty," Yoost says. A news report indicates the videos were of children 4 to 7.
Locally, the coalition play a role in the late February arrest of a gymnastics instructor in Boca Raton, which was handled by detectives with the Internet Crimes Against Children task force.
In Florida, the coalition has tracked 1,900 computers in possession of child exploitation material in the past year, Yoost say. One resident in the Panhandle traded over 3,762 files. ♦