The Housing Shortage Is a National Story—and a Miami Reality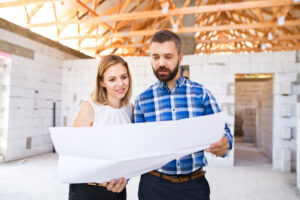 The country needs a few more houses—well, actually not a few more; nearly four million more, according to Freddie Mac. And that number merely reflects the housing deficit at the end of 2020. A lot of inventory has been snapped up since then. A recent two-week period tells the story: According to HouseCanary's Market Pulse report, listings in Florida dropped 26 percent between mid-March and early April. Homes are staying on the market for less time, at higher prices, and listings under contract from April 2020 to April 2021, year-over-year, rocketed up more than 91 percent. That is not a typo.
Sam Khater, chief economist at Freddie Mac, has been quick to blame underbuilding throughout the last decade, but that doesn't quite do enough to capture what's happening across the country, much less in South Florida. We are in this situation due to the particular conditions of the pandemic, and, as in all things, there are conditions specific to South Florida. For example, it is widely acknowledged that Miami overbuilt, not underbuilt, in the last decade, flooding the market with new condo inventory that depressed demand and pricing in some areas. (Case in point: In 2017, The Related Group cancelled Miami's Auberge Residences & Spa project amid a cooling market.) At the same time, affordable and workforce housing—a chronic South Florida problem—is among the nation's most meager.
Which brings us to pandemic-related factors. Lockdowns and density in Manhattan helped bring about the so-called exodus to South Florida, as every few days seems to herald another CEO, venture capitalist or flush techie dropping $10 million or $20 million or more on a waterfront estate in Miami or Palm Beach. The demand for less pricey digs has likewise been on fire. The narrative went like this: Local homeowners, now working remotely, craved single-family homes just like the Manhattan transplants. They wanted private outdoor spaces and home offices. Condo owners, staring at their locked-up gyms and cordoned-off swimming pools—the very amenities that drew them to luxury condo living—were freaking out. And sharing hallways and elevators was suddenly very 2019.
"The current demand for high-end home builders in South Florida is intense and we are fielding new opportunities almost on a daily basis," says Jordan Gruber, president of Krome Construction in Miami. "We are very fortunate to be in this position, which provides us the luxury of selecting the projects and clients we prefer to work with."
Adam Mopsick, CEO of the construction company Amicon, has also benefitted from the windfall. "Construction activity within the luxury residential market is unlike we've ever seen in Miami," he says. "This last year propelled affluent businesses and residents to pursue the attraction of living in South Florida—interest rates are low, favorable weather and tax benefits. The influx of new businesses and residents is evident throughout sought-after neighborhoods in South Florida, where our clients are seeking a quality of life enhanced by more space, shorter commutes, home gyms and offices and water access."
Once lockdowns eased in Florida, agents and market reports indicate that the condo market bounced back. And although some data suggests that just as many Manhattanites were decamping to New Jersey, Brooklyn and Austin as to South Florida, no one can deny that demand in South Florida's luxury real estate market has ballooned, helped along by wealthy migrants from Silicon Valley, who Miami Mayor Francis Suarez has targeted, coddled and seduced into coming here, promising that Miami would be the next tech hub of their dreams—one without wildfires and state taxes. Miami's Wynwood neighborhood, perennially searching for its identity, is now being hyped as the next Sand Hill Road.
LUMBER SHORTAGE
As a result, South Florida cannot build and outfit fast enough. From land to lumber to furniture and appliances, it feels like everything is in short supply. "Our team is seeing exponentially higher costs and delayed delivery from two to six months on both specialty and common materials, such as dimensional lumber, plywood and rebar to electrical components, appliances, and anything imported from Europe, such as millwork and stone," Mopsick says. "For example, plywood, which is a critical construction component, has gone up in cost up to 80 percent over the course of the pandemic, along with similar cost increases in dimensional lumber. Conversely, related items made of plywood have adjusted their costs accordingly. Electrical wiring and components, as well as other raw materials have also seen a spike in costs. We have also seen a 25 percent upcharge in shipping costs throughout."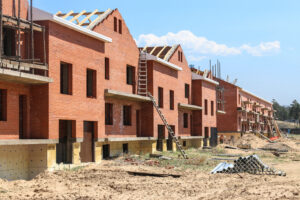 Amicon has had to adapt and streamline its approach in order to minimize these impacts to its clients. To save time, the firm is exploring using local millwork companies instead of European companies, and Amicon is now ordering all materials—including appliances, doors, hardware and custom items—three to four months earlier than usual.
Jason Patrizi, senior vice president of operations at Kaufman Lynn Construction, recites similar numbers. "Cost of materials is a big issue," he says. "Lumber is up almost 250 percent from a year ago, mostly attributable to the pandemic. Other raw materials, such as steel, copper, plastics and concrete are also up anywhere from 10 to 50 percent in some instances, depending on the material. Much of the plastics manufacturing has been impacted by the freeze in Texas, where production is still offline and only at 40 percent of capacity. This significantly impacted products containing adhesives like paints, waterproofing materials, roofing materials and other coating systems. Overall these increases and shortages have the ability to impact overall construction costs by 5 to 10 percent, and in some cases more, especially on wood-framed projects."
Patrizi says that during this time of scarcity, his firm's relationships have come to the rescue. "Kaufman Lynn Construction mitigates these increases by maintaining great relationships with more than 2,000 subcontractors and vendors in the South Florida market. They keep us informed of increases, but most importantly where to locate materials," he says. "We can pick up the phone and call companies with buying power and say, 'Who's got the lead on where the copper is today?' We work hard to keep our projects moving forward."
DOOR-TO-DOOR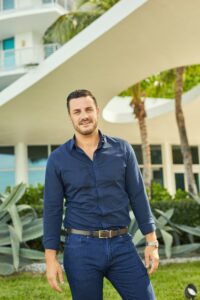 For Miltiadis Kastanis (pictured), a Realtor associate with Douglas Elliman, the dearth of listings means that he literally goes door-to-door to tease out owners who may be willing to sell. "I am sourcing off-market," he explains. "The house I'm standing in right now, which is more than $20 million, is an off-market deal. I'm representing the buyer. I won the business because I found the house." He scores such sales because of his strong relationships with brokers and his high closing rate: "They offer me what they have before they go to market because they know that I bring able, ready buyers to the table. They have access to the sellers; I have access to the buyers." And the buyers he delivers don't mess around: They have to be willing to pre-negotiate—forgoing appraisals and offering all-cash deals. "They have to be as attractive as possible," Kastanis says.
Real estate agent Bonnie Heatzig, when not celebrating boom times, is feeling the heat. "After nearly 20 years selling luxury real estate, I am seeing a housing shortage that is unprecedented. South Florida is experiencing an unwavering demand for housing, largely driven by buyers from the New York-New Jersey-Connecticut tri-state area, Chicago and California coming to our area looking for a fresh start. The migration to South Florida that is driving up the demand for housing is compounded by buyers who are already living here who also are looking to either downsize their homes or buy homes that offer more space, depending on their needs. What we are seeing here is the perfect storm for a seller's market with pricing soaring to all-time highs."
But the reshuffling is creating anxiety up and down the homeownership chain. "Clients of mine who have purchased new construction homes or homes that they purchased to renovate to their tastes are seeing delays in the delivery of home appliances, building materials, including roof tiles and furniture," Heatzig says. "We are seeing a tremendous amount of competition out there among builders to get their hands on materials and appliances. Many clients did not plan for this when they were bidding on the property, since it really is something that we haven't seen in decades."
Miltiadis finds the furniture delays ubiquitous—and frustrating. "In the super-prime space, in order to properly premier a home for the market, you want to be completely dialed-in to furniture and accessories, but those houses call for European brands," he says. But those brands have been delayed due to repeated COVID-19 shutdowns; ships won't leave port until their containers are full. "There are six, eight, 12-month delays in handcrafted Italian furniture. You can't retrofit a house at a twenty or thirty million-dollar price point with in-stock West Elm furniture."
Some of Heatzig's clients are forced to cool their heels in rental properties to wait out the delays. And as for their renovations and teardown plans: Not so fast. "This exceptional strain on building materials, appliances, and even furniture is putting even a greater premium on move-in ready homes," she notes.
LABOR NEEDED, TOO
It's not just materials that are scarce; so is labor. "We are currently seeing a shortage of skilled labors such as electricians, machinists and welders across the country, not just in South Florida," says Alberto Fernandez, president of ANF Group, a 40-year-old South Florida construction firm. "The pool of skilled workers continues to shrink because some are retiring, and younger generation is not interested in the construction industry. We need to do a better job at educating our young population about the benefits of getting into technical trades."
Fernandez believes that a greater number of low-skilled immigrants should be able to work legally in this country: "That's why I'm a proponent of easy, legal immigration. This will allow us to hire and provide skilled craftsmen and individuals to work on our construction projects and in turn help our clients grow and continue to support the construction industry in our community."
"With the market being so hot, hiring and retaining top talent to execute these projects is a challenge all home builders are facing today," Gruber says. His solution: incentivize. "For this reason, we chose to profit share with our employees, with each of them earning a percentage of the profit at the completion of each project. To our knowledge, we are the only home builders in South Florida with this profit-sharing structure."
Patrizi agrees that giving employees skin in the game is essential to retaining them. ESOPs—employee stock ownership plans —have been key. "Just last week I interviewed a job candidate who was at another company and concerned about his future, and he had done research to find where Kaufman Lynn was in the marketplace," he says. "But he had no idea there was an ESOP plan or even what it was. You could see his surprise when I shared with him the ESOP program and explained that you don't invest money like a 401K; you invest your time and energy. Putting it in perspective for this candidate, we are a $500 million company today, so as we scale and grow, the value of the company increases exponentially. Thus, with each year of growth, an employee will see an increase in the value of their shares in the company. Over time, their 'ownership' in the company will benefit with annual dividends, in addition to their 401K savings and company bonuses."
For his part, Patrizi isn't anticipating a slowdown any time soon. Developers are revising plans in order to enlarge multi-family units due to demand; meanwhile, with development bursting at the seams in premium areas, builders are expanding their horizons. "Right now, early-stage projects are going through some redesign to capitalize on the market shift to accommodate larger familial units in their multi-family projects," he says. "What we're seeing is an increased demand for multi-family housing in the less urban areas west of I-95, where there is still somewhat affordable land available."
Patrizi says that locations such as Westwood, Sunrise, Davie and Palm Beach Gardens are experiencing unprecedented growth. "We are also seeing growth extending up the coast into Martin County, St. Lucie County and Vero Beach, as South Florida is running out of buildable, affordable land," he explains. It's the pandemic-driven desire for outdoor space that is prompting developers and homeowners to consider previously overlooked areas, despite—or because of—their distance to urban centers.
But it might be prudent to temper such optimism with a careful study of the numbers. A December 2020 by Florida Atlantic University found that although overpricing is to be expected given the current inventory shortages, the market is nevertheless likely peaking. While the authors of the study do not expect the type of housing bust we endured a decade ago, "in all three counties [Miami-Dade, Broward and Palm Beach]," they write, "property prices appear to be increasing at a decreasing rate, strongly suggesting that the respective housing markets are at or near the peak of their current housing cycles."
The authors' final warning: "No buyer wants to be the last one to buy at the peak of a cycle."