The graduation season of 2021 evoked all kinds of things to all kinds of students, parents, administrators: bewilderment and joy, anxiety and relief. For Symeria T. Hudson, who, for nearly three years, has served as CEO of Chapman Partnership, it meant pride.
Chapman Partnership, based in Miami, is a philanthropic nonprofit organization that both houses and empowers the homeless, and the spring of 2021 saw a new crop of its graduates claim a brighter future.
"We've launched an innovative program, called our Social Enterprise Academy," Hudson explains. "This was a program focusing on the training and skill level of our residents in the field of construction—carpentry and electrical. Now, we started this program in January 2020, literally a month and a half before COVID-19. These individuals had spent time learning in classrooms, so when COVID happened we had to pivot to a virtual model. Two months ago, we literally graduated our first class—we had 29 individuals graduate from our very first workforce training program."
The new grads came away with five national certifications that they can take with them to any job site. "They're also in line to take on jobs at a livable wage, and that's really our goal for the program," Hudson says. "So I would say that's a huge success story. They hung in there for more than a year."
Given this story (and the way her voice is infused with feeling as she tells it), when Hudson describes what makes a great leader, she might as well be speaking of herself: "I think what makes a great leader is their ability to make the organization pivot and be resilient. That's exactly what we've seen in the last year and a half with COVID-19. The last piece is to lead with passion. Even though it's been challenging, we still have to maintain a level of excitement and enthusiasm around what we do."
Hudson is not only passionate; she was prescient as well. Headlines about the housing shortage and the meager supply of skilled laborers have multiplied only since the spring, but Chapman Partnership had designated construction as a focus area more than 18 months ago. "This academy was born because we had a high-demand/low-supply model," she explains. "There are a lot of jobs that go unfilled in this area, and we wanted to plug that and make sure that we were able to supply really great, talented people. Once the pandemic was announced, most organizations put a pause on everything, but we just said that we needed to pivot, and find a way to get these programs to our residents."
The fact that the labor shortage has prompted employers to look deeper into the applicant pool, and at nontraditional talent, has played to the program's advantage. Chapman Partnership's database of nearly 200 employers in the community that support the organization's work provides a much-needed bridge to employment. Meanwhile, a second program to be added to the academy, designed to train certified nursing assistants, is waiting in the wings, slated to be up and running by the fourth quarter of 2021.
Hudson says the success of the program has not gone unnoticed. "We've gotten so many great responses to our program, from organizations like the Lennar Foundation, which is a huge supporter of what we do," she says, calling out one the country's top homebuilders, and a Fortune 500 company. She also singles out for praise Florida International University, which provides the instruction and hands-on training for Chapman Partnership's residents: "We've been very, very fortunate to have some great partners to ride alongside with us."
One student from the program stands out to her. "We had a gentleman, a single male. He had never graduated from anything," Hudson says. "He struggled with drug addiction, being on the streets—and he came in looking for hope, and an opportunity to change his life. On the day of graduation—and we did hold a graduation—a formal ceremony, not super-fancy—when he walked up to that podium, he was so excited."
And under the tent that the organization had set up in the parking lot, outside for safety reasons, the man's sister approached Hudson to tell her that that day was the first time she had seen her brother excited—about anything. The man had been through so many programs, but his sister believed that this one would make the difference.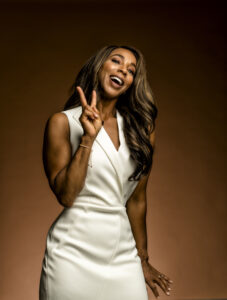 One could easily assume that Hudson has spent her entire career in the world of advocacy, nonprofit organizations and philanthropy, given her fluency in the protocols of this world and her deep personal investment. But this is not the case. Hudson's career provides a lesson in the value and application of transferable skills—a term that's heard a lot but has rarely been so relevant to one's résumé as it is to hers.
After earning her MBA from Harvard Business School, Hudson notched considerable experience in several industries, from consumer goods to packaging to credit services to finance, becoming attached to marquee companies such as Kraft, Ralston Purina, Household Credit Services and Aon. Thereafter, Hudson had more than a decade of work in health care immediately before joining Chapman Partnership. Throughout her career, she's proven fearless in making the leap from industry to industry, with substantial tenures at each. How did she know she was making the right moves?
"You never know if you're making the right decision," she concedes, "but you put your head down and you take the risk and you do it, particularly if you believe that it's going to be something that's going to add value to you and other people."
Her early work experiences, in marketing and strategy, gave her insights into consumer needs. But by the time she took a turn toward health care, it was the right fit both professionally and personally. Her mother had just died of cancer. "I wanted to give more to people," she recalls.
When a recruiter came calling, the first thing that Hudson said was that she lacked a health care background. The recruiter, who liked Hudson's marketing and consumer insights experience, as well as her external perspective, was undeterred. "It came at a time when I wanted to pivot," Hudson remembers, "but more importantly, I went into an industry where I truly felt like the skills I had acquired would help transform the company. At the same time, it gave me an opportunity to develop technology and products that would help people who were suffering from chronic conditions or in a hospital suffering from cancer."
In retrospect, she sees that her skills were "completely transferable." It's a term she wholeheartedly embraces. Her career in health care in the United States included the role of vice president of continuous improvement and transformation at Hospira and global franchise head of home therapies at Baxter International.
A hop across the pond led to corporate adventures. As the president of global franchises and innovation for ConvaTec, Hudson led an IPO—"one of the largest IPOs in London's history," she says. "I worked very hard," she recalls. "Not only did I give 110 percent—I gave probably 150 percent." If it sounds like a lot, it was. The experience led her to take a year off to recharge. That's when Chapman called. The job offer represented an inflection point in Hudson's life: "I've had the opportunity to make billions of dollars for a lot of different, great companies in the U.S. and in Europe," she says, "but I never had a chance to truly see—unless I toured a hospital or a dialysis center—directly the impact I can have on one individual. I can do that here. I can go outside my door and see the people we actually help, be part of a graduation where people can walk away and further their lives in the community. I couldn't do that sitting in a corporate office—at least the opportunities were not as plentiful. And I get to have that experience every single day at Chapman."
Hudson has forged a singular career—gone from success to success—and how she ended up running Chapman Partnership reflects the confluence of so many factors, both within and outside her control. Professionally, she took the reins of everything that was within her control and was quite deliberate. She was a junior financial executive at Kraft—"one of the best marketing companies in the world," she says—when she knew that she had to continue her education in order to learn about about different business concepts, different departments within a company. She looked at Northwestern, University of Chicago and Case Western Reserve, but ultimately decided on Harvard.
"It was a great choice," she says. She cites the global network of Harvard grads, noting that she has traveled to more than 100 countries—when you find yourself in Hong Kong, for example, a friend who can show you around can be invaluable. "I have friends from all over the world—I can go to any country and call up one of my Harvard classmates," she says. (Southeast Asia is her favorite region for travel; she's been to Singapore five times.) "But more importantly," Hudson continues, "the thing about Harvard is that you see so many different business situations. Part of your experience is being able to debate and to articulate how you can improve a business situation and/or ask questions that will help tease out conversations in the classrooms."
She attributes her confidence to that elite training ground.
Her advice to potential MBAs: When choosing schools, go for the fit rather than the name. "If it's going to help improve your knowledge level, if it's going to help get you to that next level, you definitely have to find a university that's in good standing, but more importantly, find one that fits your background and your culture," she says. "Not every university is for everybody."
For example, University of Chicago, she explains, was not for her because it was geared toward finance. Northwestern, she says, was purely marketing. "They're known for different things, so you have to determine what you want to go into and what university fits that path for you," she counsels. "I tell students to do their homework. Understand what these universities are known for." Harvard was for her because it produces generalists and strategy whizzes.
But all the influences and life experiences that impacted Hudson's future weren't so rarified. One factor she calls "heartbreaking": As a child, she discovered that she had a homeless uncle.
"That was my first exposure to homelessness," Hudson recalls. "Uncle Billy was homeless on the streets of California. He suffered from mental illness. He came from an incredible family—my grandparents were a two-parent home. We didn't know for quite some time that he was on the streets. I often tell my staff that if Uncle Billy had access to what we have at Chapman Partnership, I don't think he would have died prematurely."
Hudson says the fact that her uncle never got to experience Chapman is the biggest disappointment of her life. It's also her biggest motivation. "What gives me encouragement every single day," she says, "is that we offer so many comprehensive programs to people who are challenged." In this way, she pays homage to Uncle Billy: "This is an opportunity to not only honor his memory, but also to serve an extremely vulnerable population."