A stellar education and consulting career led Josh Leibowitz to the pinnacle of the cruise industry. But it took more than brains and achievement to emerge as the president of Seabourn; at every major juncture, he had a mentor to nudge him forward.
Born in Chicago, raised in Los Angeles, Leibowitz has a résumé studded with elite signifiers: University of Chicago, Harvard Business School, Booz Allen Hamilton, McKinsey & Co. With that kind of background, right away you start amassing lessons and wisdom that will serve you well in your later career. In Leibowitz's case, that intellectual foundation ultimately launched him into the stratosphere of the cruise industry, first at Carnival (chief strategy officer), then onto Cunard (senior vice president for North America), and finally to the position he now holds, president of Seabourn, which is, by most measures and surveys, the industry's top cruise company. This is the line that has a culinary partner in no less a luminary than Thomas Keller (Per Se in New York, The French Laundry in Napa Valley), the first and only American-born chef to hold multiple three-star ratings from the prestigious Michelin Guide. (The Miami-based Carnival Corporation is the parent company of both Cunard and Seabourn, as well as Holland America Line, Princess Cruises and several others.)
MEANINGFUL MENTORS
When asked about a key early lesson he learned that informs his leadership style, Leibowitz offers a story that's highly specific—and gracious. "The hardest test I ever took during all my years at school was with a Nobel Prize-winning economist named Robert Lucas," he recalls, referring to the University of Chicago's John Dewey distinguished service professor emeritus in economics and the college. (Lucas nabbed the incomparably prestigious prize in 1995.) "Prior to that, I'd gone to see him, and I said that I was nervous about the class and really worried about the exam. And he said, 'Don't worry, we'll do it pass/fail,' and I said, 'Fine.' "
The exam turned out to be based on the professor's thesis on macroeconomics that earned him his Nobel Prize—exalted, abstruse and intimidating subject matter, to be sure. "The one thing I learned from that was to be humble about the people around you and their accomplishments," Leibowitz says. "And rather than me thinking about it as the hardest test I ever took, it gave me an appreciation for having that kind of professor, and an appreciation for his understanding of my learning process. It gets me through moments like that—to go through a hard test with a smile."
Jump ahead a few years, and Leibowitz came upon a decision point—one that enhanced his career prospects even as it lightened his wallet. When his offer came from Booz Allen a few years after graduation, it was a sweet one: He would have the title of lead consultant, with the Chicago office agreeing to bankroll his MBA. The global consulting firm wrote him a check and Leibowitz enrolled at Harvard.
End of story. Except it wasn't. While at Harvard, Leibowitz was hearing more and more about McKinsey. "It was really focused on business transformation, profit transformation and cultural transformation," he recalls. He realized it could be a turning point in his career.
This was a moment for transparency, so he went to see his mentor at Booz Allen and told him about his newfound interest in McKinsey. "He was a senior partner who I'd spent a lot of time with," Leibowitz remembers, "and he looked me in the eye, and said, 'You know, Josh, I think that's a really good decision.' And then he helped me prep for the interviews at McKinsey—even though I'd be leaving Booz Allen." He won the job—no surprise. Leibowitz would be assuming the role of associate at McKinsey in New York, leading projects focused on e-commerce, marketing and profit growth. It was quite the coup.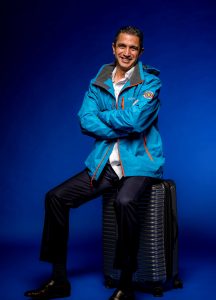 INVESTING IN HIMSELF
When he told his employers at Booz Allen that he was leaving, the news was not a surprise, but they swiftly handed Leibowitz one: "They said, 'No problem, but we need you to write us a check for $50,000'"—repayment for the MBA tuition. "I didn't have $50,000. So, I went back to McKinsey and asked them what I should do, and they said they had a relationship with Citibank across the street." His new employers gave him the name of a loan officer and told him to walk over there and take out a loan, so that's what he did; Leibowitz took on the debt and invested the $50,000—in himself. That stake led to two stints at McKinsey: the first, starting in 1997, was brief; the second, again in New York and then later in Miami, lasted until 2013—nearly 13 years.
Between those two chapters, the world was changing: The internet was emerging as a potent force. Leibowitz knew two guys from business school who were plotting a startup, and one of them prodded him: "Josh, what are you going to tell your grandkids if you don't get off this train and go get into ecommerce?" That was enough to whet Leibowitz's entrepreneurial appetite, and he followed them. The company was idealab, an early-stage venture capital firm that would seed ecommerce firms, and because things were moving so quickly, the young executive juggled two positions, chief operating officer of early-stage startups and managing director in the New York office. Leibowitz emphasizes that these were the very early days of ecommerce: "We were reading barcodes off books using text messages; we were literally one of the first companies selling furniture in an ecommerce world."
It was great until it wasn't—the dot-com crash happened. Leibowitz contacted McKinsey. They told him that 30 or 40 people had left, and the firm was going to rehire just four or five. And they wanted him to be one of them. "That was in 2001," he recalls, "and two years later I was a partner. After that, my wife and I decided to move to Miami to help grow the office there, where I subsequently became managing partner." And the most important thing he learned at McKinsey: "Disciplined problem-solving—and to focus on the people as well as the problem." That last part came courtesy of another mentor, Antonio Puron, a Stanford MBA who was at McKinsey for nearly 27 years.
Leibowitz is quick to honor other essential mentors in his life. There was Rick Spitler, the Booz Allen exec who prepped him for his interview with McKinsey, now a managing director at Novantas; Peter Walker, another prominent figure from McKinsey, where his tenure lasted 30 years; and Michael Wolf, the head of McKinsey's media practice who is now managing partner at Activate. (Of Wolf, Leibowitz remembers him as "a strategic growth thinker who worked as hard as any of us, no matter how senior he was.") Leibowitz regards his interactions with these figures as indelible episodes within a larger scheme: "Every time I needed it, there was someone in my life who was there to help me to make a turn," Leibowitz says. At every crossroads, someone—and not just anyone, but some of the most accomplished people in the business world—was holding up a sign.
"Here's the thing about these mentors," Leibowitz says, weighing his words carefully. "When I sit down to mentor people, what I now realize about my own mentors is that they saw through every one of my errors, and they never did anything other than say, 'You have potential, and I'm going to help you in your career.' Mentors are the people who look past whatever growing pains you experience and see the potential in you, rather than using those gaps in your skills as a reason not to support you."
CRUISE CONTROL
By the time Leibowitz exchanged consulting for cruises nearly a decade ago, he was prepared. Part of his role at McKinsey in Miami was serving the hospitality and travel industries. Hotels and airlines had been clients; Carnival had been a client as well. And he is nothing if not an evangelist for the importance of leisure: He's spoken publicly and passionately about being an "avid vacation defender," including at TEDx Coconut Grove. His views are backed by data, which he devours: "We did one of the largest studies of vacationers ever done," he says. "We surveyed 100,000 people."
With Carnival as the umbrella entity that encompasses several distinct cruise lines, branding differentiation is paramount. Part of his job was to carry around the minutia of consumers' vacation preferences in his head, which came in handy when Leibowitz narrowed his focus first at Cunard, and then at Seabourn. And during his first few years at Carnival, he was acting as a kind of internal consultant—the Booz Allen and McKinsey experiences teeing him up nicely—before running the show for the discrete brands. When his positions at Carnival and Cunard overlapped, he was acting as consultant and client concurrently. It has been a heady time.
And a challenging one. "When the pandemic hit, we had a massive disruption to our business," Leibowitz says, "and it was a moment for everyone to reset and reevaluate what they were doing, where­ they were focused, where the teams were." When he was offered the presidency of Seabourn, he went home to discuss the offer with his wife—"my most important mentor." He told her that because of the U.S. government's no-sail order, he would be running a business that wouldn't be operating for a year, a year and a half, "but there are 2,500 people who rely on Seabourn for their livelihood, and I feel I can make a difference in their lives over the next couple years, just by being a leader who is engaged, supportive and focused on trying to get people back to work. And she said, 'I think you'll be great at that.'"
After a 16-month hiatus, it was time to sail again, with a Mediterranean itinerary beginning in Athens. "I went aboard the ship, and we had more than 400 crew members onboard," Leibowitz recalls. "We got everyone together on the pool deck, and I put on a chef's hat and an apron, and I went behind the buffet line. My management team and I served dinner to all 400 people, to thank them for their work. And seeing the smiles and the tears from people who'd been out of work for a year and four months was one of the highlights of my whole career."
This was on the Seabourn Ovation. The ultraluxury line has four other vessels in service, with two more being built—the aptly named expedition ships (the Pursuit and the Venture). It is the amenities and innovations featured on these ships—including submarines—that inspire Leibowitz to say that Seabourn "is redefining the future of travel. These ships are designed to go anywhere in the world, with reinforced steel hulls, which allow them to go through ice around one-and-a-half meters thick."
And then there are the ratios—the all-important measure of luxury service. "There are only 264 guests on board—132 suites—and we have 26 expedition team members to serve those guests, nearly one for every 10 guests," Leibowitz says. "There are 24 Zodiacs on the ships so guests can experience landings on them wherever we sail. This summer, we'll be in the Arctic in a place called Svalbard, Norway—around 650 miles from the North Pole, the northernmost settlement on Earth. It's all about these Seabourn moments that enable you to live your largest possible life."
Photos by Nick Garcia