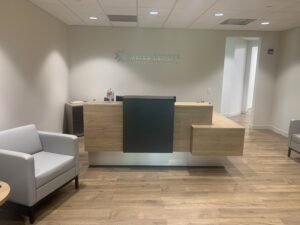 Weiss Serota Helfman Cole + Bierman (WSHC+B) recently moved into two new office spaces in South Florida to accommodate the law firm's growth. The company moved its Miami office a few blocks to a more efficient and modernized space on the 12th floor of 2800 Ponce de Leon Blvd. in Coral Gables. It totals 14,200 square feet featuring an innovative design that embraces technology and collaborative spaces for 40 attorneys based in Miami. WSHC+B also expanded its Boca Raton office by moving to a larger space in a new location at One Boca Place, 2255 Glades Road, Suite 200E, which totals 12,138 square feet. The office doubles the size of the firm's previous office in the city with 22 attorneys based in Palm Beach, with plans for continued expansion.
"We are proud of our firm's growth amid a challenging hiring environment over the past few years, particularly our success in attracting tremendous diverse talent," Mitch Burnstein says, Partner and Firm Managing Director at WSHC+B. "Combining talented professionals with modern and efficient new offices affords us opportunities to maximize convenience and work/life balance for our team members."
Established in 1991 by three attorneys in one Miami location, WSHC+B focuses its representation of private and public sector clients in practice areas of business, government and related fields of the law. The firm has offices in Miami, Fort Lauderdale, Boca Raton, Tampa and Gainesville. For more information, visit WSH-law.com.