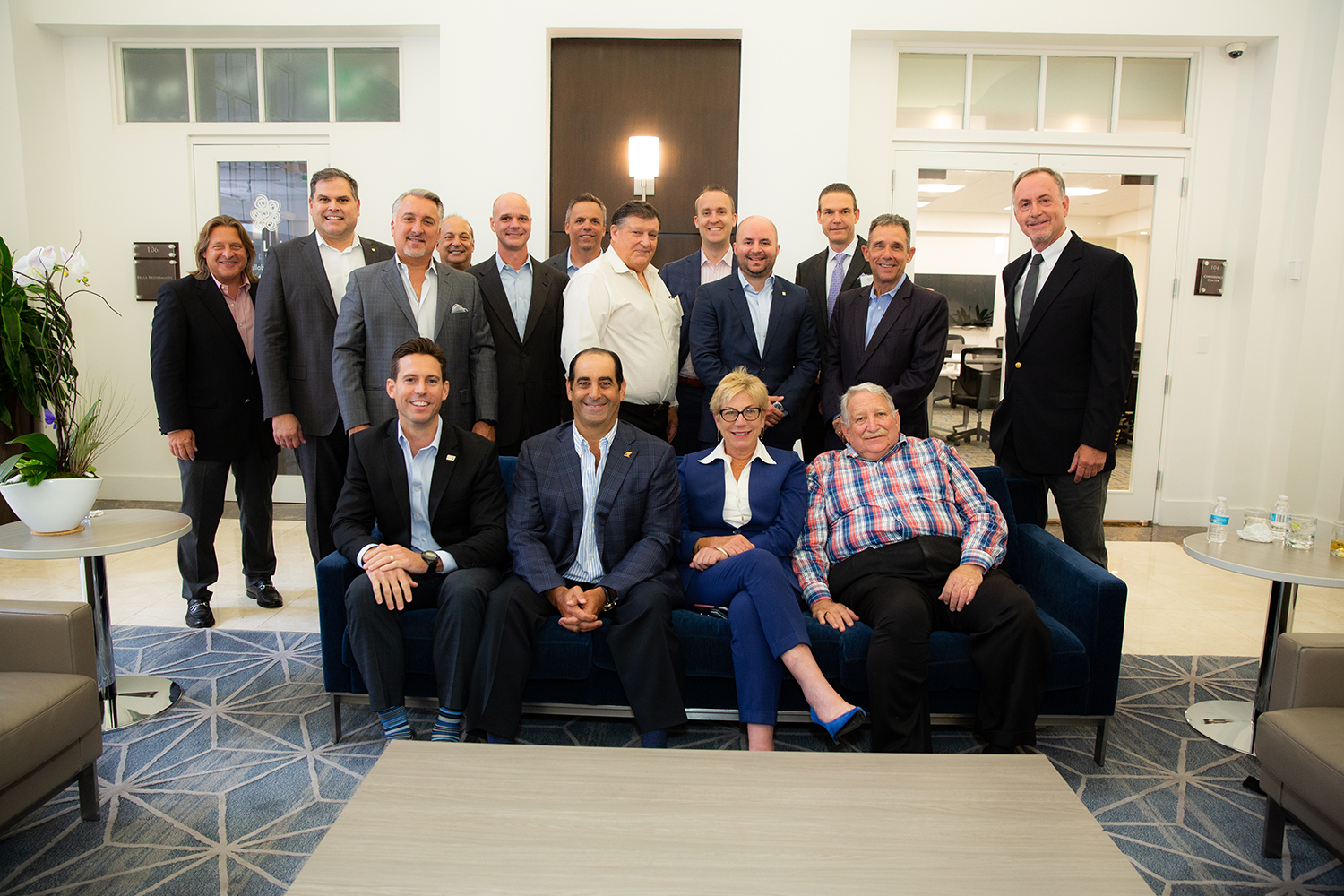 What to expect in a booming market
SPONSORED BY

An influx of new tenants is needed to help the market for commercial office space, which is seeing a spate of construction, according to a panel of top commercial real estate brokers. Flight capital from the Northeast, Central America and Latin America are part of the market dynamics. Live/work/play projects and transit-oriented development are other hot topics.
The discussion was held at the Coral Gables office of CenterState Bank and moderated by SFBW Editor-in-Chief Kevin Gale. Here are highlights that have been edited for brevity, clarity and continuity.
Is office space in South Florida generally in a buyer or sellers market?
Neil Merin, NAI Merin Hunter Codman: It's unbelievable to me how rapidly office space is being put back on the market at ever-higher values. We bought a building in Boca [Raton] in 2013 for $37 million. We sold it two years ago in December for $55.5 million, and it's back on the market today for $70 million. Not much has changed in two years except interest rates keep falling. What we're talking about is very unique to Florida and Sunbelt states. You go into the Northeast, where they're having tax-flight capital, and you can't sell those office buildings in New Jersey or Connecticut. We haven't seen new office building construction in over 10 years in South Florida. However, you've got millions of square feet being built now. It's going to be very interesting to see whether the landlords will be able to continue to raise rents and therefore justify higher prices.
George Vail, Avison Young: We're not seeing an expansion of cap rates. We're raising financing on these new deals at least 100 basis points lower than where we were last year. So, your cash-on-cash [rate of return] on a nice, stabilized deal is usually in the double digits depending on your cap rate.
Ken Krasnow, Colliers International: I think there's going to be a step back, where all of this space gets delivered. You are going to see, I think, a little bit of a retraction and some pricing retractions as deals get competitive unless we get a lot of new tenants.
Danny Zelonker, Z Commercial: Industrial is on fire. In Boca Raton, there's not much space and they are getting $14 [a square foot] net. That's crazy.
Josh Rodstein, NAI Miami: I've noticed that there's a lot of sublease space on the Miami market, especially office buildings. We've got some rate increase, but it's minor. We're concluding a small transaction in Coral Gables, 20,000 square feet. The amount of money that they threw at our tenant to keep them in the space was at a rental rate that was like three years ago. So, we're noticing that the rental rates are pretty flat. And there's not a whole lot of new business coming into the office buildings.
Krasnow: I think that's the sort of the juxtaposition of the market right now, is that the market got so tight, there was no space in theory for companies to kind of come into it. So, now, there are going to be pockets of space where they will. And the proof will be in the pudding whether we attract new companies for this market. We all hear about the New York flight, but it hasn't materialized yet, primarily because there really weren't places to go. Now there will be. I personally believe that is going to happen. Carl Icahn [an investor worth $19 billion] just announced he's moving down.
Merin: Financial services tenants want occupancy within six months, and they will not leave something until they can walk into it and look out the window.
What's the impact of more companies having employees working from their house and also reconfiguring space to make open areas?
Merin: We were looking at a building down in Waterford. We walked into a full floor, 20,000 square feet that was for Whirlpool's Latin American sales force. There was one guy. So, I started talking to him and I said, "What happened?" He said, "We didn't need this. We rented some coworking space from WeWork in downtown Miami, a lot of people went back home or to Latin America with laptops. And we have at least another year and a half on our lease here, but we're not using it. We're just closing it down." Contrarily, we just moved our company from 7,000 feet to 10,000 square feet. We have the same number of people, but with 3,000 square feet more of amenities than we ever had before. We're at a point in the cycle where talent is more expensive than real estate. So, what's happening is that companies are saying, "I need a big kitchen, I need a game room," because they can't get the millennial generation into the workforce unless it looks like a college.
Vail: The average size is going from 250 to 150 square feet per person.
There's been a trend to develop live-work-play neighborhoods. Where are we are in that trend in South Florida?
Merin: In many parts of the country, live-work-play existed because we had towns and villages. Florida didn't grow until the advent of the automobile and the interstate, so we had that flat, pancake, suburban, subdivision gated community. A lot of Broward and Palm Beach County, municipalities didn't want commercial where people lived. So the trend is really going to what was more of a natural state, anyway.
Rodstein: There's a lot of developers that are doing multiple, multiuse projects. We're doing a project out in west Kendall—what I've named a "suburban urban" project. We will have 750,000 square feet of commercial, 800 residential units. You've got Baptist Hospital behind us as a great business generator. One of the things that you're going to find in our project and a lot of these other projects is that the retail portion of it is going to be very experiential. There will be lot of entertainment, a lot of service retail. You're not going to find as much hard and soft goods, though you'll find grocery stores. We're trying to make this the town center for west Kendall.
Merin: There's an interesting thing that we're starting to see happen and that is an influx of new types of groceries as experiences into South Florida. We're talking about the Sprouts and the Lucky's Markets. They are actually going to places where they're causing gentrification of all the neighborhoods. And they are doing that because they are an experience. Sprouts is actually a replication of a farmer's market as a supermarket. You go in and things are spilling out of boxes and baskets and they try and cultivate local produce at each store.
Is transit-oriented development the wave of the future? We have some around the Brightline/Virgin Trains USA stations and some major projects on South Dixie Highway in Miami-Dade.
Merin: I think there's a need for it and it's very exciting. There will be a certain percentage of the people who will want to be mobile, but, ultimately, most people want to live in a neighborhood. If that neighborhood happens to have a Brightline station, great. I think more impactful is the ability of the workforce to move around. I was talking to my doctor, who is a great surgeon. He is at Broward and [Interstate] 95 now and he is being recruited by the Hospital for Special Surgery, which is the world's most-renowned orthopedic hospital, and they are building a 60,000-square-foot center in downtown West Palm Beach. So, my doctor says, "They're recruiting me, and I'm thinking about going." I said, "How are you going to do that." He says, "Oh, I live on Las Olas and I'm going to take the Brightline up and I can be there in 45 minutes, do surgery all day and be home for dinner."
There is a point where Brightline and Tri Rail are within two blocks of each other in downtown West Palm Beach. The ability to develop along the corridor that connects fast trains and a local train is phenomenal, because that allows a lot of crossover. There's also a lot of opportunity for educational facilities and governmental services to cluster around mass transit
Steve, what are your thought on some of the topics here?
Steve Smith, The ComReal Cos.: We're all crazy. There's so much going on. I've been impacted by a focus on technology my entire career. I worked on a magnetic levitation study for what became Brightline. I did a demo project in Orlando. Nobody could buy into idea of what maglev was. Metrorail is talking about that.
The last 10 years I've found old industrial buildings and have been having fun retrofitting them. You can build 32 feet high or have next generation technology, but you can't move a location
What's been the impact of shared workspaces? WeWork has been in the news. Is this model financially sustainable?
Merin: The guy who promoted this industry to its new heights [WeWork co-founder and former CEO Adam Neumann, who recently stepped down on accusations of mismanagement] is the guy who is going to take it down. Twenty percent of all the office transactions in Miami last year were coworking spaces. I don't know how many people want to go to work in coworking spaces. WeWork thought they could control the market. Their IPO prospectus [subsequently canceled] said they will lose $9.7 billion before breaking even.
Vail: Regus has been around since like 1989 and they're doing fine, but WeWork has gone off the rails.
Manny Chamizo, One Sotherby's Commercial: One of my clients said the first time he walked into one it smelled like lasagna and looked like a dorm room. The interesting thing I thought was lack of privacy—the sales numbers were right there for anyone to see. By the way, what deal is he working on? I don't want our stuff on the board.
What else is happening?
Merin: The growth of medical. What a tear Baptist Health has been on. They have bought five locations in Palm Beach County and opened four as clinics.
Rodstein: Baptist bought a building next to the Collection [a car dealership in Coral Gables] to do an ALF [adult living facility, with Belmont Senior Living].
Chamizo: Student housing in Miami is on a tear. There's more student housing in Sweetwater than there are students at FIU. I do a lot of traveling in Latin America. There is going to be a big influx from Mexico because of what is happening there with their government. Every country in South and Central America looks at Miami as that one place you don't have to speak English. More important in all of these countries: If you are leftist goverment and stole money, or on the right and stole money, then you throw money over here. They have to fight with the flight capital coming from the Upper East Side and Brooklyn. I'm liking the Democrats squeezing them so hard, you are making it so difficult for all those guys they are leaving.
Merin: New York has the most restrictive rent laws of any state. There's a woman whose husband became paralyzed and she wanted to take the downstairs unit. They weren't allowed to because it was rent controlled. From small to big, they are saying, "I don't want to own real estate in New York anymore," which was the greatest city in the world to own real estate in, and they like Florida. The Kushners are building in Miami. [Kushner Companies, which includes presidential son-in-law Jared Kushner, plans 1,100 units in a 408-foot tower at 2000 Biscayne Blvd., the Miami Herald reported.] ♦
The panelists
• Manny Chamizo, global commercial director at One Sotheby's International Realty/One Sotherby's Commercial. He is One Sotheby's global investment specialist, servicing private capital investors in Florida, South America and Central America. He has more than 33 years of management and brokerage experience.
• Ken Krasnow, vice chairman of institutional investor services for the Florida region of Colliers International. Since joining Colliers in 2015, he has grown operations from fewer than two dozen professionals to more than 150. He has been listed as one of "Top 50 Leaders in Commercial Real Estate" by Real Estate Weekly.
• Neil Merin, founder and chairman of NAI Merin Hunter Codman, West Palm Beach. His company manages 5 million square feet of office and retail space and is the largest commercial real estate firm in Palm Beach County. It recently launched its first commercial real estate fund. Over the past 20 years, Merin has represented both owners and tenants in more than 30 million square feet of property negotiations representing more than $7 billion in real estate transactions.
• Josh Rodstein, executive director and shareholder, NAI Miami. Rodstein specializes in the leasing, sales, and development of retail and office properties. He represents local and national property owners as their landlord representative and represents national or regional tenants as their broker selecting new locations. He has been involved with more than 2 million square feet of commercial property.
• Steve Smith, president, The ComReal Cos. and its Miami affiliate, ComReal. In the 1970s, Smith founded an eponymous company that became ComReal Miami in June 1985. He has been president of the Florida chapter of the Society of Industrial and Office Realtors, chairman of the Realtors Association of Greater Miami and the Beaches, co-founder and director of the Industrial & Commercial Association of South Florida, and is a director of the National Association of Industrial and Office Parks of South Florida.
• George Vail, principal, capital market group mortgage services, Avison Young. He has 17 years of experience in the commercial real estate field and worked for Ackman-Ziff, HFF, Rockwood Real Estate Advisors, and Cushman and Wakefield before joining Avison Young in 2017.
• Danny Zelonker, owner and brokerage, Z Commercial. Zelonker has been practicing commercial real estate since 2004. He holds Certified Commercial Investment Member and SIOR designations.