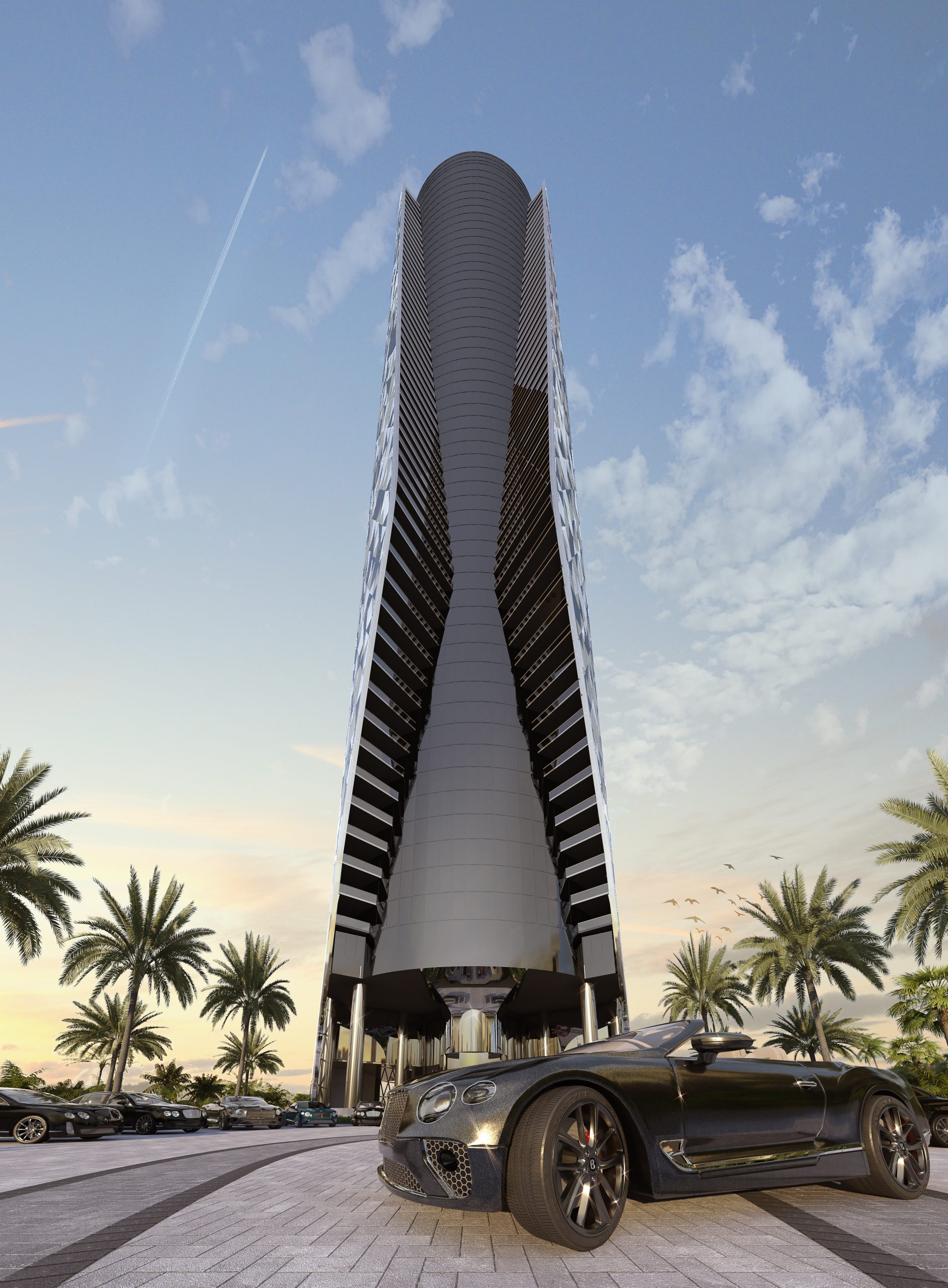 An Iconic British Automotive Name Will Be Embodied by a Supertall Tower in Sunny Isles
What Bentley Motors and Dezer Development have in store
For 103 years, since the brand was founded in North London, the Bentley name has carried an incalculable value and cachet. In 2013, that venerable name translated into sumptuous interior pieces inspired by the vehicle's lines, when the Bentley Home Furniture Collection debuted at Luxury Living Store in the Miami Design District.
And now another milestone is quite literally elevating the brand, as the first Bentley-branded residential tower in the world is coming to Sunny Isles Beach. Bentley Motors, in collaboration with Dezer Development, has announced the official launch of the sales gallery for Bentley Residences Miami, an immersive environment expertly designed to exude the same opulence to be experienced once the luxury tower officially opens to homeowners.
The 12,000-square-foot sales gallery offers buyers a carefully curated approximation of the private beachfront enclave that will encompass a one-of-a-kind collection of 216 residential units, each starting at $4.2 million. ​​Each unit will feature uninterrupted water views, floor-to-ceiling glass windows, individual balcony swimming pools with outdoor showers, and—in a nod to the building's automotive pedigree—an in-unit, multicar garage boasting a patented elevator known as the Dezervator. (The Dezervator, named for developer Gil Dezer of Dezer Development, first appeared in Dezer's first building, the 641-foot-tall Porsche Design Tower, next door.) The sales gallery features a full-size 6,000-square-foot model unit replica.
Other highlights include a theater room and separate lounge area for brokers, a full-service kitchen and dedicated bar stocked with a range of the Macallan's finest whisky for client entertainment and intimate hosting opportunities, and the Bentley Brand Room, where some of the most notable examples of British craftsmanship will be on display, offering guests an extended experience and further information on the tower-to-be. Both the sales gallery and every unit within Bentley Residences Miami will feature top-of-the-line Gaggenau appliances.
The firm of Sieger Suarez, which designed Dezer's Armani/Casa and Porsche Design Tower projects, is the architect for Bentley Residences Miami. The tower, set to be the tallest building on an American beachfront, will stand at 749 feet tall. It is slated for groundbreaking in 2023, and completion—when residents will finally be able to drive up, and in—is scheduled for 2026.