Don't be surprised if the chef at Aqui Bar & Kitchens (aquibar.com) wants to take you on a tour when you arrive at the restaurant in Fort Lauderdale's Flagler Village. Often, you'll find Gino Perez-Ferrari, co-owner and culinary director, on a walkthrough with patrons to introduce the culinary concept he's created. He's excited to share the process of how three mobile outdoor kitchens cook up flavors from different parts of the globe and how it all comes together on one menu.
Aqui is on the ground floor of a two-floor structure built in 1964 that used to house the Delle Academy of Dance (511 NE Third Ave.). The reimagining by architect Margi Glavovic Nothard, founder of Glavovic Studio in Fort Lauderdale, gives the restaurant interior a chic contemporary and casually polished vibe with a purple and black color scheme. The focal point of the main space, an open warehouse concept, is the craft cocktail bar—"casual, yet upscale and sexy," says Perez-Ferrari.
This is where co-owner and master mixologist Trenton J. O'Connor usually is found. While he'll create one of his specialties out of any liquor (and there are plenty of inviting libations from which to choose on the menu), he's a whiskey connoisseur (note the tattoos of Jack Daniels bottles on his arm). The OF (old fashioned) is a cocktail you most likely won't find anywhere else. O'Connor takes Michter's bourbon, made at a distillery in Louisville, Kentucky, then adds black walnut bitters, black cocktail cherries, sugar and orange peel.
Grab your drink and head to the backyard. This is where, as Perez-Ferrari says, "two different worlds collide."
The spacious patio with illuminated trees, tables with umbrellas and seashell flooring is also where Perez-Ferrari's three mobile kitchens, each with a specific name, roll into action.
There's the Asian Fusion mobile on the left, the Mediterranean grill in the center and Mamitas Calle Taco on the right. It isn't as if Perez-Ferrari couldn't decide on one cuisine. Since he's traveled the globe as a chef in restaurants everywhere from Qatar to Canada, he wanted Aqui to be a culinary roadmap. So, three kitchens it is.
"It [speaks] to my experience in the hospitality business. Each dish represents the best version of what I would want if I were to go to a restaurant," he says, adding how important it is to capture the essence of the food culture represented.
Standouts from the Asian Fusion kitchen are the appetizer of Korean glazed wings, slow cooked, and any of the bao buns, although the Thai Mignon and the Short Rib bao are magical. The latest addition to the Asian Fusion menu are tuna standouts—tuna carpaccio, a tuna poke bowl and perfectly seared tuna.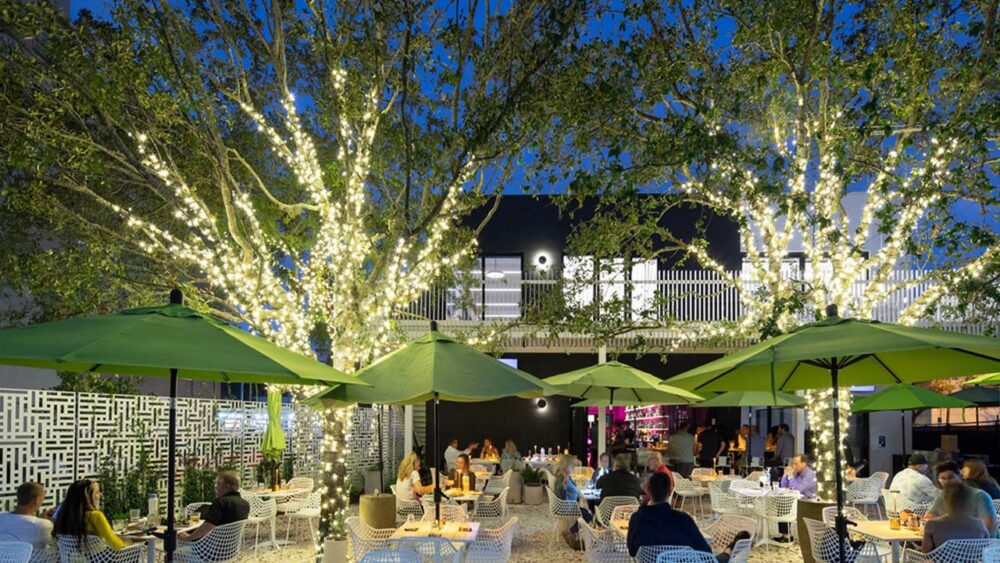 Perez-Ferrari's Mediterranean Grill is Persian inspired. "I opened restaurants in the Middle East and fell in love with the Persian culture," he says.
While you can't go wrong with any kebob from the Mediterranean kitchen, the Persian ice cream, also known as Bastani, is a must-have dessert with flavor and fragrance courtesy of rose water and saffron.
Perez-Ferrari doesn't play favorites, but there is something special about the third kitchen—Mamitas Calle Taco. His wife, Nichole, who also is part of the culinary team, "is Mamita. That's what our kids call her."
He says there's a lot of love that comes out of the Mexican kitchen. "Both of us are from Puerto Rico so we've kind of finessed these generational recipes that we had from each of our families, and now they are ours together."
Perez-Ferrari advises diners to try something from each of the kitchens in order to truly navigate his culinary roadmap. He says the melding of the three food cultures works.
"There's an essence and everything is in balance. It's a collection of my life's work."