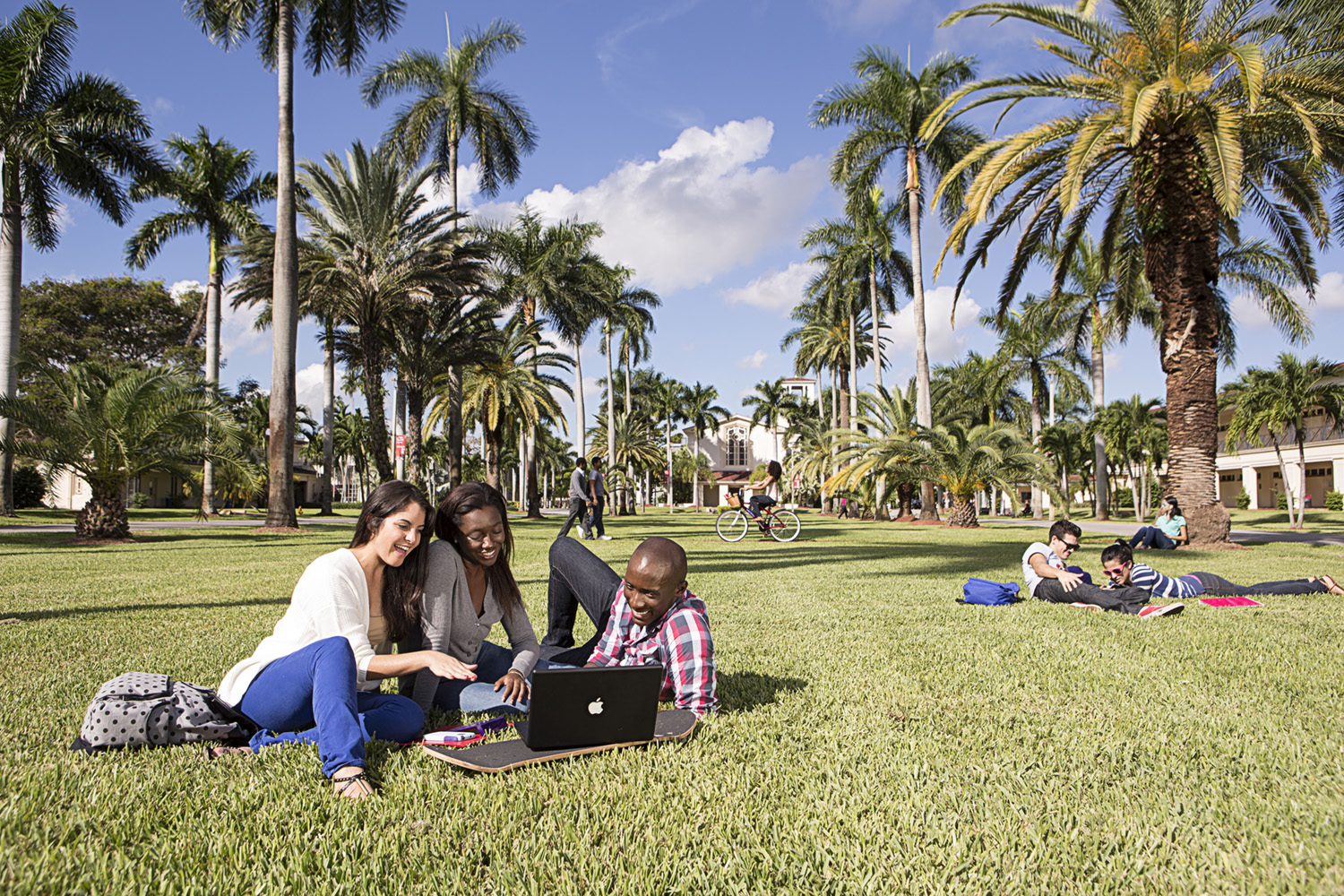 Barry University is ready to make some noise
Drivers heading north on Interstate 95 near 115th Street in Miami may know little more about Barry University than its landmark Sylvester Tower on the east side of the interstate.
"I think for me as president, our biggest priority has been to engage externally on what we believe is really the fabulous product that we have here. Barry, to use an overused cliché, is the best-kept secret," says Mike Allen, who became president of the private Catholic university in July 2019. He's notable as the first layperson and first man to lead the university, which was founded in 1940 by the Adrian Dominican Sisters.
"I think that a lot of people sort of misperceive us as sort of a small, you know, state kind of private school. And the truth is, we're a very comprehensive university. We offer over 100 different programs and majors," Allen says. "We operate in the undergraduate space and in almost all of the traditional kind of programs that you would expect. We have a robust master's level programs in a variety of fields. We actually have the top-ranked biomedical sciences program in the country."
Allen said the university's leadership and outside consultants have spent a lot of time determining whether it's offering the right programs.
"If you list sort of the top 20 programs, both in terms of interest from prospective students in terms of number of majors and those kind of things, and hire ability and marketability of majors in terms of getting jobs, we're really operating in about 90 percent of those programs," Allen said.
Still, Barry's leadership is taking a strategic look about what's needed in the future.
"I'm not saying we're talking about a shift, but there is a need for us to really think broadly and very specifically about which programs are the right ones for us to be in for the long-term sustainability and for the long-term growth of the university. I think many universities today find themselves in what's such an overused expression, but trying to be all things to all people. And we are certainly guilty of that here at Barry as well," Allen says. "And the question becomes, what are the right lanes for our investment for our future?"
That means looking at growth plans going forward, not so much as a consolidation, but a restructuring and alignment to be efficient and meet the needs of students.
Those who drive up Miami Avenue through Miami Shores will find a tranquil-looking campus with more than 40 buildings. Barry also includes a branch in Tallahassee and a law school in Orlando.
It has a major emphasis on health care programs, including one of only nine schools of podiatry nationally and the only one operated by a Catholic University, Allen notes.
Barry's most famous alumnus is basketball Hall of Famer Shaquille O'Neal, who wrote an education doctoral capstone project titled, "How Leaders Utilize Humor or Seriousness in Leadership Styles." O'Neal is still known to speak fondly of his time pursuing his degree, Allen says.
Barry started as the Barry College for Women by the Rev. Patrick Barry, who was bishop of St. Augustine; his sister, the Rev. Mother Mary Gerald Barry, who was prioress of the Adrian Dominican Sisters in Adrian, Mich.; and their brother, Father William Barry. Another key player was John Thompson, who eventually became mayor of Miami Shores.
"The reason Barry was such a fit for me is the way that we choose to live that Catholic mission here," Allen says. "What we focus on here is what we call our core commitments. And those core commitments really resonate with my own faith. They are a search for truth and knowledge. They are creating and living and embracing an inclusive and diverse community, fighting for social justice and doing that through a commitment to collaborative service."
Part of Barry's socially conscious vibe relates back to the Operation Pedro Pan rescue of Cuban children after the Castro regime cracked down on the island's education system.
The director of the Catholic Welfare Bureau, Father Bryan O. Walsh, launched Pedro Pan to bring children to the United States and looked for a partner university.
"That's how Barry University's School of Social Work was formed back in the '60s and continues to be a real really fabulous school in the field of social work today," Allen says.
The Dwayne O. Andreas School of Law in Orlando, named after the leader of Archer Daniels Midland, has a strong social justice component as well.
"There focus is very much on programs related to immigration, family law and environmental law. We do tremendous pro bono work in the Orlando community and in the state of Florida," Allen says. "We have a juvenile defense clinic, where our faculty are working with our students defending, pro bono, juveniles who run into trouble with the law."
The Andreas last name is also on Barry's business school, which was founded in 1976. It has five majors in its undergraduate business administration program and offers MBAs with six different specializations.
Allen says one of his main priorities is to partner with local industry. Barry is part of the Academic Leaders Council, which includes the presidents of all the Miami based institutions of higher learning along with the leadership of Miami-Dade public schools. It's also allied with the Beacon Council's One Community One Goal initiative.
Allen says there is a dichotomy where a high percentage of university presidents and administrators believe they are meeting the needs of the business community while the business community's view is more like 10 or 15 percent.
"So, this dialogue between higher ed and industry leaders is critical," Allen says. Beacon Council president and CEO Michael Finney and members of his leadership team participated in a symposium with Barry's deans to talk about what type of modernizations might be needed in the university's curriculum.
"It's a fascinating conversation because people naturally turn to technology, rightfully so," Allen says. That includes topics like artificial intelligence and computer science.
While Barry is more grounded in the liberal arts, it can add needed perspectives, Allen says. "So, for example, in robotics, you still need psychologists to help navigate and teach the robots how to think and how to react and how to respond. You still need an emphasis to make sure that we're doing things the right and proper way for the greater good of society and you still need historians to kind of learn from historical innovations and how they affect society and culture."
The business school is putting emphasis on experiential learning, service learning and outreach. For example, a group of students was given the opportunity to run about $1 million of the university's endowment, Allen says. "They've done a fabulous job doing it. Very often, I joke that they often outperform our professional investors and their fees are a lot better."
This sort of experiential learning is important as students experience the COVID-19 pandemic, but still need to find jobs when they graduate. By the time of SFBW's interview, the university had shifted to online learning and only a few students were left in dorms, some of them because of cost issues or difficulties traveling internationally.
The school of business has an entrepreneurship lab, but it's very crossdisciplinary, Allen says. "This is new and it's just getting off the ground. But it's just really thinking about getting our students to think about new and creative business ideas and not just the ideas, but how do you take a great idea and turn it into a living, breathing and functioning business."
The public may have a misconception that Barry's students come from upper-middle class families, but it's quite the opposite, Allen says. A strong majority are the first in their families to go to college and 70 percent were eligible for Pell Grants.
"And just saying that those students are in that position from a socioeconomic status says nothing about their talents and their ability. They're talented, they're qualified, they're bright, and they are ambitious, and really ready to take advantage of the opportunity that we're able to offer them here," Allen says. "But it is a financial strain for them to be here."
He would like more benefactors to realize that contributing to the university is a way to create social mobility.
About 70 percent of students fall into the category of underrepresented minority students, including many Hispanic students.
Barry tries to go beyond the transactional relationship universities sometimes have with their students.
"You give me give me my degree and I'll move on," is one way Allen typifies that attitude. "The degree here at Barry is not transactional at all. It's very personal. And it means a lot to the people who are here. You see that in our graduates and in our alumni. They're not casual about their relationship with Barry. It's just like it wasn't OK—they love it. They really do. They're passionate about their experience here. They're passionate about the people who they met, and how it changed their lives." ♦
Allen's background
Allen grew up in Connecticut and was the son of two educators. His father, George J. Allen, was a longtime professor of clinical psychology at the University of Connecticut and his mother, Lynne, taught special education and middle school students for about 30 years.
"They were great role models for me and really instilled the value early on that being a teacher or supporting teachers who are educating students is a great way to, to impact lives," Allen says.
Allen went to Trinity College in Connecticut as an undergraduate, earning a degree in sociology with a minor in formal organizations. His master's degree in sports management at UConn reflects his being a basketball guard in high school and college. He earned a doctor of education degree at UConn. His dissertation and research focused on the academic socialization and personal development of intercollegiate student athletes
He designed and implemented academic support programs for students at Florida Atlantic University and UConn between 1993 and 2005.
He was vice president of student affairs at the Catholic University of America in Washington, D.C., from 2013 to 2019. He was also director of athletics for eight years.
There is another interesting twist to Allen and his wife Beth's experience while he was at FAU.
They adopted two infants, Maya, who was born at Plantation General Hospital, and James, who was born at Holy Cross Hospital. James was only two weeks old when Allen got the position at Catholic University, so James couldn't legally be moved right away.
"Our family joke is that our kids were so young that they didn't realize what we moved them away from South Florida, but my wife never forgot," Allen says. "When the opportunity came up to explore something back down here in South Florida. We were both really excited. We love living here."