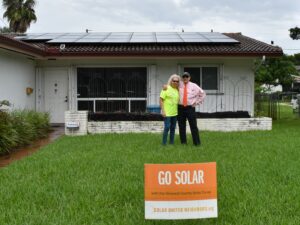 Members of the Broward Solar Co-op recently chose Cutler Bay Solar Solutions to serve as the installer of solar panels for the group. The company was selected through a competitive bidding process with five other firms. 
"Millions of Americans are realizing that solar power is not only environmentally friendly, but a smart financial decision for their family," says Raul Vergara, Vice-President & Founder of Cutler Bay Solar Solutions.
The Solar United Neighbors (SUN) formed the Broward County Solar, Storage and EV 2021 Co-op to help people in the county utilize solar to reduce energy costs.
By learning about solar energy and how to harness it, the program brings interested buyers together to leverage their numbers to purchase quality solar systems at competitive pricing. SUN expands access to solar by educating Broward County residents and small business owners about the benefits of distributed solar energy, helping them organize group solar installations, and strengthening Florida's solar policies and its community of solar supporters. 
The partnership is free to join for anyone in Broward County, but doing so does entail a commitment to buy panels. By working as a group with a single installer, members can save on the cost of going solar and support fellow group members and solar experts at Solar United Neighbors. Each member will receive an individualized proposal based on the group rate provided by Cutler Bay Solar Solutions.
"If you've ever thought about going solar, now is your chance," says Laura Tellez, Solar United Neighbors' South Florida Program Coordinator. "The co-op makes it easy to learn about solar and works with you throughout the process."
Since December 2016, SUN has facilitated 67 solar co-ops in Florida, which has helped more than 1,900 Florida families go solar and generated $59 million invested into Florida's economy. 
To help explain how the co-op operates, SUN will host a free information session at 6 p.m. on Sept. 22. For more information, visit SolarUnitedNeighbors.org/Broward.