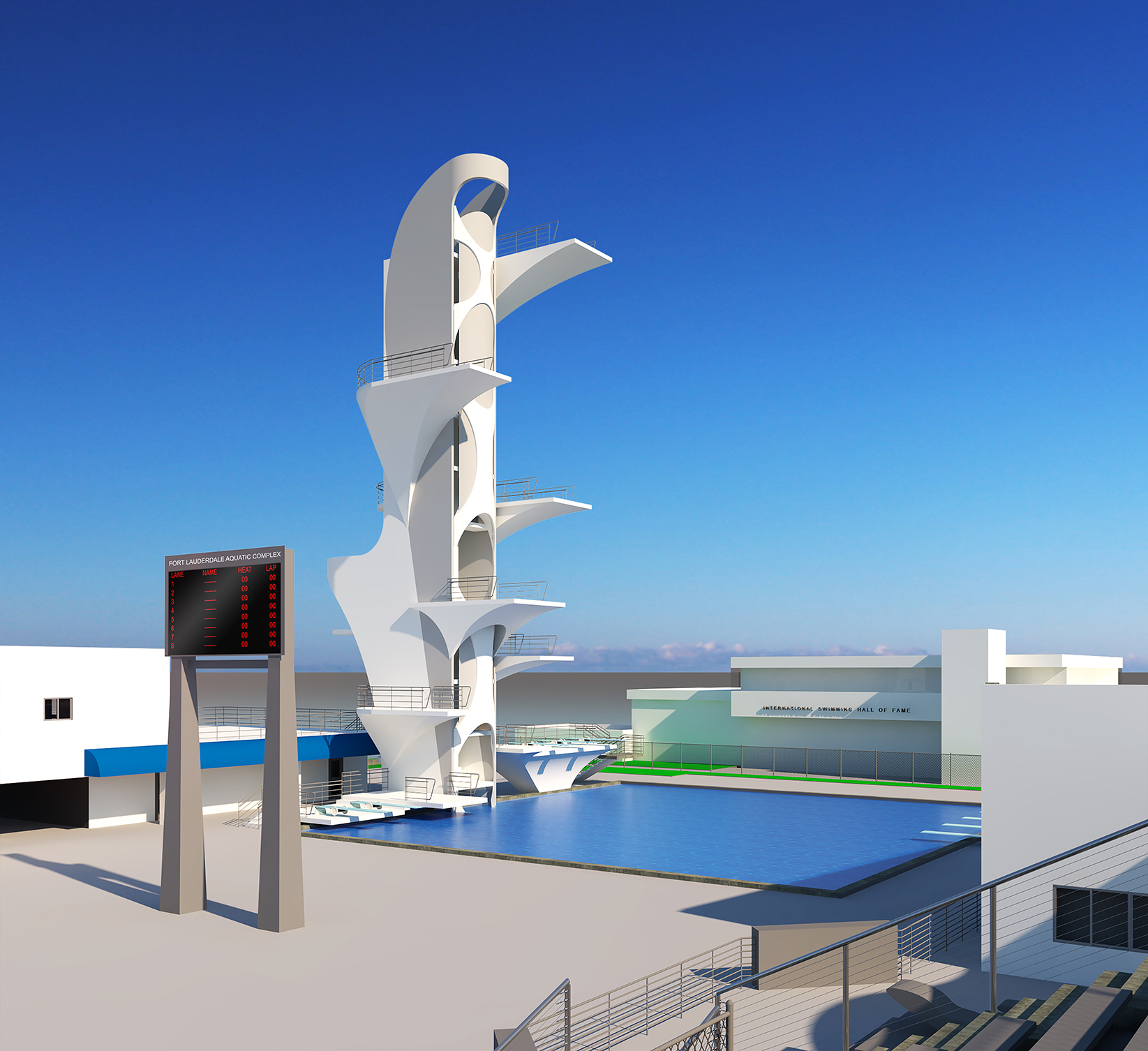 Watery Pursuits
A beloved swimming complex gets a facelift
When architect Mario Cartaya of Cartaya & Associates was tapped to lead the project that would return the storied Fort Lauderdale Aquatic Complex to its former grandeur, repositioning it as one the world's most prestigious swimming centers, he didn't have to look far for inspiration. His daughter, Lesli, had trained at the acclaimed facility by the sea, a historic home base for a slew of Olympic athletes—and the site of more than 10 world-record swims. "I had attended so many of her swim meets here, spent so much time by the pool," he recalls. "Of course, there was no question. She would certainly be my muse."
Knowing the location so well, Cartaya, a Cuban émigré who is renowned for esteemed works, such as Miramar City Hall, didn't hesitate to draw from his experiences for the $44 million project. "The five-acre, man-made peninsula, which holds the complex, juts into the water," he notes. "All around, yachts mark the horizon. This is the Venice of America."
Celebrating Fort Lauderdale's tides, breezes, palm fronds and gin-clear water, the architect embraced these elements as guiding lights in his design: "Fort Lauderdale is like no other place. We are a land of sand and sea. I wanted people to take a first glance at the aquatic complex and know exactly where they were, to feel the energy of this unique, waterside location."
Originally opened in 1928 as the saltwater Casino Pool, then refurbished and enlarged in 1965 as a first-rate complex, the arena was once known as the world's best. But, as Cartaya says, "Time waits for nobody." In recent years, the pool had become tired and outdated. Under Cartaya's direction, when the complex reopens in the spring of 2021, it will not only sport a new look, but embody safe, highly advanced, state-of-the-art swimming and diving technology. "Its pools will dominate as some of the fastest in the world," Cartaya says.
The project's centerpiece is the 27-meter diving tower. "This will be the world's only permanent, 27-meter-high dive," Cartaya says, adding that a range of experts (from hydrologists to members of the USA Diving) advised on the project. "Can you imagine what it takes to climb up so high, to look around at these beautiful surroundings, then perform such a feat? To leap through the blue sky to the blue water? These are the things I think about," he says.
Besides the tower, which has a futuristic, fluid form, two completely rebuilt and redesigned 50-meter pools stretch toward the sea. One has been designated for world-class competition, while the other, a swim down and warm-up pool, will also be used to coach local swimmers in training. ("This is a facility for everyone," Cartaya says.) A dryland area for diving/swimming practice, an utterly modern locker room building, a gym and a terrace-like loft for cheering bystanders join to pay homage to swimming as a lifestyle—and a performance. "Swimmers need their fans," Cartaya says, "and this will be the world's premier swimming facility. Athletes and spectators alike will swarm here. I am confident of that. I wanted to allow for a place for crowds to clap and applaud."
Cartaya says he always wanted to be an architect. Brought up in a family who exposed him to art, music, mathematics and carpentry, he grew to understood that architecture is living art, something both esoteric and psychological, but also authentic and useful. "People live in my buildings, work, play, and, in the case of my swim center, compete." He likens himself, in the end, to a building whisperer. "The buildings talk to me. I listen. 'What do you want to be?' " he says he asks them. In the case of the Fort Lauderdale Aquatic Center, with its wave-like forms and motion-evoking shapes and reflective mosaics, the answer came back with the clarity of water.