What drew you to the cruise industry, being from New England originally? It's not exactly typical.
Yep, I'm from New England—Gloucester, Massachusetts. Have you seen the film Coda? It was filmed completely in my hometown of Gloucester. It was pretty accidental, the cruise industry. I started in the travel industry in 1983, working for a huge travel agency network mostly within Massachusetts, started by a husband-and-wife team. I was sort of floundering in my 20s, didn't really know what I wanted to do. It sounded interesting, so I thought I would give it a try, and then a year later an opportunity opened at Royal Caribbean, and because this agency did so much cruise business, they told us about the opportunity and asked if any of us were interested in pursuing it to send our resume and I did, and, you know, the rest is history. I started selling door-to-door to travel agencies in 1985 for Royal Caribbean in New England.
Let's talk about your recent history: You've been at Celebrity for a while now, but before that there were a couple years when you had a break, where you were lured away by Royal Caribbean. [Celebrity Cruises is owned by Royal Caribbean Group.]
So, in my almost 38-year career, I spent my first 21 years at Royal Caribbean in sales and marketing, then I was lured away by Celebrity in 2005 through 2012 and then I was lured back to Royal Caribbean for two years, from 2012 to 2014, and then in 2014, I went back to Celebrity. Now I'm approaching my eighth-year anniversary as president and CEO of Celebrity. So, I've been back and forth between these two—the two largest brands in our company—a couple of times.
It seems like every time you made a jump, you advanced in terms of position, and this is a topic that transcends the cruise industry. We've always heard that in order to advance in terms of compensation and position, you have to be ready to move around, no matter how comfortable you are or how well you're treated.
Oh, my gosh, that is so true, and it's a lesson I learned later in my career that I should have learned earlier. Like many people, I had an idea in my head and a path in my head, and two things happened with that. One is, my path was limiting—I was actually limiting myself. And the other thing is something that happened outside of my control, and it took me a while to realize that that was the best thing that could have happened to me because that road led to where I am. Had I stayed on my own limiting path, I would not I would not be where I am today.
The travel industry, compared to other sectors, is glamorous. Travel is something that people you meet always want to talk about and hear about. But we've also talked about how taxing the day-to-day can be.
I can only speak for our company, so I'm not sure it's the same for all of us in the industry, but people are quite surprised at how hard we really work and all the things we do. We're not figureheads sitting on the sixth floor in an office—we are deep in it every single day. It's all the tough decisions, all the good decisions, all the business decisions, every discipline within our purview of responsibility, everything that goes on within our company—and being a responsible member of the executive committee and leading the organization forward. We are a roll-up-your-sleeves kind of organization. None of these executive positions are figureheads.
Can you share an anecdote about a guest who was treated in a particularly special way because they were having a specific challenge or problem and the staff moved to rush right in and help them?
Oh, I probably have a million of them because they happen every single day, which is so wonderful. I don't have my computer in front of me, but I just read something the other day where a guest was having a problem on board, and they went to the guest relations desk—I think [the staffer's] name was Georgina, and whatever she did, she just made this man's problem go away; she empathized with him and he left there feeling so wonderful. He was still on his cruise and he took the time to tell me how wonderful she was, and he wanted her to have the recognition and wanted me to please make sure that her supervisors on the ship knew what she did and how much of a difference that made in his vacation. I had another guest tell me how absolutely wonderful the care was that he had on his vacation and how fabulous the crew was and that they just booked more Celebrity cruises while they were on board.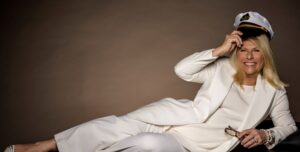 Why don't you catch us up on the cruise line's big news?
We just introduced Celebrity Beyond in April and then next year, we have Ascent, which will be the fourth in the Edge series; this series of ships has been transformational not only for Celebrity, but for entire industry. Everybody is trying to figure out how they can do better than the Celebrity Edge series, and then the fifth in the series will be coming out in the fall of 2025 so we'll have five in the series, and then hopefully over the next 12 or 15 months we'll be thinking about the next series of ships beyond the Edge series, which is the most luxurious series for Celebrity, absolutely. We refer to ourselves as relaxed luxury resorts and these ships are amazingly luxurious and the thing that's so wonderful about what we've been able to accomplish at Celebrity is offering luxury at scale. In our industry, and you know our industry so well, it really bothers me that people think of luxury as small ships. I don't know why our industry is saddled with that, but we are out to prove at Celebrity that luxurious experiences don't have to be small.
Now that we've gone there, what is the occupancy on Beyond?
The occupancy is 3,260 guests, and there are 1,646 staterooms.
In the midsize class.
Yes, we're midsize.
Who are your competitors?
I guess you'd probably say Holland America, maybe Princess, but we've really tried to carve out a niche for ourselves that sits somewhere between those that bill themselves as premium, whether it's Virgin or some part of Norwegian, Princess, Holland, and we straddle that that peer group with the luxury group like Oceania—and Crystal, when they were still in business, although they're coming back.
Are there certain amenities that you'd like to call out, or partnerships with gastronomic leaders?
Daniel Boulud—that's our relationship with a world-renowned chef, and actually our head of culinary [program] is a Michelin-starred chef himself, Cornelius Gallagher. He's amazing and he is a protege of Daniel Boulud. We formed a partnership with Daniel a few years ago when he provided a menu for our Retreat, which is our suite experience, and now we've opened Daniel's first restaurant at sea on Celebrity Beyond, called La Voyage.
Does the line collaborate with any renowned interior designers?
You know design is one of the pillars of the Celebrity brand, which is why these ships are so absolutely stunning and special. When we were designing the Edge series we decided that we should have a group of world renowned designers designing our spaces, and so we have Jouin Manku from France, we have Kelly Hoppen from the U.K., we have Nate Berkus from the United States, we have Patricia Urquiola from Spain, and then, of course, we have Tom Wright, who played a huge role in the architectural elements of the ship, and he's the architect responsible for the Burj Al Arab hotel in Dubai. So, we have quite a cadre of amazing architects and designers who are responsible for the beautiful outcome of these ships.
Nate is someone I've interviewed several times—how did you enlist him?
At that point in time, we had no American designer affiliated with the brand and our No. 1 market is the United States, by far. So, we did the outreach through his agent—you know—six degrees of separation, right? You try to find your way into talking to these people and he really wasn't interested—he was like, I don't know the cruise industry, I don't care about the cruise industry but for some reason, we convinced him or somebody convinced him to just listen to what we had to say. So, he said all right, fine, Monday at 9:30. They gave us 30 minutes. I had to go to London the next day, but I said, if anybody is going to tell him about this brand, it's going to be me, so I got myself on a plane and I went and sat across from Nate Berkus and he liked everything he heard, he loved everything he saw. He couldn't believe it was a cruise ship and he was all in—he became kind of our ambassador. He said, I'd really like to design something, and we gave him the Sunset Bar on Celebrity Beyond. It is absolutely spectacular. We've been partnered with Nate Berkus since 2017. That's on the docket for 2023: We have to do a better job bringing people to the forefront who are so important to Celebrity like Daniel and Nate.
This leads to my next question, since Nate and his husband, Jeremiah Brent, are so visible in the LGBT-plus community. There's an increasing embrace by the cruise industry of the LGBT-plus community,  and a lot of it is due to efforts like yours.
Listen, I have built up a brand, a career, based on diversity and inclusion and people feeling welcome, and promoting gender equality in an industry that had zero gender equality. Listen, the LGBT-plus community has been a friend of Celebrity's for a really long time, and a friend of mine for a really long time—we have a mutual admiration and respect for each other, and the community loves our brand and everything we stand for, and everything we do. I couldn't be prouder of the environment that we create that's so welcoming. Nate Berkus doesn't need to partner with the cruise industry—he doesn't need to care about Celebrity Cruises, but he does. Again, you go back to what do you stand for, what do you care about, how do you want to put yourself out there in the world and and how do you want the world to perceive you? We want we open up the world for everybody to experience other cultures, other people, other religions, other sexual orientations, people of different colors—and that's the beauty and the magic of our industry and I fully embrace it and have done everything I can throughout my career to celebrate it.
Then, of course, there's the gender equality piece …
This is just huge, going from 3% of women on the bridge to one-third of women on the bridge. That again takes focus and being purposeful about it every single day.
I wanted to ask you that specifically about breaking the glass ceiling and sharing the wealth with other women.
It was a big deal when I was appointed to this position, and it was a bigger deal than I anticipated. It was a little overwhelming for me, and to be perfectly honest I was somewhat annoyed by it because I was getting so much attention because I was a woman and not because of what I had done in my career and all that I had accomplished. Then I decided was if this is perceived as a big deal, then I'm going make it a big deal and I'm going to ride the wave of making it a big deal, even though it wasn't what I anticipated. I might be the first, but I'm not going to be the last, and I'm going to pay it forward and give women opportunities that they haven't had in this industry before, because if I don't do that, what I've accomplished really means nothing. So, the first thing I did was, I hired Capt. Kate McCue and she's still the only American woman ever to be the captain of a mega-cruise ship; she was the first woman at Celebrity to be the captain and so I started with her and then we just continued to do the work and bring on other women. I was on Celebrity Beyond for my president's cruise on Sept. 5th and 70% of the bridge was women, and that's pretty cool.
Photography by Nick Garcia