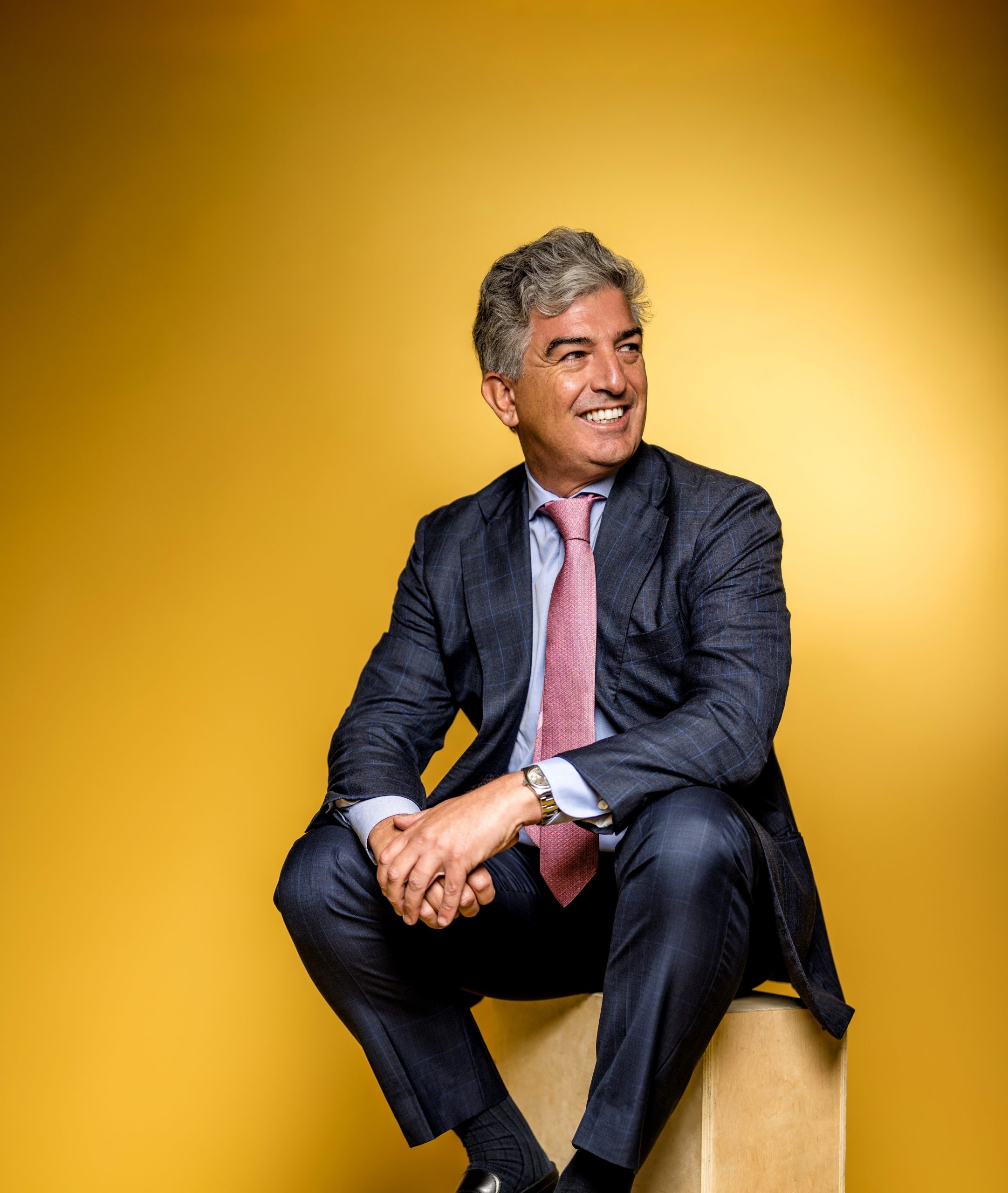 Everyone Knows the Name of Miami Developer Carlos Rosso From His Tenure at Related. This Is His Latest Act.
Rosso on the first Standard Residences, and more
After 20 years, people get used to things; industries get used to things, especially when there's a consistent cast of characters and a story of staggering success. Carlos Rosso has been a leading player. Born in Buenos Aires, he notched degrees at the University of Buenos Aires and M.I.T. He joined the Related Group in 2002 and became a fixture there as a vice president, then as president of the condominium division and a minority partner. The dapper exec with the enviable coiffure was the driving force behind SLS Lux, SLS Brickell and Brickell Heights in Miami; Residences by Armani/Casa in Sunny Isles Beach; the Paraiso complex in Edgewater; and Hyde Midtown in Miami, as well as Hollywood's Hyde Beach House and Hyde Resort & Residences. That's not an exhaustive list, and it doesn't even count developments in Mexico and Argentina. (Rosso has been responsible for the development of 16,000 units over the course of his career.) For years, the word was, if you couldn't get to Related's billionaire founder, chairman and CEO Jorge Perez, call Carlos.
THINGS CHANGE
In 2020, Rosso left Related—a seismic change in the South Florida real estate world. "The reality is that everyone reassessed their lives because of COVID-19," he reflects. "I am at the stage in my life where my kids are starting college, my parents are aging, and I realized that I wanted to have more control over my time. I wanted to visit my parents in Argentina more and be closer to my kids, and, at the same time, Jorge had always told me, 'Very soon I think it's time for you to start something on your own. If you ever need my help—whatever you need, I'm here to support you.'"
And then there were Perez's sons. Jorge had been telling Bloomberg as early as 2016 that it was his hope that Jon Paul and Nicholas would eventually take charge of the business. JP became president of Related in 2020. Nick is senior vice president. "There was a changing of the guard when Jorge's kids were coming in," Rosso says. "And all of us who were in these senior management positions had a long time to think. I decided to take the plunge. I'm still a very young 55-year-old man and I wanted to try it on my own."
Perez was the man who'd sponsored Rosso for his visa when he hired him at Related so many years ago, and once again, Perez immediately positioned Rosso for success: "Jorge was very gracious. When I left Related, I did a self-assessment of the things that I'm good at, and where I needed some help in the market if I wanted to do development. I know how to put deals together, I know the design and construction side, and the marketing side. What did I need? I needed sites and equity."
Rosso had two names in mind, big names who happened to be married: Craig Robins and Jackie Soffer. Robins is perhaps best known as the co-founder and co-owner of Design Miami and the developer of the Miami Design District; Soffer is the chairman and CEO of Turnberry Associates, which boasts a portfolio that includes Aventura Mall and an 800-key hotel connected to the Miami Beach Convention Center, currently being developed in partnership with the Terra Group.
"The two people who I had as No. 1 and No. 2 on my list to call—who had both equity and sites—gave me a call," Rosso recalls. "They told me that they'd spoken with Jorge, and said, 'Jorge told us that you left, and he's spoken very highly of you, so we want to invite you to dinner at our home.' That's how it started." Soffer and Rosso decided to put together a deal: the North Miami residential project One Park Tower at SoLé Mia.
ENTER THE STANDARD
Once the concept of a lifestyle hotel brand began to take hold, Rosso appreciated its potential. He chased deals with Amar Lalvani, who led development efforts for W Hotels in the early 2000s. By the century's second decade, Lalvani had moved on to visionary hotelier Andre Balazs and the emerging Standard Hotel brand; Lalvani became CEO and rose to the executive chairman role last year. What the W and the Standard engendered was a kind of tribal loyalty. Repeat guests in various cities were organizing their identities around the cool factor and entry-level luxury of the W—and arguably, even more avidly, around the Standard, which now operates seven properties.
"I was following the trajectory of the Standard brand and following the trajectory of Amar Lalvani," Rosso says. "Back in 2010, I tried to do a deal with him when he was at the W Hotels; they envisioned and created the first big lifestyle brand." But these days, Rosso's lifestyle and inspirations revolve around Miami Beach's Standard Spa: "I love the Standard, I go to the Lido [restaurant], I love the spa, I love the ambiance and I really like their approach."
Rosso focused on an undeveloped lot in Midtown, and he agreed with Alex Vadia of Midtown Development, who holds part ownership of the land, that if Rosso ever left Related, the two might join forces to develop the site. "This was the third deal I did with Alex," Rosso says. "When I was with Related, we did the SLS Brickell on a site that was owned by Alex's group and we did Hyde Midtown, so we knew each other very well. He told me, 'If you ever leave, let's figure out a way that we can work together.' I told him I really love the site, I have a great brand, and he loved the idea of the Standard. I pitched them the idea of doing branded residential, and they said, 'We've never done this, but we've thinking of doing it in Portugal.'"
Rosso, who is partial to Portugal, told the Standard team that the stars were aligned. "I said to them, 'I have this site that I control together with a partner, and we want to launch the first Standard Residences in the U.S. and worldwide.' We got along very well."
The negotiation was short and decidedly sweet. The Standard Residences officially launched on Dec. 1, 2021, coinciding with Art Basel; the announcement and accompanying fanfare occurred at the Standard Spa—Rosso's hangout. "It has been a tremendous success—we're 70% reserved, at incredible pricing," Rosso says. "And that's a testament to the brand and a testament to the location in Midtown. Between the Design District and Wynwood it's the center of a new pedestrian Miami."
With architecture by Arquitectonica and interior design by Urban Robot, the result will be a 12-floor, 228-unit, Soho-inspired urban retreat with Sugarcane and Trader Joe's across the street and 34,000 square feet of amenity space to work and play in. A 60-foot, resort-style sunset pool will deliver the 'wow' factor, along with a signature rooftop restaurant and bar reminiscent of the vibe the Standard pioneered in Los Angeles, New York and London hotels. With a cultural tribe of nomadic devotees that move from Standard hotel to Standard hotel—from the above-mentioned mega-cities to exotic hotel locations in Ibiza, Bangkok and the Maldives—the brand will likely act as a demographic funnel to the residential building in Miami.
Wellness offerings will include a state-of-the-art sweat room and fitness center, an infrared sauna, an indoor pickleball court, and yoga and stretch studios. A social floor will feature a karaoke bar and screening room, while co-working spaces include a private boardroom and zoom rooms. A pet spa rounds out the Standard Residences' anything-but-standard amenity package.
CREATIVE COLLABORATORS
Completion is expected in mid-2023, with sales and marketing managed exclusively by Douglas Elliman Development Marketing. For Rosso, the Elliman involvement, with Jay Parker at the helm, was key, particularly given the pandemic-driven exodus from New York to South Florida. Though Parker is a force in Florida—he is the CEO of Douglas Elliman Florida and president of Douglas Elliman Development Marketing in Florida—Rosso explains that Parker also "has the connections in New York, which I thought were very important for this particular job, because the Standard is a very well-known brand there. And with all the movement of New Yorkers to Miami, I thought it was a perfect fit for New Yorkers who want a pied-à-terre in Miami." Prices start at $449,000 for a studio.
Part of the satisfaction of being a top-tier developer in South Florida is being able to work with the best, whether in sales and marketing, or architecture and design. Arquitectonica's founder Bernardo Fort-Brescia, for example, plays an outsize role in Rosso's projects. He calls Fort-Brescia "the spirit of Arquitectonica," yet is clearly disarmed and delighted by the man's hands-on approach.
To hear Rosso tell it, Fort-Brescia clearly doesn't float above his projects in some superterrestrial sphere: "What I love about Bernardo is that you call him on Saturday at 11 o'clock and you tell him, 'Hey, the two-bedroom unit—I think we have an issue with the master bedroom and the bathroom, let's meet at the office and fix it.' He's like a mechanic of architecture. He takes a piece of tracing paper and a little bit of white-out, and he fixes everything—and he does it in such a creative way and with such an understanding of the business of development. He's an extremely creative architect, but at the same time he's an architect who responds to the developer's needs. He is the embodiment of a developer's architect."
Rosso also extends high praise to Fort-Brescia's son Raymond Fort, a principal and designer at the firm who graduated from the Columbia University Graduate School of Architecture, Planning and Preservation after receiving his undergraduate architecture degree from Cornell. "He's connected to what's happening with the younger generation in Miami," Rosso says, "and his aesthetic is a little different from Bernardo's, tied into today's global look and feel." Fort's sensibility is evident even in the way he describes the Standard Residences project: "This building responds to the pedestrian nature of Midtown and pays homage to the traditional pieds-à-terre of the West Village of New York and the Left Bank of Paris."
Meanwhile, Rosso's other major project, One Park Tower by Turnberry at SoLé Mia, references a completely different demographic and vision, which speaks to his versatility as a developer. This ambitious project, which had its roots in that fortuitous dinner with Craig Robins and Jackie Soffer, is catnip not for digital nomads, but for families. (The average unit size is 1,500 square feet as opposed to the Standard's 600.) Set within a 184-acre master-planned community, the 32-story tower will deliver 303 bespoke residences overlooking a seven-acre Crystal Lagoon. It will be anchored by the 10-acre, 225,000-square-foot University of Miami UHealth Medical Center that is currently under construction. Fortune International Realty is the exclusive sales and marketing broker.
Rosso isn't playing: Once again, he is collaborating with Arquitectonica, and this time the interiors will be conjured by Meyer Davis, arguably the American hospitality industry's hottest luxury design firm. Rosso describes Will Meyer as a "charmer with impeccable taste." Plus, he exemplifies the global mindset and good living that Rosso favors. "He's the type of guy where I'll say, 'Hey, Will, let's do a presentation in Mexico to help sell the units, and Will says, 'Oh, my wife is Mexican, and I have a house in Oaxaca—come to Oaxaca and stay in my house.'"
One has the sense that Rosso is just hitting his stride: He's calling the shots and finding his balance. What he loves about the Will Meyer story is that it exemplifies the credo that the developer is hoping to live by: "I'm really trying to enjoy myself during this next phase," he says. "At the end of the day, quality of life is the most important thing."
Photo by Nick Garcia