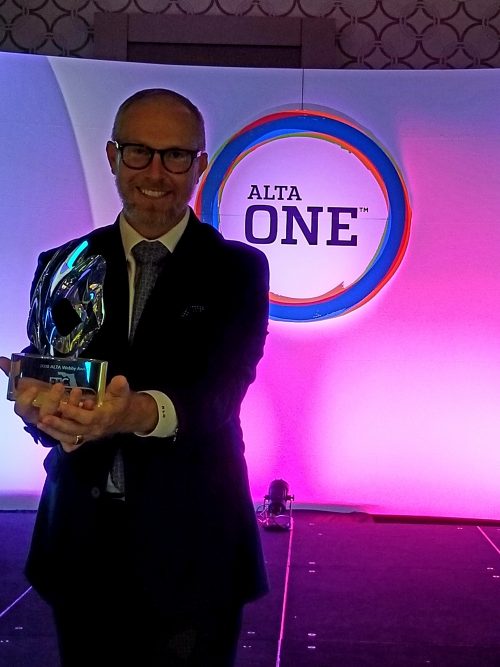 Florida's Title Insurance Company takes home national honors
In October 2018, the American Land Title Association (ALTA), the national trade association of the land title insurance industry, announced the winners of the Title Webbies, an awards program recognizing member companies that have created or redesigned the best title industry consumer-facing website or page within the past year.
The two Title Webbies were presented during ALTA ONE, the largest annual event for the land title insurance industry, which took place Oct. 9-12, 2018, in Los Angeles. Nominees in the two categories—Best Website-Title Agents and Best Website-Underwriters—were judged on mobile friendliness, overall user experience, social-media integration, image/video use and content quality.
Florida's Title Insurance Co. (FTIC) was selected as the winner in the Best Website-Title Agents category. Randy Gilbert JD, FTIC chief happiness officer, accepted the award on the company's behalf.
"We designed a completely unique approach using original content, cheeky humor poking fun at our industry, simple analogies to help the average person understand title insurance, interactive documents typically seen at a closing, easy-to-navigate buttons for ADA accessibility and over 80 high-definition 'playful family' images of multicultural demographics, races and handicaps that real people can relate to so they go in to the closing expecting an experience – not just a paper title policy," Randy Gilbert says. "Hopefully, our website comes as a wake-up call to the industry to refocus on who our end users really are."
Additionally, FTIC took an intentional approach to making a mundane product, such as title insurance, fun. The homepage is interactive: The cursor causes the main water photo to "ripple" as you navigate the page. The links, including "Title Insurance for Dummies," "Who Pays for What," "70+ Ways to Lose Your Property," and "Mission Kreplach," which details the company's values, provide useful consumer information in an entertaining way.