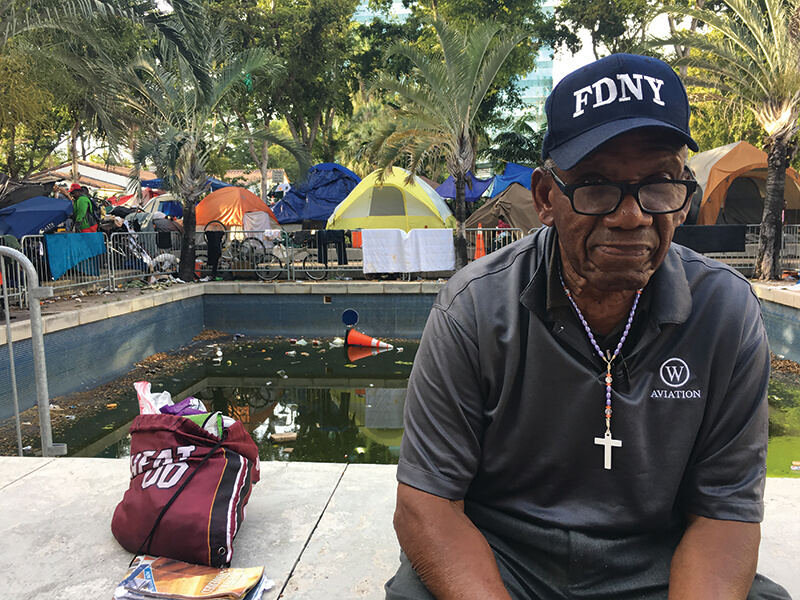 Fort Lauderdale starts clearing out tent city
A tent city next to the main library in downtown Fort Lauderdale is disappearing under a comprehensive approach to help the homeless there, Fort Lauderdale Mayor Dean Trantalis announced on Monday.
An email from the Broward County Homeless Collaborative announced that 18 individuals experiencing homelessness left the encampment voluntarily after meeting with Outreach and Housing teams, to establish a path to permanent housing and supportive services. With owner consent, nine tents were removed. Each individual leaving the encampment packed their belongings to take with them or to be put into temporary storage.
Unsheltered homeless individuals coming to the encampment for services who had not previously been identified as residents of the encampment are receiving assistance through the Broward Homeless Continuum of Care, the collaborative said.
The comprehensive approach event extended to pets. Four dogs and two cats belonging to individuals living in the encampment were given rabies vaccinations, wellness checks and microchips so the pets can be safely housed with their owners. Owners were given a supply of pet food, collars and leashes.
An estimated 75 people had been living at the camp.
"For too long, the encampment between the library and Stranahan Park has stood as a symbol of our community's inability to adequately address the issue of homelessness. The people there live in miserable conditions," Trantalis said in a statement. "Under the initiative launched today, we are helping place them in supportive housing through a rapid rehousing program. We are combining housing with intensive case management in which individuals will receive assistance in finding work, recovering from substance abuse and overcoming health issues."
An article in the October issue of SFBW told how former banker Lynne Wines had been hired as senior director of the Broward Business Council on Homelessness, an initiative backed by the United Way of Broward County, governmental agencies and business groups, including the Broward Workshop and the Greater Fort Lauderdale Alliance.
As both the article and Trantalis outlined, there has been a careful study of how to address the issue, including a trip by business and governmental leaders to Orlando, where the Central Florida city has addressed its homeless situation. Orlando's subsequent success has served as a case study on solving the homelessness crisis.
A key part of Trantalis' statement is that the partnership has identified housing units available to those in need.
"For some, the stay may be temporary while they receive job assistance or go through recovery. For others, the housing will be permanent because of physical or mental health issues," Trantalis said. "In addition, we are committed to family reunification whenever possible and will make every attempt to seek out relatives that can assist."
Trantalis said support from the business community has been vital and he specifically recognized AutoNation, BB&T, Bank of America and the Castle Group.
Want to help with the initiative? Contact Heather Davidson, the United Way's director of public policy and advocacy, at hdavidson@unitedwaybroward.org or 954.308.9277.