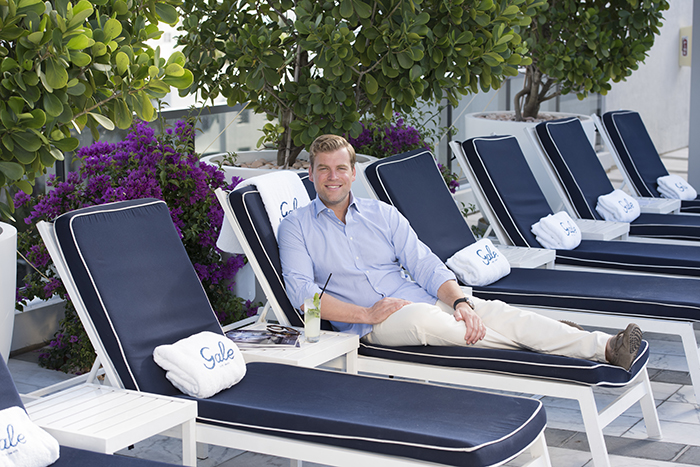 Going Gale
"Fort Lauderdale comes to Miami sometimes – but this is going to be the opposite. Miami is going to Fort Lauderdale to get away from it all," says Jared Galbut, the managing principal of Menin Hospitality.
Galbut and business partner/cousin Keith Menin are bringing their South Beach swagger to the 954. The pair is helping reincarnate the old Escape Hotel on Fort Lauderdale Beach into a second Gale hotel. They will eventually manage the hotel and its food and beverage outlets when it opens in late 2017.
As we sip coffee together at the Gale South Beach, Galbut says his group looks for buildings with a "past," and admits he was instantly drawn to the Escape Hotel, which was built in 1948, because it mirrored the story behind the current Gale.
"It's a two- to three-story property located right behind the W in Fort Lauderdale," Galbut says. "It was a hotel and then a nursing home for awhile, which is the same story as the Gale South Beach."
If you haven't been to the Gale South Beach, it's an 87-room boutique hotel that Menin Hospitality took great care to restore to its original art deco history while mixing in modern conveniences. Galbut proudly points out the black-and-white photos of the old hotel that line the walls, along with pictures of his own family, which has deep roots in developing Miami Beach for more than 80 years. The Gale's signature Italian restaurant, Dolce, just won Bravo TV's "Best New Restaurant," while its lounge, Rec Room, is a frequent celebrity hangout. Galbut says the new Fort Lauderdale property will tell its own story.
"The 96-room hotel will have a similar look and feel to the Gale South Beach, but adapted a little more to the Fort Lauderdale lifestyle and history," Galbut says. "For us, it's a little more nautical, a little more beachy, a little more relaxed."
Galbut believes his company knows how to pinpoint what's missing in a certain market and fill that void. With successes like Radio Bar and Bodega Taqueria in South Beach, the homegrown hotelier says Fort Lauderdale is ripe and ready for more places to dine and party.
"We are going to be opening up five to seven food and beverage outlets and nightlife venues over the next three years in Fort Lauderdale," says Galbut. "We've got some really interesting concepts that we're coming up with, something really different that hasn't been seen in the area." ?
This Just In: Menin Hospitality has taken over the food and beverage outlets at Bahia Mar Fort Lauderdale Beach, where there are plans to renovate the resort and marina.