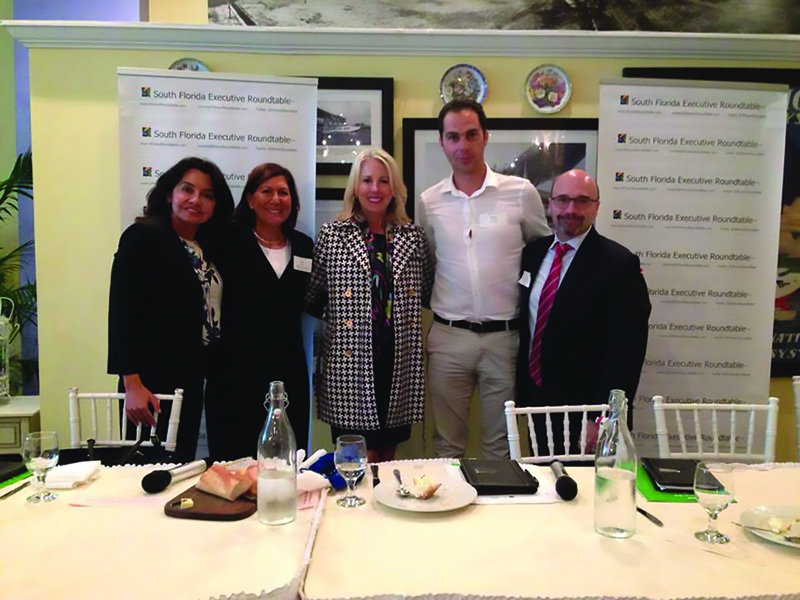 Industry leaders offer insights
By Andrea Richard
South Florida Executive Roundtable's June panel featured four executives who have made their way in their respective industries, all sharing deep insights.
SFBW is the exclusive media partner for the roundtable, an invitation-only luncheon. The moderator was Lida Rodriguez-Taseff of the Duane Morris law firm.
The panelists:
Elizabeth Dvorak, CEO at Workscapes
Xavier Mufraggi, CEO at Club Med
Judith Haddad, executive vice president and chief information and technology officer at Patriot National
Rob del Rosal, CFO at Bacardi North America
Here are the takeaways.
Grow or innovate?
Dvorak: We had a choice to make for the direction of our company, Workscapes. We were in Orlando and South Florida. In 2010, we hit a plateau and we had a few opportunities. We could sell the business, we could become a smaller boutique business, or we could grow. We looked for a partner with a much-larger organization that was really innovating, Herman Miller. It took about 18 months, and we acquired five Herman Miller dealerships across Florida in 2013.
Then, we moved our family to Miami.
For us, our clients' innovation is top priority. What drives innovation? I feel it's creativity and collaboration. What we do is help our clients be more successful by providing a workplace environment that drives collaboration and creativity. Herman Miller is a human-centric research company. They don't do anything without solving a problem.
"Hire people who are aligned with your company's values. You can't teach attitude, motivation and desire." — Elizabeth Dvorak
Time perspectives
Mufraggi: Depending where you are in the world, there's a different vision of time. China, North America, Brazil. When you work with the Chinese on a plan, they are extremely short-term. So when they worked with us on a 10-year plan, they would ask me questions about my last week's performance and how we are planning our next week. They wanted to feel secure.
The Europeans are more five to seven years. The Americans work by the quarter. As Club Med is a global company, we need to adapt ourselves. I've worked in a U.S. company before, and you only work on the quarter. This causes so much pressure on executives, which leads to them not making the right decisions for the company long-term.
"Don't mentor people around your age. Mentor the younger people. They have so much energy and enthusiasm, it's infectious."
— Xavier Mufraggi
Long product cycle
Del Rosal: In the spirits industry, innovation and product cycles are very long-term. For example, Tito's Vodka, you think that's been around for a couple years, right? It's been 22 years. Grey Goose is 21 years old. We've had senior executives come in from other industries that don't understand some of those core truths of the industry.
"When we look at innovation, we take a long-term view."
— Rob del Rosal
Drone ahead
Haddad: As a public company, you're always looking for shareholder value. And from our standpoint as a technology solutions provider to the insurance industry, we are looking at how you innovate. I'll give you an example: drones. Everyone thinks drones are the new toys that are out there. My son has one. Think about using it in the insurance industry. Think about using a drone when there's a disaster. Or think about checking out a property that you want to insure. You can collect that data and start mining it. You put it all together.
"On your worst day, you'll learn the most. Always welcome a
bad day."
— Judith Haddad
Trendsetters
Del Rosal: South Florida is a place for where people have fun and where trends start. From a brand perspective, we can see where trends start—in our backyard. This is the global epicenter where the trends start, our home. So we are lucky to have Bacardi headquartered in Miami.♦