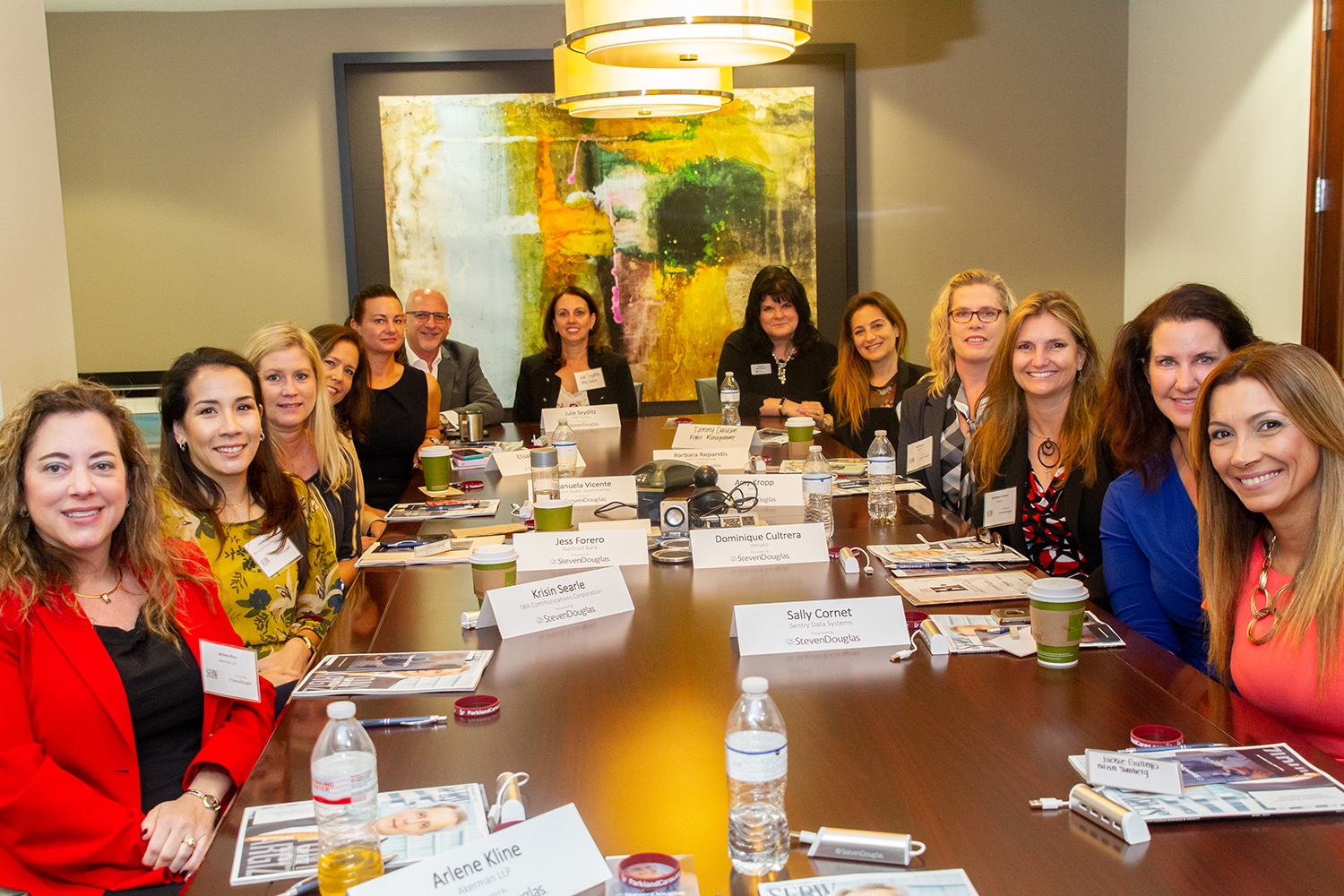 Tips on recruiting & retaining employees
Photos by Evelyn Suarez
SFBW invited honorees from its Excellence in Human Resource Awards to participate in a panel discussion on HR issues. One of the key questions was how to recruit and retain employees in a tight labor market, while relocation was another hot topic.
The panel was moderated by SFBW Editor-in-Chief Kevin Gale. The following transcript has been edited for clarity and brevity.
The panelists
The panelists were:
• Alan Berger, vice president of HR search, of sponsor StevenDouglas.
• Sally Cornet, vice president and HR team leader, of Sentry Data Systems.
• Dominique Cultrera, vice president of HR, of Veriato.
• Tammy Davidson, senior VP client services, of Right Management Florida/Caribbean (representing lifetime honorees Maureen and Tom Shea).
• Jess Forero, senior VP and teammate relations manager, of SunTrust.
• Jackie Gallego, chief HR officer, of Bilzin Sumberg.
• Arlene K. Kline, partner for labor and employment law, of Akerman.
• Amy Kropp, vice president of HR for North America, of Keter.
• Barbara Repandis, chief HR officer, of Kelley Kronenberg.
• Kristen Searle, director of HR, of SBA Communications Corp.
• Elisabeth Stark, principal, of Stark HR Solutions.
• Julie Seydlitz, director of HR, of MSC Cruises.
• Manuela Gavilan Vicente, corporate director for recruitment, of Baptist Health South Florida.
• Ward Young, vice president of HR, of Valley Forge Fabrics.
The labor market is super tight. What extra steps are you taking to attract and retain talent?
Repandis: We have tried to put in some new initiatives where we are training our leaders to work as advocates and promoters for our open positions. We have engaged our marketing department to create some very aesthetically pleasing fliers that they share now through their LinkedIn connections, letting people know we are hiring and what makes Kelly Kronenberg different. We are engaging the entire organization, not only with referral bonuses, but working as brand ambassadors. We have seen some positive outcomes.
We are planning to utilize our new headquarters as a showcase for candidates to come in and entice them with our new cutting-edge environment. We are planning to open at the end of June and it has a rooftop bar, so it looks gorgeous.
Vicente: We are utilizing a lot of social media. Some of you may have seen that we have a lot of our positions posted on LinkedIn and Facebook, utilizing some of the intelligence behind it to serve the opportunities to the right people. We've done a lot of videos of our own employees talking.
Gallego: We expanded what we offer employees as an inviting and great place to work. We have a comprehensive wellness program, and we offer employees the ability to take yoga, at work. We have a fitness facility. We have a health coach.
As far as recruiting goes, I am a huge supporter of our vendors; i.e., the recruiters. I love them because they make my life easier. Sometimes in this tough market, people aren't looking. And, so, yes, you can post on LinkedIn or you can post in a million different places, but sometimes you need a recruiter to go out.
Cornet: Being in the tech space, it's just a thousand times more difficult. I was just talking earlier about the fact that in tech, we're probably, if there is such a concept, in negative unemployment. Everybody's getting a job and you know, some probably should be unemployed.
We really have expanded our virtual employee base. Last week, I was talking to one of our programmers who lives in rural Montana. He sent me a picture of the view from his desk and it's fantastic, because we can mine talent in rural Montana. We had a guy that has an RV and he and his wife drive around the country.
In order to support them, there's a lot of work on how you get them to be productive and effective at their job. There's a lot of leadership training on how to engage and we really invested a lot in the tools that enable them to interact.
Davidson: What we're seeing in our client base is one, they are attacking glassdoor.com with a vengeance I've never seen before. They are answering GlassDoor and engaging, making sure their brand is upheld. The second thing ism they're making sure it's red carpet in and red carpet out.
Several companies I know have virtual leadership training—how do you lead virtually?
Cultrera: One of our challenges when I'd come on board 6½ years ago, is the old leadership believed in hiring people more senior because they didn't want to babysit. I was [thinking,] "OK, well, we need to teach our leaders to do grassroots succession planning—whether in development or sales—to have multiple layers to have a career plan instead of just bringing them in and after two years they would leave." So, we work with local universities and build a track for them. They do an internship program and we hire them once they graduate, which we found to be very successful in the sales and the technology side.
Forero: We are using Career Path Ear. It's a tool that allows us to mine our internal teammates in a way that we typically do for our external populations—who we have, what their skills are, what languages they speak, in a way that we haven't in the past. We ought to know as much about the people we already employ and where we could move them and help them grow.
Are there certain types of jobs that you find difficult to fill with people already living in South Florida How easy or difficult is it to persuade people to move here?
Sedlitz: So far, I haven't found that there's really any difficulty in filling the positions that we have, at least for our shore-side positions. What I do have difficulty with in our market is transportation. A lot of times, for lower-paid employees, transportation is an issue where they don't have a car or have to share a car. The lack of buses and train stops does create an issue even if you try to strategically locate your office.
Relocations are difficult. People don't really view the South Florida market as an appealing place to come if you are going to raise a family. If you grow up here, you are comfortable with South Florida. If you're moving in here, people have a difficult time trying to figure out the school systems, the cost of private schools.
Kropp: In my former life, when we were trying to get a lot of people to relocate, they were very shocked at the cost of what it takes to live here. They used to think of South Florida as inexpensive, and when they look around, they are shocked.
Stark: Years ago, it used to be easy to send a picture from the beach in January and say, "This could be you." The last few storm seasons have taken hold for car insurance and housing insurance. That even trickles down to pet insurance.
Searle: The positions that are difficult are trilingual. We operate in Central and South America. Brazil is Portugese-speaking, and we have a support office in Boca Raton. We are struggling with finding quality candidates with technical knowledge and who are able to communicate verbally and in writing. We haven't had any issue with relocating and maybe it's because of where our offices located—because we're in Boca, almost at the Delray Beach line. A lot of our individuals that we bring on board relocate further north to the Jupiter area. We have ambassadors. We have Realtors on our staff just given the nature of our business, and they will take them around. We just recently relocated individuals from New York, Chicago and New Jersey.
Vicente: You have to look at relocating people as a family package. Look at the possibility of the partner finding a position. I've had it where someone said their spouse has really not found a position and they're not happy.
Davidson: We've seen a dramatic increase when you think of spouse outplacement—helping a spouse being relocated find a position. Alan Berger finds his trophy candidate and the spouse says, "I won't come." We get a call to help with outplacement.
Gallego: When looking at candidates, we try to find a South Florida connection—family or they were originally here. Whenever we try to recruit people, from, say, Idaho, coming to Miami is such a culture shock. Big cities, like New York, Chicago and Boston are a good match for us.
Kline: As a national law firm, we don't necessarily have problems with recruiting and getting talent. We're recruiting from the big schools and recruiting from major cities. It's harder to retain good talent because of those connections, or maybe they miss home or things of that nature.
So, we actually have what's called a lateral integration team. The focus is obviously something that we use when someone comes aboard, but we also use it to sell the firm. We espouse the fact that we're very committed to the lateral experience, the integration experience to make the transition as seamless as possible to make sure they have all the support systems in place.
They not only remember, but use it to tell others, "Well, this is a great place to work. They've done nothing but help me and really made me feel a part of it, from day one hitting the ground."
Repandis: We implemented a two-day intensive orientation and training to make sure we have seamless integration of laterals and staff. We're also trying to put together continuous training and professional development.
We bring people from out of state, but the licensing is something that we kind of had an issue with—passing the [Florida] Bar. We have now started considering hiring people who just graduated law school from other states in an almost internship program, waiting for them to pass the Bar and then bringing them on board. ♦