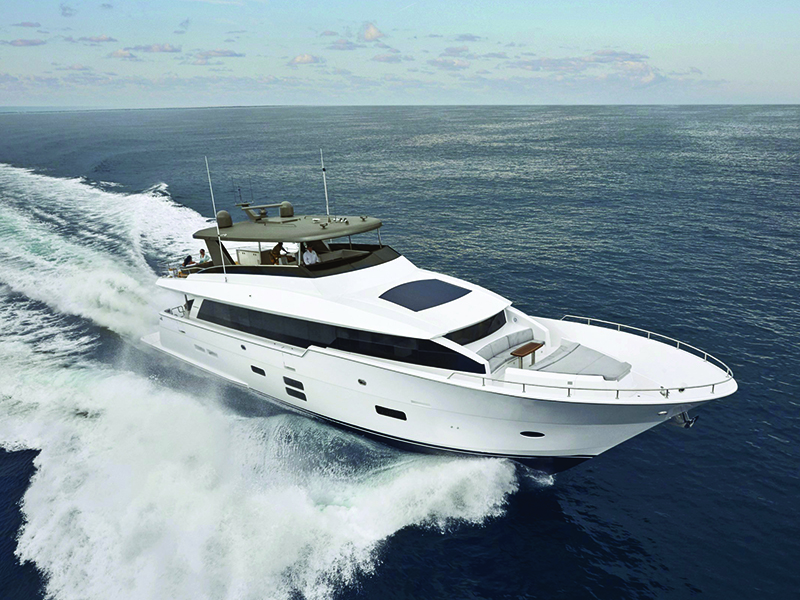 Informa brings welcomed changes to 2017 show
By Martin Lenkowsky
The winds of change have come to this year's Fort Lauderdale International Boat Show, and organizers predict it'll be a change for the better.
While the Marine Industries Association of South Florida continues to own the show, it will now be produced by Informa Exhibitions, a British-based company that purchased Show Management, former producers of the show.
"You get a fresh shot in the arm," says Phil Purcell, CEO and president of the marine association. "You get new ideas. They bought something successful. They're bringing in new processes and new infrastructure. They have a lot of experience. I think it's a real positive."
He sees only good things ahead in the show's future. "You'll always get the 'grassy knoll' skeptics, but every operator has always added value as they entered that arena and exited that arena," Purcell says.
Another positive he sees in the boat show's future is the association's lease renewal with Bahia Mar. "It's always a goal to sign a new lease," Purcell says. "It's a 30-year lease with two 10-year options. It's a great success for our industry, the community and Bahia Mar."
The 58th Fort Lauderdale International Boat Show will be held Wednesday, Nov. 1, through Sunday, Nov. 5. The show's exhibits range from yacht builders and designers to exotic cars and brokerage yachts. A wide variety of boats will be on display, including high-performance, runabouts, sport fishing, center console, cabin cruiser, flats boats, skiffs, express cruisers, sailing yachts, motor yachts, bow riders, catamarans, ski boats, jet boats, trawlers, inflatables, canoes and mega yachts.
More than 1,000 boats will be on display, on land and in water, along with more than 900 exhibitors at seven locations throughout Fort Lauderdale.
During his tenure with the marine association, Purcell has seen the show evolve in an "amazing way," he says. "It started out in the spring and then became a fall show. As our town developed, we developed along with it."
This show is the association's flagship event. "The boat show is the biggest in the world," Purcell says. "People come to Florida from all around. It brings more than 100,000 people from more than 52 countries."
Andrew Doole, Informa's vice president and general manager, says many changes have been instituted for this year's show. "There's a lot of investment in infrastructure to improve the appearance of the show, including a new floating dock," he says. Informa expects 1,200 to 1,300 vendors with exhibits. "Our theme is to provide a better show for exhibitors and vendors, to improve the docks and transportation. We want to make it easier to get to the show."
In addition to the new and improved infrastructure, Doole says Informa is including some local restaurants along with the usual concessionaires. He says Coconuts will be setting up shop on the Bahia Mar site. "We're trying to do a taste of Fort Lauderdale," he says. "It will be more of a local flavor with stone crabs, oysters and craft beers."
Doole says Informa also made arrangements for Guy Harvey Apparel to be at the show.
Romina Bompani, who specializes in yacht marketing and works closely with many European manufacturers, will be one of the exhibitors. "The Fort Lauderdale Boat Show is the most important show for us to introduce new products to the American market," she says. "We will have new models from a lot of manufacturers."
Yacht dealer and broker Bob Denison will be featuring new models at the boat show, including the Hatteras 90 Motor Yacht, which is making its debut. He recognizes the importance of the show. "In the industry, the [Fort Lauderdale show] is known as the Super Bowl of boat shows, and this is why: The show gets over 100,000 visitors from more than 35 countries, millions of media views, and displays billions of dollars of yachts across about six miles of floating docks," he says. "It's an incredible five days that provides exhibitors an awesome opportunity to meet new clients and connect with customers from the past."
Doole says the show is a boon to the entire South Florida economy, adding $850 million to the area. "It affects so many local businesses in this town and Miami," he says. "It has a huge effect in the region."
He offers the following advice to show attendees: "Plan out your route to see what you're looking for," he says. "Go to the website and check out what you want to see. It'll improve your experience at the show. There's 3 million square feet. You can plan where you want to be." ↵
Water Taxi wants to cut parking hassles
What's a more fitting way to visit the 58th Fort Lauderdale International Boat Show than by boat?
"We really are the best way to get to the show," says Phil Burroughs, director of sales and marketing for Fort Lauderdale Water Taxi. "Parking will not be easy. It will be really tough."
Burroughs says his company plans on transporting about 25,000 show visitors a day. "We're really just transporting people back and forth by night and day, for $15 per day."
He recommends visitors park at the Galleria Mall and take a water taxi, or park at either the downtown parking garage or the Fort Lauderdale Convention Center and catch a water taxi.
To accommodate the boat show traffic, Burroughs says Water Taxi will be using its entire fleet and suspending its regular Hollywood and Fort Lauderdale service during the show.
Fort Lauderdale Water Taxi will connect parking lots to the north, south and west with connections to all show sites. Water Taxi service starts one hour before the show's opening each day, and ends one hour after the show closes. Daily Water Taxi wristbands are available at all stops.
For information, visit watertaxi.com or call 954-467-6677. Five-day discounted tickets are available in the tickets section at showmanagement.com.
Show Schedule:
Wednesday, Nov. 1: noon to 7 p.m. (preview)
Thursday, Nov. 2: 10 a.m. to 7 p.m.
Friday, Nov. 3: 10 a.m. to 7 p.m.
Saturday, Nov. 4: 10 a.m. to 7 p.m.
Sunday, Nov. 5: 10 a.m. to 6 p.m.
Admission:
One-day adult ticket: $29
One-day Prime Time Preview ticket:
(Wednesday, Nov. 1): $46.50
Two-day adult ticket: $52.50
One-day child ticket (ages 6 to 15): $12
Children under 6: free
Website: https://www.showmanagement.com/fort_lauderdale_international_boat_show/event/