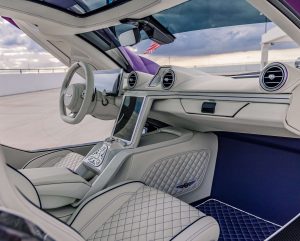 Hispano-Suiza, a hyper-luxury electric car company, recently delivered its fully electric Carmen Boulogne model to its first American client—Miami car collector Michael Fux, who took delivery of the exclusive Hispano Suiza and will be displaying it through Sunday at the Kimpton EPIC Hotel in Miami, as part of the hotel serving as a brand ambassador for the company.
The bespoke unit was built to Fux's own specifications and was one of the main attractions at the Amelia Island Concours d'Elegance, the high-profile automotive event. Hispano Suiza spent months customizing Fux's dream car into reality following Fux's tastes and preferences. The vehicle, with four electric engines, is capable of reaching 1,114 horsepower.
Only five Hispano-Suiza Carmen Boulognes will be made for a cost of about $1.8 million each, before enhancements. The purple shade of Fux's Carmen Boulogne is called Ocean Song Rose. All the panels that shape the car's bodywork are made of carbon fiber with a layer of Alutex.
"We are very proud to deliver this unique version of the Hispano Suiza Carmen Boulogne to our first client in the United States, and doing so on the occasion of the Amelia Island Concours d'Elegance allows us to show the world, and especially the American market, what Hispano Suiza can achieve," says Miguel Suqué Mateu, Hispano-Suiza's chairman, who personally delivered the car to Fux.